The Real Food Wave Part 1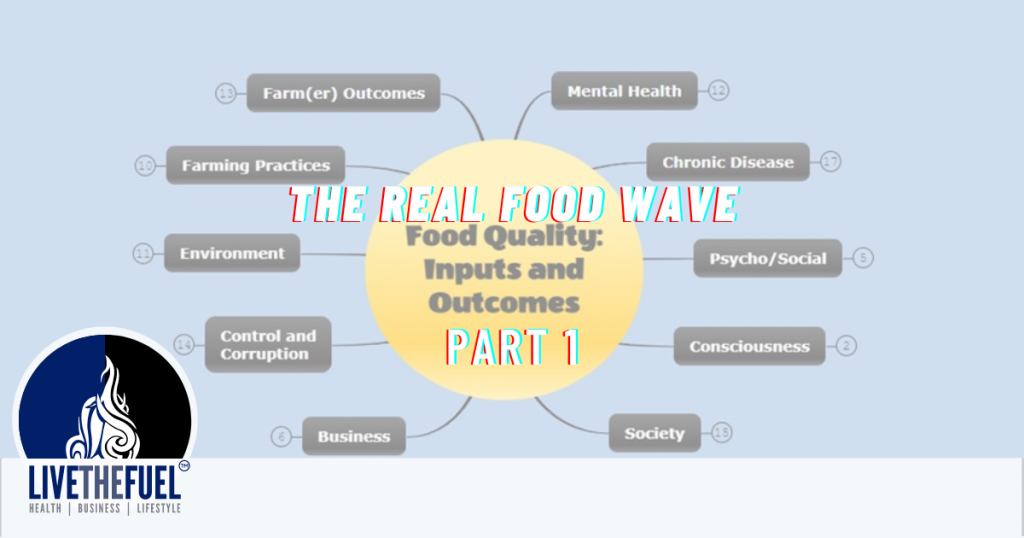 Entering The Real Food Wave, part 1, with Mito Man, Randy Lee:
Randy (The Mito Man) is an independent researcher, author, and citizen scientist who's both blessed and cursed to have been born with a fanatical need to know. Today he's a reality/false-reality decoder. But he must have been an inventor or reporter in a previous life, because he loves searching for the perfect way to say and do things.
Quote: Let food be thy medicine. ~ Hippocrates
His past work includes Gut-Brain Secrets, which is all about food quality — both the inputs that create it, and the outcomes to people and planet. His latest work, The Mitochondriac Manifesto, aims to overturn our old beliefs about where health or sickness comes from, in light of what we now know about mitochondria, seasonal cycles, and energies in and around the body.
Notes from our guest co-host:
I've got world-changing information to report. History is in the making.
In exploring what to tell people about Gut-Brain Secrets I came to the realization that most of world's problems and opportunities are influenced by food quality (i.e., nutrient density and toxins).
The majority of the world's problems go away when you restore food quality. Natural order is restored.
Even better, I discovered that solutions to the problem of food quality are not just forthcoming… they're imminent. The technology is irrefutable.
So, by accident, I found a mind-blowing way to frame the book and discussion: It's all about food quality. Explore this mind map to see what ¾ of Gut-Brain Secrets is about, and the movement for which I propose it be the introduction to…
Mind map Guidance: Click on the nodes to open. Click and hold to drag…
https://www.mindomo.com/mindmap/687c56211f8b4fec9eebf060563311e1
Today's Top 3 Takeaways:
Take Accountability For Your Health.
Take Accountability For Your Nutritional Choices.
"The Real Food Wave" is coming, the new technology is here!
Today's Guest & Resource Links:
https://www.mindomo.com/mindmap/687c56211f8b4fec9eebf060563311e1
R.D. Lee's Book: The Mitochondriac Manifesto: How Nature Nurtures the Body, and Technology Torments It
Randy Lee's Book: Gut-Brain Secrets: Causes and Solutions to Gut, Brain and Body Dysfunction
Dan Kittredge: https://www.bionutrientinstitute.org/
Dan Kittredge: https://www.bionutrient.org/
Added links:
https://100monkey.co.uk/project/100th-monkey-effect-explained/
https://livethefuel.com/episodes/051-your-mitochondria-biohacking-with-dr-jack-kruse/
https://livethefuel.com/episodes/255-re-release-of-mitochondriac-vs-biohacker-dr-jack-kruse-best-of/
Our Mentioned Influencers:
Watch us on YouTube:
Timestamped Show Notes:
00:30 – Introduction
06:50 – That health education is so important. You need to be able to understand where things fit, and how powerful they are. So you can selectively choose because you can't do everything, it's just impossible. You would go broke and insane. So you have to know where things fit in the priority and what you can and cannot do, and your children, for example, might put up with or not. You need to be able to explain why they're doing it, give them some background on it. I think we all need to be our own health bosses, we need to take charge of our own health. So that requires education, a little proactivity, and definitely a little commitment.
09:50 – Years ago, I had a lot of friends with ADHD and autism, so I started researching gut brain Health and getting into Dr. Natasha Campbell McBride's work and Donna Gates. At the time, it was fairly new material, gut and brain health, how gut dysbiosis and the microbiome that's upset in some way, contributes to psychological disorders. I went down the rabbit hole and investigated all these different effects, the inputs and the outputs.
20:40 – Soybeans are horrible for your endocrine system. People are gonna hate me for saying this, but I heard one of my gurus that I listened to a lot, and recently, she said, basically, homosexuality and gender confusion has its source in upset hormone levels in the womb. Soybean is probably one of the biggest contributors to that.
31:00 – They've tested a lot different things, including hydroponic cropping. They've discovered that organic is generally no better in nutrient value than the average products on the shelf.
37:50 – These guys, the would be rulers of the world, they see this big pool, a river of something flowing by, and they they go, oh, there's money flowing by or labor or energy or even a natural resource. Pretty soon they create a pipeline to their vaults, in their mansions. Before long they go, hey, we should dam up this river and control all the flow through it, and put taxes and regulations and certifications. All so they control every facet of society. That's the systemic problem here in a nutshell, every single thing.
47:00 – We all want stuff to taste better. We're fighting price and convenience, of course. We know that the alignment of everyone's motivation is actually what I'm really excited about. Because all our motivations are going to be aligned in this process, from taste to personal interest. If we all realize what kind of health impacts are produced from nutrient poor foods, then we realize what the solution is, we understand what we need to do from that point forward. We can, through a marketing effort, align all those interests.
52:45 – Final Words Shown Below…
Our Final Words of the Show:
We are entering a new era of freedom and choice, where before we had none. We had to feed our energy into a broken system and when you feed your energy into a broken system, you reinforce it. Previously, we had no choice, there was only a few options in the food supply. We're entering a new era where your food choice, you need to be more proactive and seek out the solutions and seek out the knowledge.
Positive Actions:
Get my book on Amazon today! "So You Want To Be A Hotshot" – HotshotBook.com
Positive Reviews "DO" help grow books and free podcast shows, those review really do matter!
Did you submit your 5-Star Review on iTunes? – Submit a Review
Need a charity to believe in? Check out our 501c-3 non-profit! Visit – FuelFoundations.org
Need brand growth, sales strategy, marketing execution?! Visit – FuelUpMarketing.com