Prep and Defend with Firefighter Chris Ruano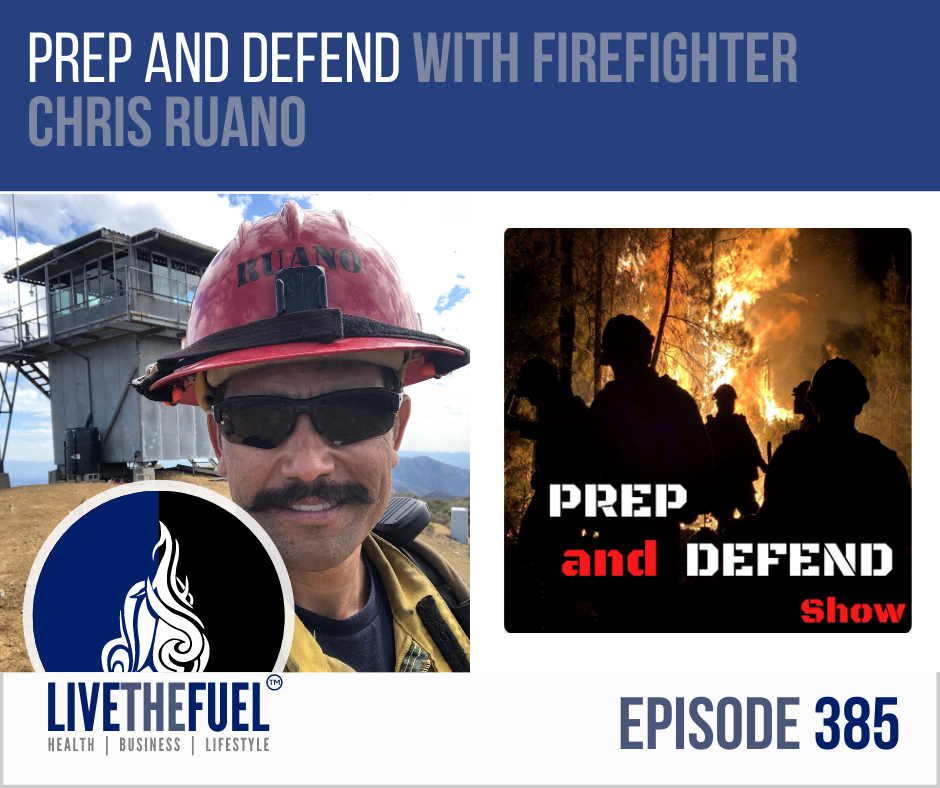 Hotshot Life, Fire Fitness, Injury Comebacks, and more:
Chris Ruano currently serves on and leads teams in the Wildland and Municipal Fire-Service in Southern California. Having served as a Forest Service Hotshot and more recently, as a leader on Wildland and Municipal fire crews; "Roo" is especially passionate about fitness leadership and training methods. He draws his unique perspective from serving over 23 yrs in the Fire-Service. Chris is on a mission to build and equip firefighters and their leadership to be the most Capable, Functional, and Durable personnel on the fireground and beyond.
"I am currently mentoring and coaching athletes and leaders that are interested in building teams that are more functionally relevant for the demands of an arduous career or active lifestyle"
Podcast – Chris is the creator and host of the Prep and Defend Show; a podcast inspired by Tactical Athletes and their lifestyles.
Quote: Stay Hungry, Be Humble, Do Hard-Work! ~ Chris Ruano
VenturAthlete.com
Chris has developed a proven program through trial and error, and various Programming and Coaching courses.
In order to share what he's learned with other athletes and leaders, Chris created VenturAthlete.com.
Chris now specializes in preparing and training Fire Service Athletes for the arduous duties that their careers demand. As a current Wildland Training cadre member he is especially interested in helping out and physically preparing many of the young athletes that are striving to enter fire Department and Wildland and Fire Service careers.
"Leading and training our crews required developing high-level fitness programming that would create athletes that are extremely durable and well-rounded. I've worked hard to design and implement year-round training that provides the necessary balance of strength and conditioning for my entire team."
The Prep and Defend Show – Podcast
Learn helpful workout, leadership, and lifestyle strategies, insights, tips and hacks for you and your team. Join guests and hosts on this deep-dive into the fitness-leadership lifestyle of the Career Tactical Athlete or arduous lifestyle.
Guests and hosts will draw from their experience on Wildland Fire Crews, Municipal Fire Departments, and the greater Tactical Athlete and Fitness community in order to better equip the Tactical Athlete Community for the challenges of an arduous, high-commitment lifestyle.
With long-term fitness and lifestyle goals in mind, you will learn helpful workout and life strategies, insights, and tips that you and or your team can apply as you push yourselves to exceed the standard on the "Fire-Line" and beyond.
Today's Top 3 Takeaways:
Stay Hungry
Be Humble
Do Hard-Work
Today's Guest & Resource Links:
Watch us on YouTube:
Timestamped Show Notes:
00:30 – Introduction
10:00 – I have been involved with a lot of training academies, training the people that we hire, I've done several. You get to week three or so and you start to learn that people's personalities are the ones that are going to actually stick around and graduate. A bunch of them get nicknames and that nickname for sure follows them to their first assignment. A lot of times, you know, quite a ways through their career.
20:00 – The first time I have ever went on an airplane was there were fires are burning in Florida in 1998. And we flew, we went to Florida, in all parts of Florida, northern Florida and Flagler County there. And we got our R&R in Florida. So a whole bunch of you know, 21 year old kids, you know, going to check it out places we never been Cocoa Beach and mandatory days, days off. You go to the south Daytona. No, we were up in the middle of the state, though. We made it to Daytona. We did. We rented a car and went to we rented a t top trans-am. Anybody here ever heard of a car company called Pontiac,
31:20 – on those tragic events, and you know, we're kind of talking, you know, about, like you said, people that are closest, how hard it is for them. And when I would use it as a training tool, and this is a great discussion, just for everybody listening out there. And if you haven't seen the movie, I definitely recommend recommend it as just a way to honor those, those guys that are no longer with us, but but it's the human factors, right. Like you mentioned, there's, there's policies, and there's procedures, and then there's science, right, there's the weather that we can't always predict. But really, we specialize and when we're training people, you know, we can't control all those other factors. But we're trying to teach people the human factors.
40:00 – In reference to Situational Awareness, a lot of times I try to recognize when things aren't going like they should. Or if somebody needs help in a certain area, I'm kind of that for them, but who's watching my back? So that's her, she's seeing the whole picture.
50:00 – I post a lot about fitness because like you, it's just kind of over time, that's kind of what I became known for. At work, that was part of my passion, that's just who I am. So that's the business side of it, the podcasting, and even the business side with VenturAthlete. I actually started first programming for our teams that I worked with are paid, hand crews, trying to come up with something that we can do at work that would still allow us to work. Because you can go hardcore on a lot of this programming that you can find online nowadays.
01:02:00 – Final Words Shown Below…
Our Final Words of the Show:
At this point, what I would like to be known for and what I would like to pass on even to my sons that they would be known for, and I kind of got it just in three little little short blurbs. It's to Stay Hungry, to Be Humble, and to Do Hard-Work. You're never going to reach the pinnacle. You're never going to get to the top of the ladder. Staying hungry all the time, but doing it in a way that has humility and not arrogance. That means you can help other people and then doing the hard work recognizing when there's hard work and not passing it up to let somebody else handle it. But you get in there and do the hard work and so that's what I would drop on the audience. I hope it's helpful to you and thank you so much Scott for having me on the show.
Positive Actions:
My New Book is LIVE! Go get "So You Want To Be A Hotshot"!
Please don't forget a positive book review after your purchase too. The Kindle and Paperback are up and the Audiobook book version for Audible is coming soon!
Help us reach more listeners with a 5-Star Review on iTunes and Submit a Review
Please consider supporting our 501c-3 non-profit and visit http://fuelfoundations.org
Join our private Facebook community The FUEL UP Mindset
Need brand growth?! Visit us at FuelUpMarketing.com