Leading Brands, Triathlons, Allentown, and Authenticity with Kyle Duford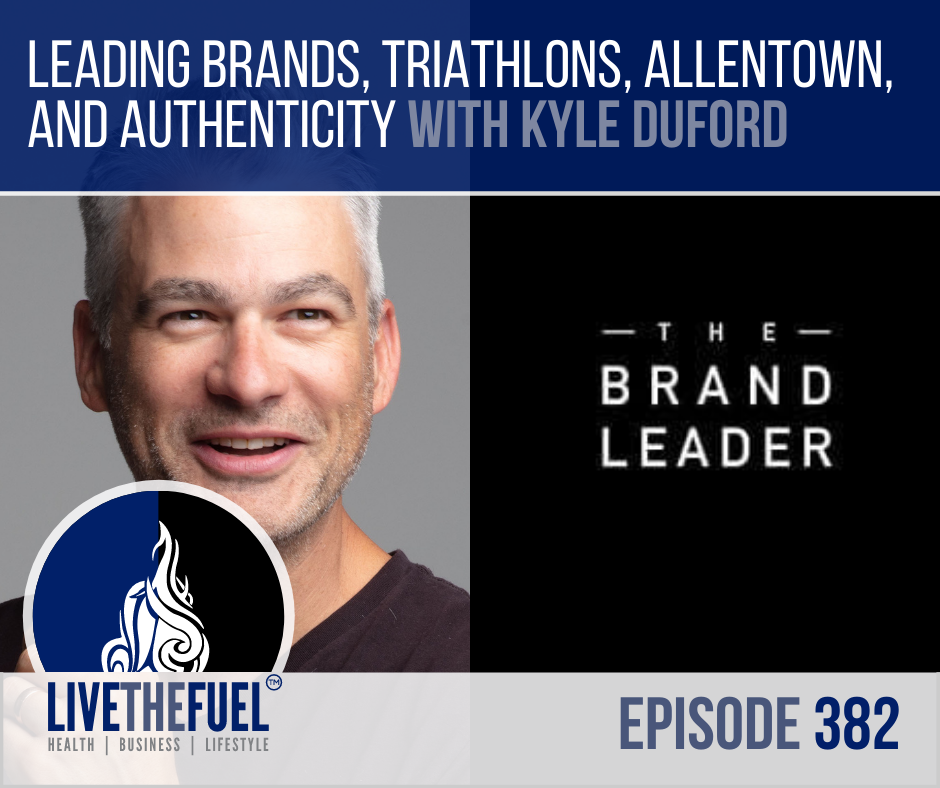 Reconnecting on Allentown and the Lehigh Valley, Triathlons, Brand Authenticity, and More:
Kyle is an executive specializing in crafting outstanding experiences for global brands. A former magazine editor, he also spent a bunch of his career with a focus on the fashion, outdoor, and sports industries through the e-commerce and digital lens for brands such as Nike, Dr. Martens, KEEN, Lululemon, PowerBar, Ariat, Chrome Industries, Nuun, and others. Kyle's unique blend of design, branding, and digital best practices lends itself to creating and leading some of the foremost brands.
Quote: "Courage is contagious. When a brave man takes a stand, the spines of others are often stiffened." — Billy Graham
A bold, charismatic speaker, with a penchant for hitting brand's sweet spots, he brings his experience to any size group or audience on the topics relating to online or digital business growth, e-commerce trends and tactics, A/B testing, branding, positioning, and design.
Kyle is currently focusing on digital trends online, the future state of retail in a post-pandemic world, the complexity of global brand expansion, and branding post-pandemic.
Today's Guest & Resource Links:
Watch us on YouTube:
Timestamped Show Notes:
00:30 – Introduction
11:00 – I used to ride my mom's Bianchi. For years, I would steal it, she would know it. It was a little bit bigger than me, so I kind of grew into it. We actually moved to Burnsville way up through 309. We're just a little bit outside the Parkland School District, but I refuse to go to Northwestern High School is a different district. So I would ride my bike almost every day to train for wrestling from Burnsville down the back way through down to the old Parkland High School, which is Orefield, and it was just a fantastic ride.
21:30 – I wanted to write for Outside, Men's Health, and Men's Journal which are the ones we talked about. Yeah, they just wouldn't have me. They're like, hey, nice job, kid. Here's a lollipop go read our magazine somewhere else. I was like, well I think I'm a good writer. I think I can handle this and they wouldn't even give me the time of day. So I did my first Triathlon in the fall of 1999. I did the Catalina Island Triathlon off the coast of Los Angeles. I had lost 100 and change pounds to do my first race. I was miserablfe. I was unhappy. So I gained all this weight, a long story, but I ended up losing it all. Because I was training for triathlons. I didn't know I was just running and my knees couldn't sustain me because I was too heavy. So I started biking like I used to, and then, long story short, I'm cycling and swimming and running and someone said you should do a triathlon. I said, okay and I signed up for one in November of 1999.
30:00 – I think clydesdale calss was never closer, I think it was 200 lbs. But regardless, you're talking about whether they were fantastic triathletes or not, they were still athletes, and they're still out there doing it. I don't care how big you are, or if you're like, quote, in shape or out of shape. You have significantly different needs at that size. I mean, just the square inches of pound pressure you put on your feet as you run is just substantially different. So we would talk about things for them, we were the first. There was a woman out of California, her name is Rachel Sears, she was a semi pro athlete, she married a guy named Phil Cosanta. These are names I haven't heard of in years, who was a coach out there. She convinced me that there was a mechanisation in any kind of training called periodization. That is how you peak when you peak, how you put baseballs and so forth, and how you get ready for a race. It's this series of weeks to train for a race. So she wrote an article on what periodization was all about, how do women stay at their top performance if they're on their period. We're talking people were telling me don't print that article and she was telling me you need to print this article. I'll tell you I've never received before, since, and I worked for other magazines after this, so many positive reviews. Specifically from women stating that no one ever told them about this stuff. So I think we were really groundbreaking in many ways. I wish I would have known then that we were so so forthright and so innovative, because I think we could have capitalized on it could have been more successful.
38:50 – I'm completely online and virtual. So I do have a couple of virtual people that I outsource to stuff like that. I don't have full blown like, teenagers who you're talking about, but I agree with you 110% that you cannot find the same psychological connectivity virtually, that you do physically. Obviously, I want people to be healthy and safe and whatever your position is on COVID and all this transition, but it's like in the end, especially an agency like you guys, I can't be that dude, that'd be in the office.
46:00 – What's interesting, too, is now everything is virtual. You can even do, you know this, but now you can have whiteboard sessions and collaborations. Just yesterday, somebody was like, we don't know if we should do this or not, you know, full rebrand. I'm like, why don't we just have a conversation? He's like, well, I got people in Orlando, and I'm in Arizona, and now the people in Maine. So we don't just get on a, we'll have a whiteboard session online, we can draw on each of the screens. We can post things, they're like, what, you can do that? I'm like, well, first of all, we have been for the last year, but secondly, the whiteboard thing is new to us. But it's been really fun learning new things.
59:30 – Final Words Shown Below…
Our Final Words of the Show:
My wife, she's very loyal and she is also about justice. She's very straight with me and she very much sees my frailties and my weaknesses. But she also embraces me for them and loves my strengths. When I'm in a situation like that, when I'm nervous, when I don't want to do something, and I'm like, gosh, I'm feeling vulnerable. She's the first one to say, Yeah, but that's when you need to go. That's when you'll learn the most and you'll give the most. I wish I had that skill set. When I was younger, I wish I had that skill set working for other people. Because had I been a little bit more receptive, a little bit more patient, a little bit more humble, I could have been a lot more effective as a man than I was at that time.
Positive Actions:
My New Book is LIVE! Go get "So You Want To Be A Hotshot"!
Please don't forget a positive book review after your purchase too. The Kindle and Paperback are up and the Audiobook book version for Audible is coming soon!
Help us reach more listeners with a 5-Star Review on iTunes and Submit a Review
Please consider supporting our 501c-3 non-profit and visit http://fuelfoundations.org
Join our private Facebook community The FUEL UP Mindset
Need brand growth?! Visit us at FuelUpMarketing.com