HRR Method with Wholistic Health Coach Dr. Andrea Blake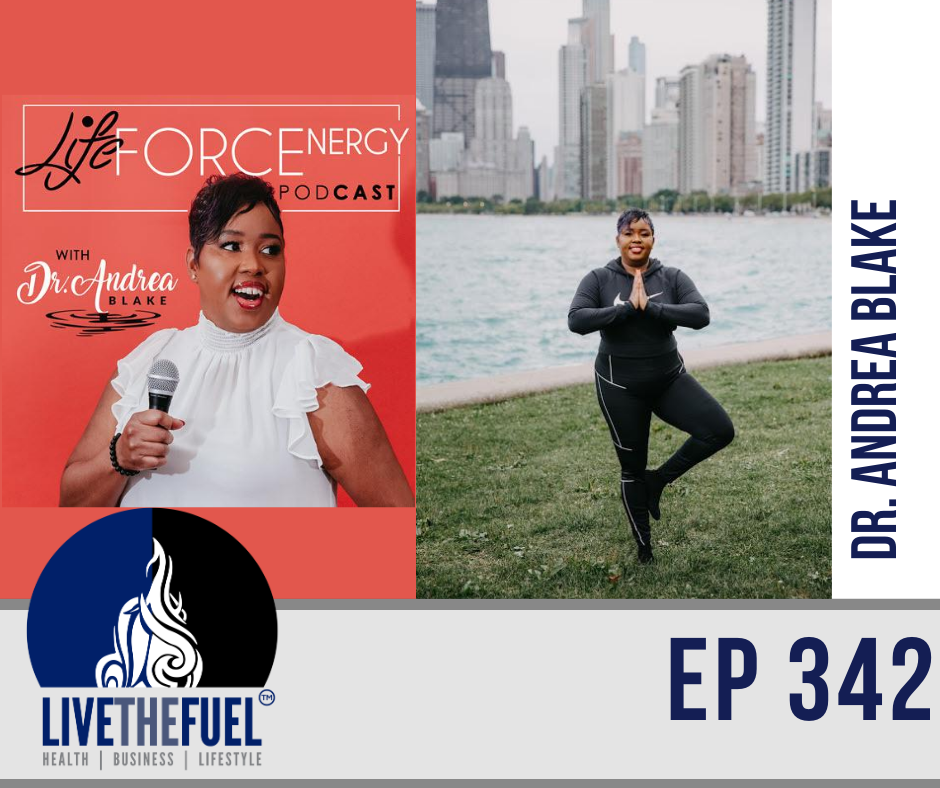 Wholistic Healing, LifeFORCE Energy Flow, and Chiropractic Care:
Dr. Andrea Blake is the "Wholistic Health Coach" on an unrelenting mission to heal, restore, and recharge lives through the healing art of what she has coined as the "HRR Method." Dr. Andrea empowers her community as a tireless advocate, speaker, and thought-leading healer.
Quote: "Live life, love life, allow life, embrace life…just BE HERE FOR IT!"
Sharing evidence-based truths, Dr. Andrea roots for everyone on their natural health journey, standing firm on her driving principle that God has equipped all people with "life force energy." She charges forward to deliver her message that we are innately born with everything necessary to obtain and maintain health for living at our highest expression. It is the healing of not just our bodies but also our mindsets which Dr. Andrea strives for on her journey to heal, restore, and recharge lives.
Top 3 Hot Point Takeaways:
Chiropractic Care vs "Traditional Medicine"
Our Flow of Energy
Wholistic Health
Today's Resource Links from the Podcast:
Instagram: @drandreablake
Twitter: @drandrablake
Podcast: LifeFORCEnergy with Dr. Andrea Blake
Our Mentioned Influencers:
Public Relations with Pam Perry via PamPerryPR.com
Watch us on YouTube:
Timestamped Show Notes:
00:30 – Introduction
10:00 – I never really took a lot of Tylenol, Aspirin, Advil, and all these brand names of anti-inflammatories that we all just take for granted. The fact that we just keep pumping them down our gullets is not okay. It throws everything off, as you know, 70% of our immune system is in our gut. Our body is dependent on the proper healthy gut biome alignment and the body has to be able to handle anything that comes.
21:30 – The most successful people out there can attest, if you're not embracing change, or remaining open to the influence of possible change for growth, you're not going to grow because you're just staying stagnant. It's like people are going to the MD day after day or week after week getting the same diagnosis. Then it becomes well, we haven't tried this yet, so let's try this drug and then let's try that other drug, etc, etc.
30:00 – The wholistic side is definitely a big part of my business and brand because I believe healing is not just in one area. Chiropractic can't heal everything. It definitely sets the body up for better healing, it can set up the process to happen more optimally than without chiropractic. But there's also the nutritional factor and there is the physical factor the fitness and then definitely there's the mental game where everything happens. First, your mindset and then the spiritual comes in as well. So just being able to be aware of that healing and living holistically unhealthy optimally has a lot of different spectrums to it.
44:00 – I like that broken wing concept. It's something that I guess it's a habit, but the mind is so powerful. It's whatever you say and think that's what's going to happen and especially with your body. I always say when I'm talking in my workshops, there are different areas, your cells are always listening, your whole body, your muscles, to whatever you say.
52:50 – Final Words
Our Final Words of the Show:
Just thinking about Life, you know, holistically, taking it all in and letting it flow. Things have come to you and I believe in that the more that we allow our bodies to heal and you're able to let down resistance, we're able to think more clearly and set clear intentions. Really take care of ourselves in a radical type of way unapologetically. Things will just flow better and we don't have to work as hard to chase as much or worry as much. Life wants to kind of flow for us and to us, so we have to set ourselves up for that.
Action Steps:
Support our 501c-3 non-profit and visit http://fuelfoundations.org
Help us reach more people with 5 Star Reviews, visit iTunes and Submit a Review
Join our private Facebook community The FUEL UP Mindset