Hotshot Book Launch with Hilary Jastram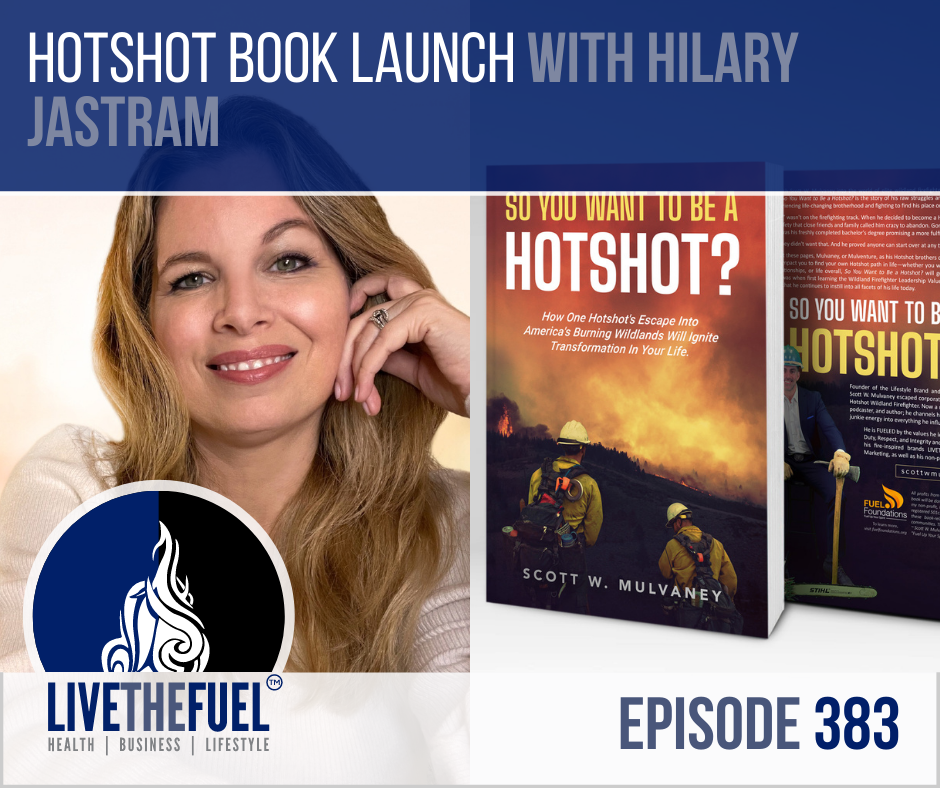 Enjoy This August 2021 Book Launch Throwback Episode:
I took a big break during 2021 to ensure we could finish launching my first book, "So You Want To Be A Hotshot" and well, we did it! This podcast episode was originally a Facebook LIVE video on my personal feed there during our book launch day. So please listen in with my editor and publisher partner, Hilary and I celebrate and discuss lessons learned. With 20+ years in the digital marketing trenches, J . Hill Marketing & Creative Services is the expert. Period. Here is Hilary's bio below.
Quote: You OWE it to your book to take time and not rush it!
~ Hilary Jastram
I am the founder of J. Hil Creative, a marketing agency specializing in premier copywriting, editing, and book editing for Fortune 500 brands and the "one-percent" superstar entrepreneurs. Bookmark Publishing House, a division of J. Hil Creative, was born out of necessity when the inquiries I put out to help authors publish their masterpieces gained traction. Now, it is Bookmark that demands most of my time–and I wouldn't have it any other way.
Authors who come to me get a genuine assessment of what they need to do to reach the book publishing finish line. I am qualified to teach them as this is a road I have traveled myself.
It's important that an author works with an editor who has been in the book writing trenches–who is an author themselves. So the process is one of not just empathy but sympathy. When I tell authors I understand their confusion and overwhelm, their fear of releasing their book baby into the world, I absolutely mean it. This is why I love being a book coach so much! There is nothing like being witness to a writer's strength growing in ways that surprise even them. I tell myself every day that I have the best job on the planet.
Since 2016, Bookmark has helped over 100 authors everywhere get published! That's a number I'm pretty proud of. I attribute our success to my incredible team of experts ranging from proofers, formatters, designers, marketers, copywriters, and editors.
Another one of my labors of love is the Go Book Yourself podcast that allows authors to master writing, marketing, and publishing one byte at a time. It's my hope that this podcast will provide peace of mind through the sharing of relevant and road-tested tips, tricks, and industry insights, so authors can gain the confidence they need to move forward on the steps to publication.
As you are about to learn, there's no feeling like becoming an author in the entire world. Wearing the crown of authorhood belongs solely to you. Nothing can ever take it away. And in my eyes, nothing can ever beat it.
Although my time is dedicated mainly to Bookmark, I am available for copywriting, publishing, and marketing consultations. Please reach out using the Contact option on the menu at the top of the page. I can't wait to speak with you soon!
Today's Top 3 Takeaways:
Be patient with the process, even a Hotshot can struggle.
Stay inspired to ensure your motivation to the end.
Partner with the right professional to push you to the finish line
Today's Guest & Resource Links:
Watch us on YouTube:
Timestamped Show Notes:
00:30 – Introduction
10:25 – I have to stay sane and married. So I'm gonna make a command decision right now to do those things. I admired your dedication. I admired your focus, and you came back to it. So some people don't come back to it. I don't know why this is.
17:10 – You already had that commitment. I think he was robbed but what stuck out for me and what I just kind of chuckled over and I really enjoyed watching you get into and wade around in… You fully immersed yourself in the total geekiness of living as a minimalist. That that was joyful for me.
22:30 – So I do mention that in the book. There's already been a movie about the Granite Mountain Hotshots who passed away June 30, 2013. I got to serve alongside of them with my crew Pleasant Valley Hotshots in 2010, 2011, on different fires. Then, unfortunately, when I stepped away from the profession, they ended up passing away. 19 of the 20 men lost their lives on the Yarnell Hill fire on June 30, 2013 trying to protect the town of Yarnell outside of Prescott, Arizona.
30:35 – It's not you, it's me. I think my line was, man I was such a douche, I think my line was, was like, listen, I can be gone for a month at a time or two months at a time. It's not fair to you or I to take those matters of the heart like that so lightly. Honestly, deep down, I didn't want to. I didn't want to risk my heart, I was shut down. I saw people on my crew struggling, being engaged, being married, worrying about people cheating on you while you're gone. So I was like, dude, this is only for like, sometimes four to six weeks. I can't imagine people in the military what they go through. It took a lot of years of work to pull my head out of my ass after this.
40:00 – Well, I'll tell you what I think what you're doing here is right. So when you take on a book, it used to be, I'm going to write a book and that's going to be the focus. I'm going to write a book and then I'm going to do this, then I'm going to do this, and I'm going to do this, once you've done "this", you launch a multi-prong campaign. That is exactly what you should be doing. So if there's anything that I want people to take away today, it is to wrap your mind around the fact that you're not just an author, you are a marketer, you will be whether you're self-publishing, going with the publisher or a traditional publisher, whatever the case is. You will be expected to come to the table as a marketer.
50:00 –
46:15 – Final Words Shown Below…
Our Final Words of the Show:
If you can't sell your own book… Alright. So my friends, my family, my followers, please help push this out there. Now again, all profits go to charity, I'm not messing around. It tells you right an Amazon. It's literally on the back of the book. I started my own foundation, that was one of the things that happened because of writing the book. I want to be able to make sure and guarantee people that money is going to charity.
FUEL Foundations is legit 501-C3 nonprofit that I registered over a year ago. I didn't plan on doing it until writing the book because then I realized, wait a minute, what if certain firefighting benefiting communities or charities either go defunct, or all of a sudden get shady. I need to ensure that people's money is being put in the right hands. If I only aligned with one charity on the book, well, then I can't help others. So this is one way that we can literally ensure that this book's success can be benefiting multiple organizations for years to come!
Positive Actions:
My New Book is LIVE! Go get "So You Want To Be A Hotshot"!
Please don't forget a positive book review after your purchase too. The Kindle and Paperback are up and the Audiobook book version for Audible is coming soon!
Help us reach more listeners with a 5-Star Review on iTunes and Submit a Review
Please consider supporting our 501c-3 non-profit and visit http://fuelfoundations.org
Join our private Facebook community The FUEL UP Mindset
Need brand growth?! Visit us at FuelUpMarketing.com