Healthy Restoration, Telomeres, and Vi-Telometry with Dr. Darrell Misak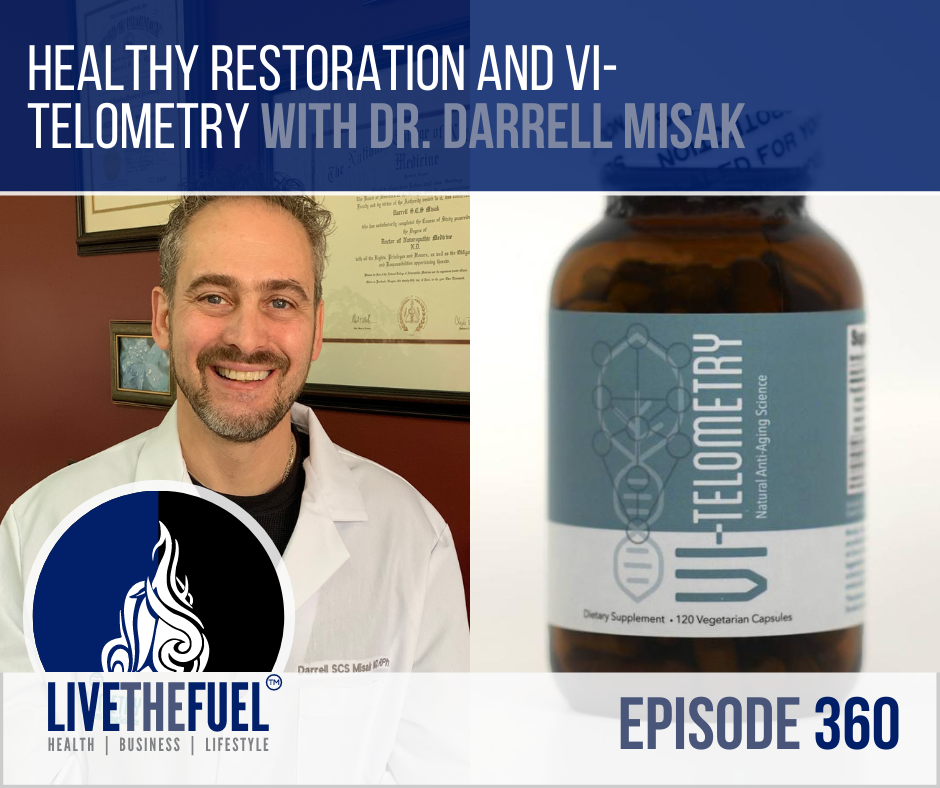 Anti-Aging, Telemomeres Health, and Naturopathic Medicine:
Dr. Misak received his Bachelor of Science degree in Pharmacy from West Virginia University in 1992 and gained 3½ years of university hospital pharmacy experience at Duke University Medical Center. During his hospital pharmacy experience, Dr. Misak's primary focus was clinical rounding in Oncology and General Medicine. As he began to realize the pitfalls of traditional medicine and pharmacy, he started his continued search for truth in health, which directed him to naturopathic medicine. In 1996, he moved his family across the country to Portland, Oregon, where he received his Doctor of Naturopathic Medicine degree from the National University of Naturopathic Medicine. Additionally, while in naturopathic medical school, he was blessed with the opportunity to gain 5 years of compounding pharmacy experience at Lloyd Center Pharmacy.
Quote: The day that you consume more energy than you get from your food is the first day of disease. ~Dr. Carey Reams
Dr. Misak owns and operates Pittsburgh Alternative Health, Inc. in the south hills of Pittsburgh, where he focuses on health analysis and how to support optimal energy formation to result in natural health restoration. He has continued his search for truth in health with a goal to teach and change the world. He performs regular lectures and does YouTube shows teaching the concepts of bio-electric chemistry and how to optimize personal energy efficiency. In essence, his goal is to teach health and observe restoration.
Top 3 Hot Point Takeaways:
Naturopathic Medicine vs Pharmaceutical Medicine
Telomeres Health and Anti-Aging
Daily Stress Impacts on Health
Today's Resource Links from the Podcast:
https://vitelometry.com/pages/meet-dr-misak
https://www.facebook.com/vitelometry
@vitelometry
Watch us on YouTube:
Timestamped Show Notes:
00:30 – Introduction
05:30 – In "traditional" medicine, they are studying theory, the catabolic state, cancer break down, this person needs certain B vitamins to generate the energy, their collagen swelling report, they need higher amounts of vitamin C, etc, etc.
10:00 – Whatever you can't get away from toxins, check the Environmental Working Group, EWG.org, the Clean 15 or the Dirty Dozen, clean 15 foods. They did a study years ago on placental blood that babies right when they're born to have over 200 chemicals on average in their blood. So you're breathing it in and you're putting them on your skin.
22:00 – The rich and famous are taking this stuff. Then you look at all the other ones and all they are, are glorified antioxidants, and basically multivitamins. If you look at what affects telomeres, in reality, it's stress. If you had a stressful childhood, you can't process your emotions and haven't figured out who you are or how to process those emotions. Then you carry that stress to your life, it shortens your telomeres.
30:00 – I have seen some directly enhanced testosterone levels and guys having positive effects for fertility with women who are having fertility issues. This has been shown to balance out those hormones on women.
40:30 – The higher the mineral content in the food, the more drought-resistant the food, the higher the energy of the food, the more sweet the food is, the longer that food is gonna last in your refrigerator. So you buy an organic zucchini that's rotting in 10 days in your refrigerator, I pick my organic, get into my organic zucchinis that I'm growing. I can leave them on my countertop all summer long, then cut them up, and they're still fresh as the day that I picked them.
48:00 – Final Words
Our Final Words of the Show:
I think you take it back to that awareness aspect. I think if you know who you are, and you know what you believe, then you have a tool that shows you how you can love yourself because if you don't like yourself, you're dealing with yourself for the rest of your life. You know, then you've got an issue, know yourself, find yourself and then let that belief guide you. It's going to lead you to do that aspect of truth that says, okay, if I really believe that, then what am I doing to make that difference and leaving that legacy?
Action Steps:
Support our 501c-3 non-profit and visit http://fuelfoundations.org
Help us reach more people with 5 Star Reviews, visit iTunes and Submit a Review
Join our private Facebook community The FUEL UP Mindset