008: Liven Up Ya'll with Whitney and Chris Carullo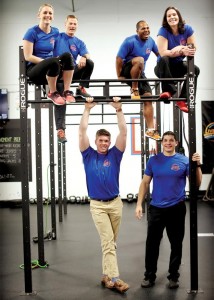 Good day ladies and gents! Today we have decided to one up it again and go with two new, happy couple co-hosts. This episode is about making an impact in the diverse and crowded Health & Fitness industry. All while we focus on how they are living a healthy, balanced, business lifestyle. This is demonstrated perfectly by today's co-hosts, Chris and Whitney Carullo who choose to Liven Up. These two are a young couple that fulfilled their dream since college of opening their own fitness business.
Originally their plan was to open a small personal training studio with just them training their clients. We fast forward four years later and they have a 7,000 sq feet facility, 350 members, seven full-time employees, ten all together. They have built a healthy business and a great brand here in the Lehigh Valley.
I have been able to get to know them both personally and professionally over the past two years. Located in Bethlehem Pennsylvania, their facility and brand are known as Liven Up Health and Fitness.
On This Liven Up Episode You Will Hear:
[spp-timestamp time="1:27″] How we came to connect
[spp-timestamp time="4:07″] Liven Up business model and retention
[spp-timestamp time="5:51″] Why you should not go cheap on your health and why you should be fueling the lifestyle
[spp-timestamp time="8:27″] Building your brand, building that recognition and a lasting impact in peoples lives
[spp-timestamp time="9:55″] How Whitney and Chris impact the business separately and how they guide their customers through the fitness process
[spp-timestamp time="11:49″] Having good mentors that help pave the way for you, you don't have to reinvent the wheel. Masterminding and a great stat on gym membership in the US
[spp-timestamp time="14:25″] Customer Retention and word of mouth referrals
[spp-timestamp time="16:28″] Being in a very sales driven industry and caring for your fitness professionals
[spp-timestamp time="20:16″] Knowing what they wanted to do since college and grinding everyday to change the industry
[spp-timestamp time="21:21″] The Dream team. The intense, Liven Up hiring process
[spp-timestamp time="23:35″] Building the systems, the process and infrastructure to free yourself from working on the business rather than on it
[spp-timestamp time="36:46″] Why we create the lifestyle we do and getting that location freedom
[spp-timestamp time="39:45″] Stepping away and giving your people the power to make decisions, people have to have self worth
[spp-timestamp time="41:21″] Switching off, stress management and writing stuff down
[spp-timestamp time="44:03″] Constantly evolving visions, utilizing square footage and managing your bandwidth
[spp-timestamp time="49:03″] Hustle but keep your health balanced, this will only add to your bandwidth
[spp-timestamp time="51:49″] Director of accountability and staying in your lane
[spp-timestamp time="58:13″] The 20 mile march
[spp-timestamp time="62:31″] Final Words
[spp-tweet tweet="It all comes down to is taking care of yourself – With Chris and Whitney Carullo of Liven Up Here on EP008 of LIVETHEFUEL"]
Links and Resources
People Mentioned
Final Words
All it comes down to taking care of yourself, if you are exercising and eating well, good things happen. It will keep you motivated. Always go back to the basics and that start's with you.
Also, have fun with it. Don't take yourself too seriously and don't take life so seriously; it is what you make it. It is all about fun, remember it's a lifestyle. So make it a part of your lifestyle, don't make it like a crash diet. Commit to it stay, with it and believe in yourself. Just keep it fun along the way!