Video Production and Email Marketing with BombBomb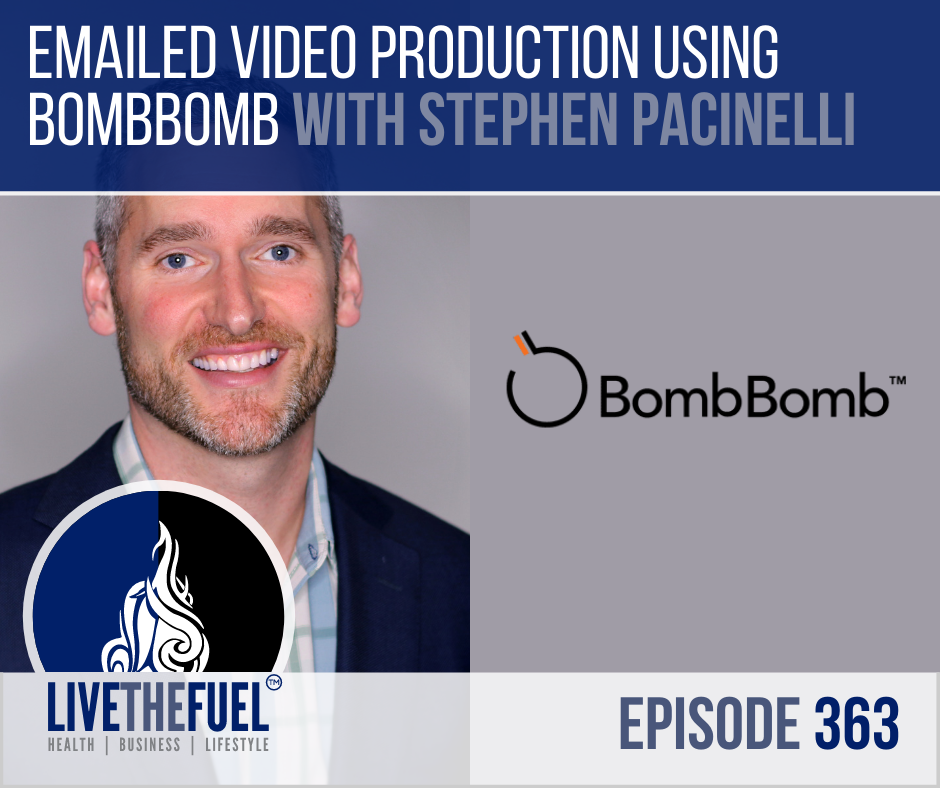 How To Speed Up Video Production and Increase Email Marketing Open Rates:
A passionate storyteller by nature Steve Pacinelli serves as BombBomb's Chief Marketing Officer. Recently, Steve co-authored the definitive guide to better business communication, Rehumanize Your Business. Prior to leading the charge of the "relationships through video" movement, he led a sales team winning with BombBomb. He was a Sales Manager, Vice President of Events, and the National Speaker for Realtor.com, and presented to more than 1,000 audiences along the way.
Quote: "The obstacle is the way"
Thematically these presentations focus on online marketing, video communication, lead conversion, consumer psychology, and sales automation. However, craft beer, photography, motorcycles, and Steve's family of five always made a cameo.
Quote: "Be a value and abundance will follow"
Top 3 Hot Point Takeaways:
Facial recognition vs textual.
Short visual videos vs faceless emails.
Connecting Personally vs Personalized Automation.
Today's Resource Links from the Podcast:
Scott's BombBomb Affiliate Link: http://affiliates.bombbomb.com/VQG9v
www.bombbomb.com/book
www.linkedin.com/in/stephenpacinelli
Our Mentioned Influencers:
The Epidemic of Facelessness
https://www.nytimes.com/2015/02/15/opinion/sunday/the-epidemic-of-facelessness.html
Vanessa Van Edwards: oxytocin body language
https://www.successpodcast.com/show-notes/2017/4/18/the-secret-science-of-lies-body-language-with-vanessa-van-edwards
Watch us on YouTube:
Timestamped Show Notes:
00:30 – Introduction
02:30 – Garage office? It looks a lot bigger than it is. It's about six by eight feet in the corner of the garage. I built it with my father-in-law in like two days, just to be separated from the house. I want to redo the garage and put the gym in my office upstairs and build a second. My gym is in the basement for me right now.
09:30 – I started using video for communication purposes, and again, there's marketing through video and relationships through video. Marketing is when you get the green screen, the drone, the high-end lighting, and the equipment and you record it. Relationships through video are more organic messages where someone's just taken out their phone, or they're using their laptop camera or something and they hit the record button. They know whatever message they have to deliver would be much better delivered in person but time or distance or technologies are keeping them apart. It's not suited for text-based communication either, it has nuance, it requires more clarity. Relationships need to be built and so back in 2011, I didn't work for BomBomb then, I was looking for a way to travel the country on a 48 city speaking tour.
16:00 – There is a shiny authenticity, the shiny or that something, is a lot of times the less authentic and it feels that way depending on what you're trying to accomplish with your video. There's a time and place for shiny, for sure. Okay. But there's also a time and a place if you're trying to deliver a heartfelt message. The less production that you put towards it, the more it sounds like it comes from the heart and less from the mind.
21:00 – I think, 25 years ago were the biggest shifts that we've had in the business world, as all of our communication was relegated to black text on a white screen. When you remove the messenger from the message, you remove the humanity, remove the emotion, you remove the tone, you remove the personal nature of the message, now we can personalize. That's all the crap that we get in our email inbox every day that has your name on it that's personalized. But there's a difference between personalized and personal. Personal is a message written specifically for you, personalized is that token or autofill that fills in the information that's not for you specifically. So I think that's part of the problem because we're relying on text messages, text-based email, text-based slack messages, etc.
30:00 – The visual cues are as human beings, we are meant to read visual cues. We have been talking for hundreds of thousands of years, there's only been mass literacy for the past 500 years. So we're not great. It's not ingrained in us over hundreds of thousands of years of speaking face to face and reading, like reading people's expressions. If you weren't good at reading someone's facial expressions, reading body language 1000, 2000, 3000 years ago, then you didn't survive to pass on your genes to the next generation.
41:30 – CTA, translated for the newbies is a call to action. So if I was, if I said Scott, you need to buy my book. I could have added a quick pop-up that would appear in the video when you play it. You click on it, it would go directly there. Then you see it within seconds. It just drops that video right inside the email. Now it comes across with that animated preview too and that's great to catch people's attention.
50:30 – We just released our brand new mobile app last week. So the tracking and analytics are great, for example, if you played 98% of the video or 52% of the game, you played it. All of that is available right on the app. The recording is then your video library as well as all of the tracking and analytics with who's playing it.
57:15 – Final Words Shown Below…
Our Final Words of the Show:
I'm going to go with this is a mantra that we've instilled in our marketing department. Honestly, it has bled into the rest of the company and kind of ties into some of the stuff behind me here too. It's simple, it is "BE A VALUE AND ABUNDANCE WILL FOLLOW."
Positive Actions:
Help us reach more listeners with a 5-Star Review on iTunes and Submit a Review
Please consider supporting our 501c-3 non-profit and visit http://fuelfoundations.org
Join our private Facebook community The FUEL UP Mindset
Need brand growth?! Visit us at FuelUpMarketing.com