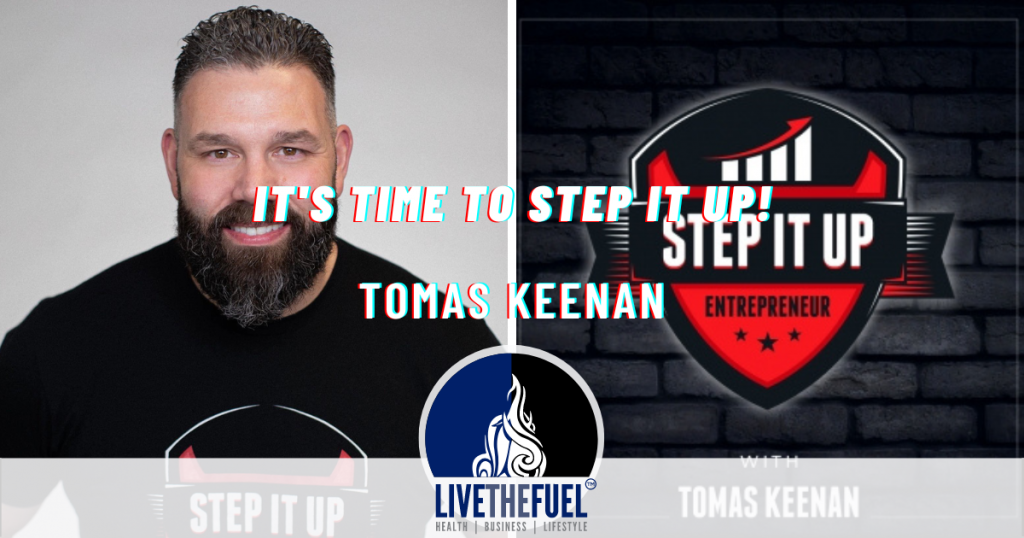 A Rare Repeat Co-Host, Tomas Keenan Returns!
Tomas Keenan is best known for his humble beginnings and lengthy career as a custom car audio installer. He is the epitome of a technician turned COO. After co-founding an industry-leading GPS Tracking and Dashboard Camera installation company and growing it to a 7-figure business, Tomas moved into the coaching space as a high-level business and success coach for other industry leaders and business owners.
Tomas works with Entrepreneurs who refuse to be average and are crushing 7+ figures in business. His success as an elite business coach led him to move his family from NYC to Dallas, Texas, to focus full-time on his newest company, Step It Up Academy.
Quote: Small Steps Forward Daily ~ Tomas Keenan
His expertise and vast experience have repeatedly put him on the top industry magazines' pages. He has been featured in Forbes, Mobile Electronics Magazine, CE Outlook, CEO Blog Nation, Fit Small Business, The Startup Growth, The Goodmen Project, and several Blogs, in addition to countless podcasts.
Tomas is also a sought-after public speaker, 2X bestselling author, and Step It Up Entrepreneur Podcast host. He has interviewed industry leaders, influencers, high-level business and success coaches, business owners, and entrepreneurs who are impacting their communities and the world at large. He states the key to his success is making progress every day, regardless of how small it may be.
"Small Steps Forward Daily" ~ Toms Keenan
Today's Top 3 Takeaways:
What or who is an Integrator.
Having the balls to embrace and become a Visionary.
Health + Energy + Mindset = Success.
Today's Guest & Resource Links:
Our Mentioned Influencers:
Our first podcast together, episode 285: UnFuck Your Business Edit
Book: The Buddha And The Badass by Vishen Lakhiani
Timestamped Show Notes:
00:30 – Introduction
05:00 – I got a couple of buddies of mine that just get shit done. I move hard and fast. These guys are like 10x. That's one of the things I look forward to and look for when I'm interacting with people. Looking at people, asking what are they doing, how are they operating, how are they getting it done? And what can I steal from them and implement into my life so I can make some of that reality for me.
15:30 – It also helps improve the positivity that comes into your own world. We all have a choice as far as what we can input into our brains, right? We choose what we can read, we choose what we watch on TV, if we watch TV at all. One of the big shifts for me, was actually making the conscious decision to turn things off like the news. Turn things off like the news and all of a sudden, my mindset is better. I'm not a grumpy fuck all the time.
24:00 – I'm reading this book right now, The Buddha And The Badass by Vishen Lakhiani, this guy owns a really successful company called Mind Body.
32:45 – 100% So I did it backwards. And I was just in the gym and didn't hear anything else. Right? Sometimes not the smartest dude in the room. So I was 283 pounds. Got to work on me was 75 hard work. By the time I wrapped it up and was done. I was like, 250 pounds in like, looking lean.
44:45 – I have two wellness doctors that I deal with, one's a chiro and one's an actual MD. The MD is like I don't really give a shit what those of my colleagues here think in the US. He actually trained a lot in Europe and everything that he's told me, Europe is 10 years advanced of where we are at with most things. So I got both of these guys doing a bunch of things and they're both high performance, former athletes who have become doctors and are hard charging very successful entrepreneurs. They are not just in medical practices, but a lot of other ventures that they've gone on with. They understand the game, they understand how entrepreneurs move and operate.
58:30 – Final Words Shown Below…
Our Final Words of the Show:
Every one of our social media posts that we finish on that small steps forward daily, like literally, that's how I live my life. You know, a lot of people want to go back to baseball, for instance, right? So do people want to come to the plate and they want to smash that home run? Or get the Grand Slam and knock it out of the park? In reality, it happens every so often, but not so much. I'd rather go there and hit base base hits, right, hit a ground ball, and get on base every time.
Any of the big wins that I've had in my life have been a very gradual build up of small wins over a long period of time that then transition over. So yeah, this whole theory of oh wow, he's an overnight success. Yeah, 22 – 23 years of hard work to become an overnight success.
Positive Actions:
Get my book on Amazon today! "So You Want To Be A Hotshot" – HotshotBook.com
Positive Reviews "DO" help grow books and free podcast shows, those review really do matter!
Did you submit your 5-Star Review on iTunes? – Submit a Review
Need a charity to believe in? Check out our 501c-3 non-profit! Visit – FuelFoundations.org
Need brand growth, sales strategy, marketing execution?! Visit – FuelUpMarketing.com