Situational Awareness for #FUELUP Friday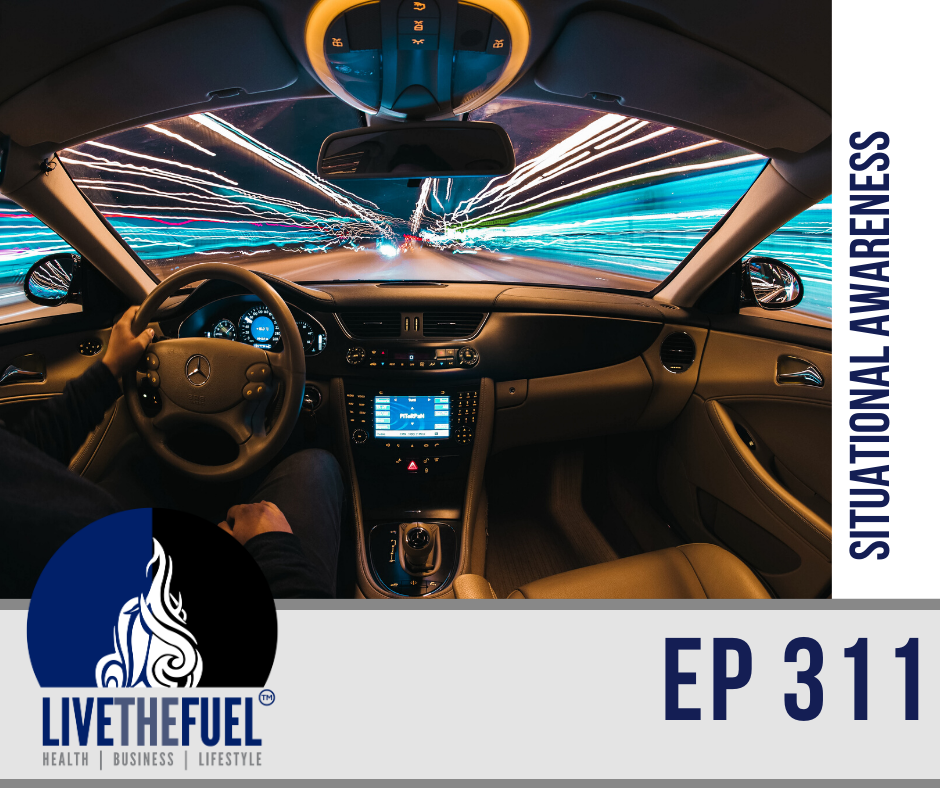 Today's FUELUP Friday Podcast is about the importance of Keeping Your Situational Awareness Up aka Alert!
"Keep Your SA Up! – Quoted Scott W. Mulvaney
Top 3 Hot Point Takeaways:
Staying alert and ready.
Don't freak out and stay calm.
Keep Your SA Up aka Keeping Your Situational Awareness Up.
Timestamped Show Notes:
00:30: Introduction
04:00: Overviewing the highway incident of flying scrap trash that almost went through Scott's windshield this week. Establishing why it's so important to keep your Situational Awareness up and alert.
11:40: Back to the point of Situational Awareness. The point of this episode is to help you align this topic into your Health, Business, and Lifestyle.
14:00: Your situational awareness actually improves as you've made mistakes or as you succeed too. Hopefully, you pause long enough to be aware of these things and to assess what happened in that situation.
16:30: Keeping your SA up is important when somebody decides to take a bottle to your head. Yeah, that happened to me. Not really that enjoyable. Plus, you know it took me down. I am six foot four inches and back then I was a good 200-205 lbs. So that's all it takes sometimes to take a bouncer of my size down by simply swinging a Rolling Rock glass bottle. You can't always plan on some dumbass and like two or three of his bros that are all hammered, you know, trying to surround you and distract you and then boom! I totally failed here back then on my situational awareness for sure!
23:00: I want to tie all of these examples back to the base of the story here which is using situation awareness across our lives. I had this emphasized when I was firefighting, I got to learn the true purpose of "Keeping Your SA Up."
28:00: Final Words
Our Final Words of the Show:
If you're trying to reach me from January 20 to January 27, 2020, Good Luck, Ha! You can follow me on Instagram and Facebook because I'll probably be posting a lot of fun content while we're skiing in Vail, Colorado. That's right we're heading back to go hang with the in-laws at their house in Edwards, Colorado. If you are a regular friend of mine who listens to the show and you want to catch up, dude, let's make some turns together!
Action Steps:
Support our 501c-3 non-profit and visit http://fuelfoundations.org
Help us reach more people with 5 Star Reviews, visit iTunes and Submit a Review
Join our private Facebook community The FUEL Tank, at https://www.facebook.com/groups/TheFUELTank/
Watch us on YouTube: