Orgasms, Wellness, Gut Biome, Sex, and Romance with Susan Bratton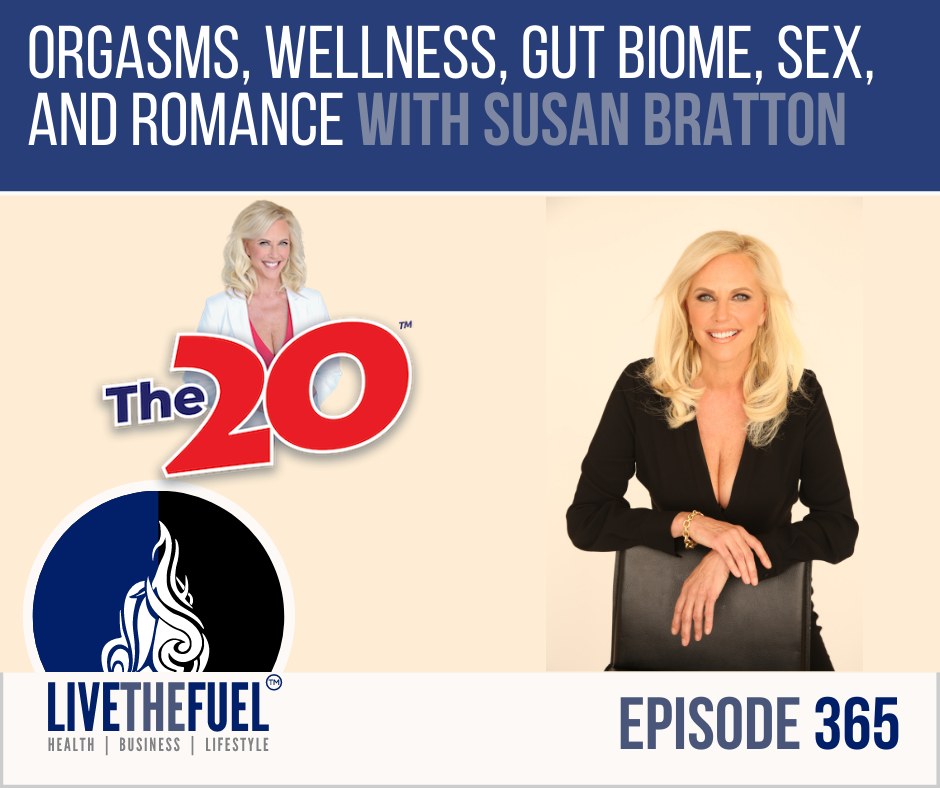 Today We Get Intimate About Sex, Romance, a Healthy Gut Biome, and More:
Susan Bratton, Intimacy Wellness Expert is a champion and advocate for all those who desire intimacy and passion their whole life long.
Best-selling author and publisher of lovemaking techniques and bedroom communication skills including Sexual Soulmates, Relationship Magic, Revive Her Drive, The Steamy Sex Ed Video Collection, Hormone Balancing, The Pump Guide, and Thrust In Time as a small selection of her 34 books and program.
Quote:
"Couples that play together, stay together…especially in the bedroom."
~ Susan Bratton, Trusted Intimacy Advisor To Millions
You can find The Susan Bratton Show on YouTube at BetterLover.com, her more personal posts @susanbratton on Instagram, and her new sexual vitality supplements, Flow, Boost, Desire, and Drive at The20.store
Top 3 Hot Point Takeaways:
Healthy Gut Biome
Male Intimacy and Romance
The Magic Pill Method
Today's Resource Links from the Podcast:
http://personallifemedia.com
http://the20.store
http://instagram.com/susanbratton
http://betterlover.com
http://linkedin.com/susanbratton
http://twitter.com/susanbratton
https://www.facebook.com/trustedhotsexadvisortomillions/
Watch us on YouTube:
Timestamped Show Notes:
00:30 – Introduction
09:55 – A lot of times, for men, there aren't raised to be in their emotional body. They really can't feel a lot of pleasure. They have a specific way that they self-pleasure and that's their one well-worn path. A lot of times when they get into the bedroom, they're in their head strategizing about giving her a great experience. They're overthinking.
14:00 – Some people want to go back and rehash what happened and process it. Other people are better at saying, let's just have a do-over and start again and let that go. One of the things that I do notice is that there is a pretty big number of people, I'm thinking 15 to 20% of people, who have been betrayed or have had their heart hurt. It is very hard for them to open their heart again. I don't hear as commonly of people who have never opened their hearts, except for men who come to me and say, women, reject me. They don't like me. I am just terrible with women. They come in with a chip on their shoulder that they're not likable.
19:20 – I started looking at the Venn diagram, the three circles that intersect of libido, desire, and arousal. So what you're really talking about is body, mind, and spirit. You're really talking about both your physicality as well as your emotional body as well as the knowledge that you bring. Then once you get really good, once you're like, okay, I understand how my genitals work, I understand the ways I can orgasm. I began to become more multi-orgasmic. I've had different kinds of orgasms. My partner and I now have the ability to feel really comfortable talking to each other. We're comfortable asking for what we need is changing. Just as we change and evolve, we acknowledge that every day is a new day and we're constantly maturing.
30:30 – The minute you start to see any diminishment of size, or a reptile rigidity, a vacuum erection device, the one I like is called the Whopper. I've written a book called the pumping guide. I know it's a funny name because it does make your penis bigger as well, which is nice. A lot of guys want to have a little bit more girth and length. I have written a book called the pumping guide, which explains how pumps work, what to do, how to pump for maximum gain.
40:15 – So prostate massage is super healthy and we've lost track of it over the last 100 years or so. But, in the old days, prostate massage was very, very common. So those are important parts for men being able to feel along with perhaps nipple stimulation, kissing, you know, tickling the chest, thighs, buttocks, belly, these are all spots that can be really sensitive and pleasurable for men, not just for women. You know, nobody thinks twice about playing with a woman's nipples.
50:00 – Radishes are good, kohlrabi is a good deal and cabbage. The brassicas not so much. Homemade yogurt made in the right way is another great source for healthy gut bacteria and healthy gu biome for improved wellness.
01:02:00 – Final Words Shown Below…
Our Final Words of the Show:
What the magic pill method does is it teaches you how to solve your problem yourself, that there is an answer to your problem. It might be a workaround, it might be a solution, it might be a compromise. But there is a way to remove the roadblock, to go from wherever you are to what you believe that you want. What you want is only the beginning of what you could possibly have if you just keep going. So the magic pill method is actually a four-step process for solving your own problem yourself with your sex life.
Positive Actions:
Help us reach more listeners with a 5-Star Review on iTunes and Submit a Review
Please consider supporting our 501c-3 non-profit and visit http://fuelfoundations.org
Join our private Facebook community The FUEL UP Mindset
Need brand growth?! Visit us at FuelUpMarketing.com