Mindset, Shit Program, Self-Awareness with Udo Erasmus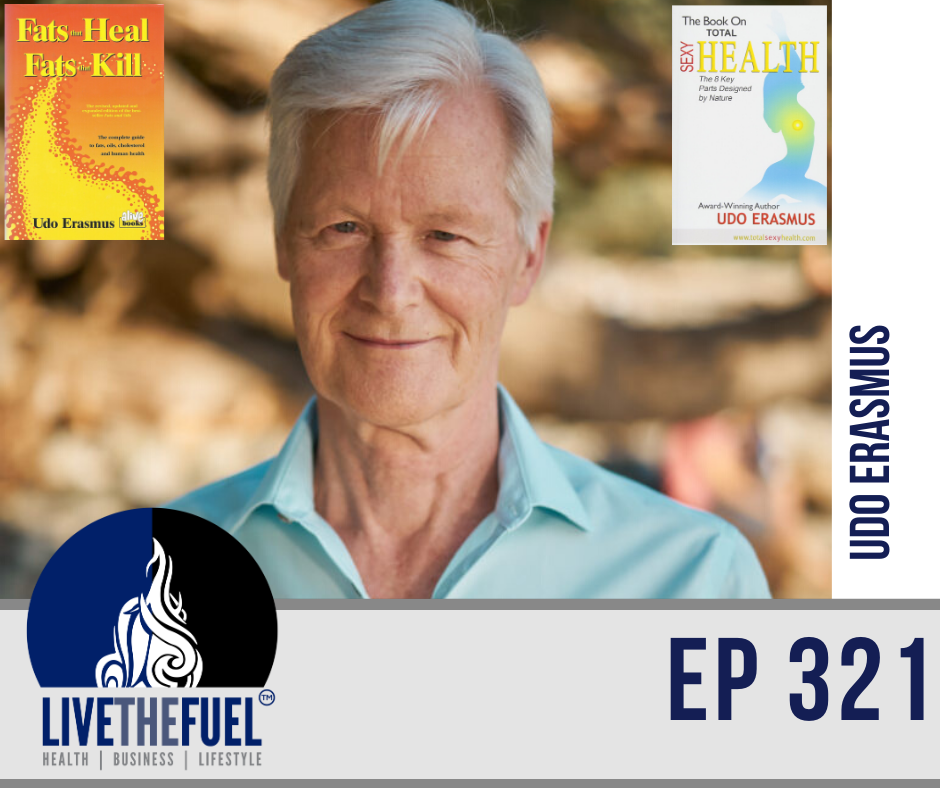 What's Your Shit Program? FATS and Sexy Health with UDO:
The legendary Udo Erasmus is the founder of Udo's Choice – found in Whole Foods and other health food stores worldwide. He invented the machinery for making oils, enzymes, probiotics and more. Udo first pioneered Flax Seed Oil.
Udo is an acclaimed author, speaker, and expert on TOTAL SEXY HEALTH. He has an 8 step process that takes into consideration all of the elements of whole health that include our mental health, presence and awareness, our life energy and being in harmony with nature and humanity.
He has given 5,000+ live presentations on nutrition and health, 3,000+ media interviews, 1,500 staff training's and traveled to 30+ countries with his message on oils, health, nature, and human nature. Udo has sold over 250,000 copies of his numerous books including Fats That Heal Fats that Kill originally published in 1993.
Udo is a teacher at Tony Robbins events (on oils) and Deepak Chopra's (on peace,) keynoted an international Brain Health conference and lectured at conferences on five continents.
Udo has an extensive education in Biochemistry, Genetics and Biology, and Nutrition as well as a Masters Degree in Counseling Psychology.
His latest focus is on sustainable energy and water management, as well as healthcare based in nature and human nature, and the thirst of the heart resulting in total health.
Today's Resource Links from the Podcast:
Watch us on YouTube:
Timestamped Show Notes:
00:30: Introduction
10:00: How tough are we really? You know, when a mosquito bites you, it hurts. You know, when somebody pinches you, it hurts. You know, it's very easy to cut yourself. We're actually delicate creatures.
20:00: You got to physically survive, you have to understand how the world works and how to cheat other people better than you how you get cheated. All of the skills we learn for managing our physical existence on the planet, you're building up your senses.
30:00: You have the possibility to change your program, and that deep place of peace, love, joy, contentment, and wholeness. That place has never been affected by what affected your body, your mind, and your emotions.
40:00: So you can't be in your head in order to be fully present experientially, in all of your being and your surroundings. When you're fully present in all of your being and your surroundings, figuring out what to do when things happen. It's not complicated. Because you're doing it, you're filled with joy, you're filled with love, you care for life, whatever needs caring for whatever needs uplifting, whatever needs to be protected and saved.
49:00: Final Words
Our Final Words of the Show:
You get this gift and if you don't unwrap this gift, you don't open it up and really get what you've been given, it's a wasted gift because nobody else can enjoy it for it. So this should be to me, the most normal, the most rewarding thing a human being can do in their life. I just say make time for it. Make time for you, make time for all kinds of crazy shit. Make time for this. Make time for yourself, make time for how amazing it is to be you!
Action Steps:
Support our 501c-3 non-profit and visit http://fuelfoundations.org
Help us reach more people with 5 Star Reviews, visit iTunes and Submit a Review
Join our private Facebook community The FUEL Tank, at https://www.facebook.com/groups/TheFUELTank/