Metabolic Profiling & Body Transformation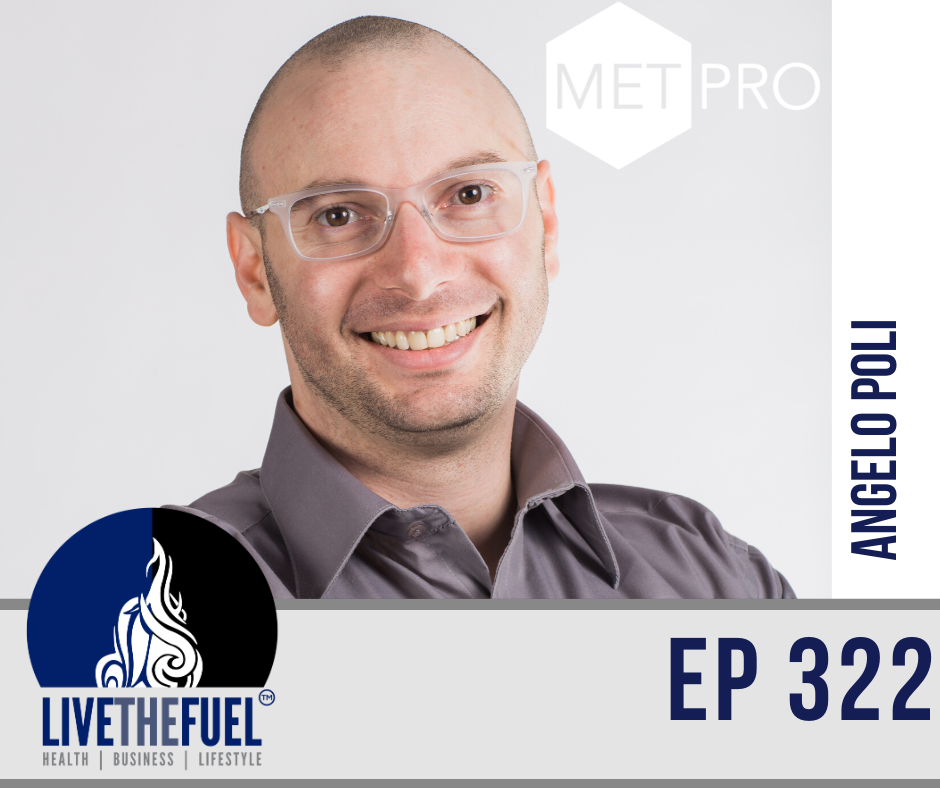 Discussing Health, Metabolism, Fitness, and Metabolic Profiling with Angelo Poli of METPRO:
ANGELO POLI Angelo Poli is an internationally recognized expert in fitness and nutrition. He's the Founder of MetPro, the world's first algorithm-based transformation engine. Using Metabolic profiling, MetPro analyzes your metabolism and provides an individualized approach to obtaining your health goals. Poli has spent much of his career as a motivational speaker, speaking regularly at universities, and hospitals around the country. Poli was a featured speaker at TEDxChico where he discussed his own achievement in overcoming obstacles. After recovering from a crippling injury himself, Poli brought to light a whole new way of thinking about health, fitness, and weight loss.
His high-profile clientele range in scope from Olympic Athletes, NFL MVPs to physique models, and business leaders. Those who have been fortunate enough to gain coaching from Poli have consistently achieved exceptional results regardless of their demanding schedules, significant injuries, and crippled metabolisms.
Poli has been featured for his specialty in Neuromuscular Re-education (Posture and Alignment) and weight loss sciences in major media outlets such as Men's Health, Sports Illustrated, The Wall Street Journal, and The Huffington Post. In his 20 years of educating the masses and challenging generalized health guidance, Poli has become one of the most celebrated and desired body transformation experts in the world.
Top 3 Hot Point Takeaways:
Metabolism
Baseline Testing
Weight Loss Coaching
Today's Resource Links from the Podcast:
Our Mentioned Influencers:
Pending
Watch us on YouTube:
Timestamped Show Notes:
00:30: Introduction
11:00: One of my good friends who's also a coach uses this illustration… He says, there are only a few things or virtually nothing that will motivate humans as much as seeing progress. So you have to have a why. Then when you put in the effort, you want to be met with momentum and progress. Otherwise, it's very discouraging.
20:00: We need to know what your body type and goal is, that's going to massively influence our approach. Just because two people are of similar stature doesn't mean that we're going to approach it the same way. They may have very different goals. I need to know about your lifestyle. So even as simple as carbs role in your diet are going to be influenced by your lifestyle.
29:30: Just for representation, we'll discuss this based on thousand calories a day. That will help illustrate this well. Now on this island, are skinny people, fat people, men or women, young people or old people, everything. We're going to give them all 1000 calories a day. Then we pick them up a year later. Every single person that comes off that island, their new metabolic rate is 1000 calories a day they are burning exactly what they're taking in or they don't come on.
42:00: They want to know, well Angelo, what is MetPro? Is it high carb or low carb? Is it a gluten-free or a dairy-free thing? Is it vegan? Is it vegetarian? So just so that all the listeners understand, we actually go right down the middle. We're diet agnostic.
51:00: We have a lot of entrepreneurs, a lot of guys and gals in their mid to late 40s and into their 50s. They all have successful careers and they call me up saying, you know, what's important to me now is my health. I want fitness, I want health. It comes back to the old adage of the ounce of prevention is worth a pound of cure. If you recognize this is an area that you can improve in, oh my gosh, the rest gets easy. All of my business entrepreneurs, all of my people that attack their career with passion, they will all tell you they're more profitable and they are more productive with their health. They feel better about all areas of their life when they respect themselves and take care of their health and their fitness.
53:00: Final Words
Our Final Words of the Show:
There is always the next step to keep learning. At its core, there's nothing that frustrates me more than when we are referred to as a weight-loss company. Yes, 85% of our clients are the reference that you made, with broken metabolism, that's exactly who we work with. But that's not what lit my fire and got me into this. I am edgy and I'm passionate about education. So, if you can learn more about how your body responds, you have the ability to accomplish things, strategies, techniques that can go with you a lifetime, so never stop learning.
Action Steps:
Support our 501c-3 non-profit and visit http://fuelfoundations.org
Help us reach more people with 5 Star Reviews, visit iTunes and Submit a Review
Join our private Facebook community The FUEL Tank, at https://www.facebook.com/groups/TheFUELTank/