Making Gratitude Meditation Music Videos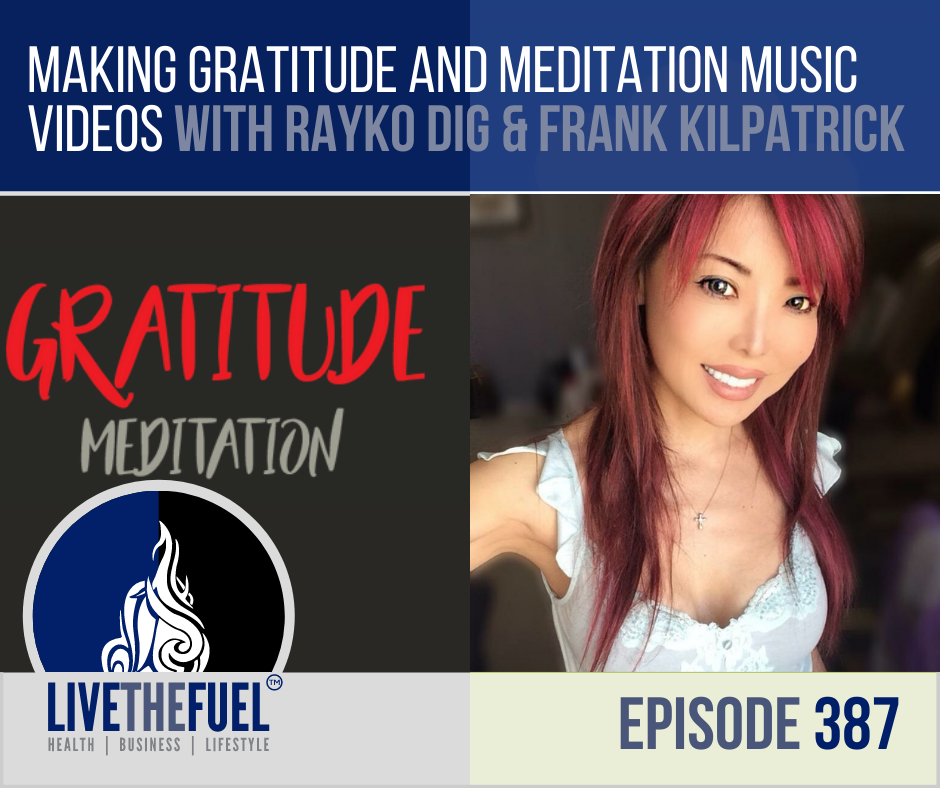 Meditation through music and video with Rayko:
SPECIAL Timing Note: We originally recorded this episode in October 2021. Thank you in advance as we catch up on episode releases since our host, Scott Mulvaney, started returning from his time off to finish writing and self-publishing his inspirational first book, "So You Want To Be A Hotshot" on Amazon.
Rayko
An "Emotional Conduit", Rayko is a prolific songwriter and an energetic, sought- after vocalist Rayko composed the melodies for Gratitude and sang, played on and produced all pieces as well. Her compositions often contain themes of social justice, female perspectives and cross-cultural challenge. Born in Tokyo, Rayko also composed, arranged and performed songs for the award-winning Amazon Prime series, "Man In the High Castle." Her other compositions include "Reaching For The Stars" and "Behind The Sun"—co-written with Grammy winner Isha Erskine, as well as the ending theme for the feature "The Wolves of Saving Hill"— featuring Kurt Fuller of "Pursuit of Happyness," and the late Michael Massee of Spider-Man 2. Rayko is the vocalist in the house band of a popular Adult Swim show, and currently the voice of a brand new ride in Tokyo Disneyland.
Frank
Inspired by a recent trip down the Nile River to "The Birthplace of Civilization", songwriter Frank Kilpatrick created Gratitude to, "Draw attention to everything we have to be thankful for." Frank created lyrics for all songs in the Gratitude suite and oversaw video and music production. He has written numerous songs in exploratory, harmonic and romantic genres that are available for licensing. Recently, he created "Stay Alive" – a 90-minute Suicide Prevention video podcast.
Frank frequently collaborates with: Billy Hinsche – best known for his 30+ year touring role with The Beach Boys and Brian Wilson; co-Founder of Dino, Desi and Billy; and singer and/or songwriting contributor to the recordings of Elton John and Chicago and Scott Paige – best known for his work with the international traveling bands for Pink Floyd, Toto and Supertramp, as well as others.
Today's Top 3 Takeaways:
Binaural Beats
Meditation and Healing
Set NO Limitations
Today's Guest & Resource Links:
Watch us on YouTube:
Timestamped Show Notes:
00:30 – Introduction
05:15 – For those people who are interested in that, that's a real, rich area to explore. What we do in our  gratitude videos that we've talked about, is we have encompassed some of that, let's call it strategy. We don't take the technical approach to it, you don't have to understand what binaural beats are to appreciate what we've done.
06:00 – We've encompassed some of that in our gratitude videos, because we find that it's more engaging to the listener. There is something about the mind, it wants to kind of resolve that little slight difference that they hear and in the frequency, the tone. So that makes it more engaging to draw you into meditation.
10:00 – I mean, it is very, very interesting how people react to certain music and when I am getting ready to volunteer again for the convalescent homes, and the the director, the activity director that I spoke to said, those Alzheimer's patients don't remember the names or the the places they went to. They don't even speak much, but when they hear the music that they are familiar with, they start singing they have not forgotten the lyrics to the songs. So yes, music plays a huge role in mental illnesses, disabilities, you know, simple things like get you going.
20:00 – Check out Dope Panels, we just got the trademark, 100% dope and dope panels
28:00 – In addition to the audio, the thing that we did here is we took the audio, it's kind of an introduction to meditation for some people tell us it's a good place to start. But we also added video and we added an on screen informational kit content, which really kind of doubles the impact because you're connecting multiple modalities.
30:00 – Our 90 Minute suicide is a film, it's called stay alive. It was aimed at communicating with people who were in a very dark place.
41:00 – I'm from Japan. Yeah. I am a city girl, I'm from Tokyo and you know, city I know. Having worked with Tokyo Disney, the new newest ride the hottie ride with de Mads, like all six songs. It was it was really, really fun project.
51:00 – My partner is actually an ex car race driver. He raced for 20 years and he's done enough carbon damage that he really wants to save the environment. He's a two time cancer survivor when he was 19. He had cancer when he was 21. He got everything metastasized, and he was dying at 98 pounds and cannabis helped him survive.
57:05 – Final Words Shown Below…
Our Final Words of the Show:
I am a huge believer of not putting any limitations. Because the worst you get is a no. So I would encourage everybody to be fearless and do it, as long as it's not illegal or hurting yourself or hurting them hurting others. Just put no limitations out there and just go for it. Just believe in yourself and if you get no then move on. But you know, no is the the worst that you get. Be kind to all living things, animals, the environment, the trees and oceans, and you know, do unto others. That's always been my go to.
Positive Actions:
My New Book is LIVE! Go get "So You Want To Be A Hotshot"!
Please don't forget a positive book review after your purchase too. The Kindle and Paperback are up and the Audiobook book version for Audible is coming soon!
Help us reach more listeners with a 5-Star Review on iTunes and Submit a Review
Please consider supporting our 501c-3 non-profit and visit http://fuelfoundations.org
Join our private Facebook community The FUEL UP Mindset
Need brand growth?! Visit us at FuelUpMarketing.com