Former Army, SWAT, Organic Health & Nutrition with Todd Lamb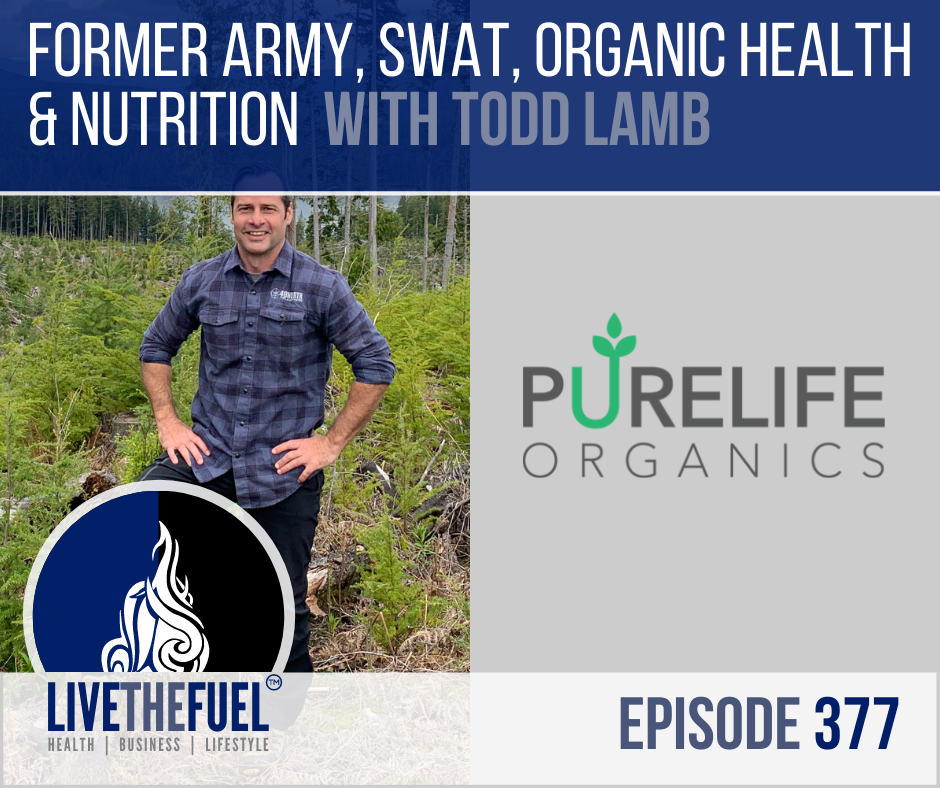 Today's Health Podcast goes from Army, to SWAT, to Organic Healthy Nutrition:
Todd Lamb is a former Army and SWAT Team leader whose deep desire to help his wife combat health issues lead him to uncover the extraordinary power of natural organic remedies. Todd's passion for health evolved into co-founding PureLife Organics and establishing a mission to impact millions of lives while also creating a healthy planet.
Todd made the tough decision to leave his career and guaranteed pension behind to pursue his dream to create as many healthy people as possible. Now, with the support of his small team of passionate individuals, he has helped hundreds of thousands of people improve their health. Purelife Organics is dedicated to providing the most transformative and powerful natural organic remedies to nourish and promote healthy metabolism and bio-response through their proprietary superfood infused teas and natural remedies.
Todd's passion for empowering individuals to take control of their own health quickly led to a mission to help improve the health of our planet. The Purelife Organics team has a commitment to helping reforestation projects around the world through the revolutionary drone seed planting program.
Today's Guest & Resource Links:
Instagram – @purelife.organics
Facebook – PureLife Organics
Watch us on YouTube:
Timestamped Show Notes:
00:30 – Introduction
10:55 – It's a requirement, certainly around tactics, any any sort of critical incident response. You've got to be squared away, or dialed in. We use that term interchangeably. So, people who have served know it's critically important.
15:45 – It's being a good handler and understanding what that communication means. It's their ears, it's their tail, it's for some dogs, their hackles. It's the sound of the bark of defense versus a prey bark. You know, it's very, very different stuff.
20:00 –  We gave it some time. This was four or five years ago, she ended up losing 54 pounds, and has kept it off for the last five years. So we knew that at that point, after the first six months when she had pretty significant results. We tested it out on a few other of our friends. One guy blew their results out of the water. He drives a bread truck for a living and he managed to lose 84 pounds.
30:45 – It's a very, very unique mindset and it's a very unique calling. You know, sometimes, it is just nice for these places to be recognized, rather than beat up, it's not easy.
40:35 – It's hard to convey that message on these various platforms, without having to do a certain amount of promotion around it. When we've brought people on to the company, it's not until sometimes after that, that they realize this is our larger mission. We just want them aligned from a values perspective, and it naturally flows to our initiatives, and everybody gets behind it.
49:45 – We have something very, very, very similar and it's just a sound.. Whatever supplements that you like, for me, magnolia bark, magnesium, etc. It's 250-300 milligrams a night, I can literally feel the wave of sleep coming over me. I'll get into bed at eight and I'll be asleep by sometimes 805 my wife says she's so jealous, it's like it's a gift. I mean, hers is more pain related, managing back pain, and so her sleep comes a little bit longer. We focus on that relentlessly. That's when all your weight loss happens. That's when your memories are regenerated. Your cells are regenerate synaptic pathways are being healed, or new ones are still being created.
51:40 – Final Words Shown Below…
Our Final Words of the Show:
You know, healthy people and a healthy planet, that really is what drives me, each and every day. That's the first thing I focus on in the morning which is achieving that mission. I know that when we are able to improve people's quality of life, that in turn that affects exponentially more people. So we're just committed to that mission.
Positive Actions:
Help us reach more listeners with a 5-Star Review on iTunes and Submit a Review
Please consider supporting our 501c-3 non-profit and visit http://fuelfoundations.org
Join our private Facebook community The FUEL UP Mindset
Need brand growth?! Visit us at FuelUpMarketing.com