Launching FAT A Documentary 2 with Vinnie Tortorich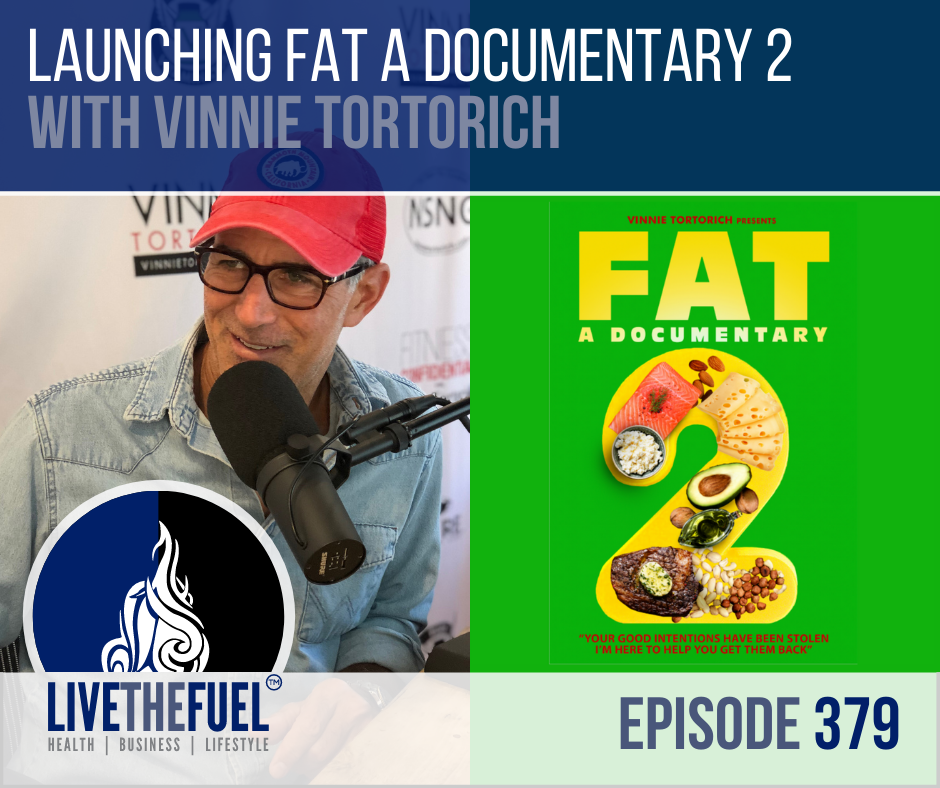 Vinnie Tortorich returns to talk FAT, from the best-selling book and record-setting podcast, Fitness Confidential:
Vinnie Tortorich is a true Made In The USA success story as he possesses a literal sweat equity foundation built from decades spent as a Professional Fitness Consultant to Celebrities and Beyond!
He was formerly known as the "Celebrity Fitness Trainer" and "America's Angriest Trainer", visit http://vinnietortorich.com
"Because your good intentions have been stolen, and I'm here to help you get them back!"
Quote ~ Vinnie Tortorich
Accomplished Public Speaker
Founder of the NSNG®️ Lifestyle
Best-selling Author of Fitness Confidential
Podcast Host of the Fitness Confidential Podcast (1 million downloads monthly)
Co-Founder of Pure Vitamin Club
Co-Founder of Pure Coffee Club
Co-Founder of NSNG Foods
2019 Filmmaker of FAT: a documentary
NOW – Filmmaker of FAT: a documentary 2
FAT 2 Premiered on iTunes January 1, 2021
FAT: A Documentary 2 is the sequel to the international sensation that delves deeper into the lies and myths surrounding the age-old question: "What should I be eating?" "Common knowledge" regarding healthy eating has grown more and more confusing seemingly by the day. Vinnie Tortorich and a host of health experts talk about the conflicts between plant eaters and meat eaters and how hidden machinations in the food industry are the reasons why we believe what we do about food and optimal health.
Special thanks to our distribution partner Gravitas Ventures!
Cast includes:
Nina Teicholz, Gary Taubes, Dr. Bret Scher aka The Low Carb Cardiologist, Dr. Eric Westman, Dr. Drew Pinsky, Dr. Andreas Eenfeldt aka The Diet Doctor, Georgia Ede MD, Jeffry Gerber, M.D.
Producers: Serena Scott Thomas
Director: Vinnie Tortorich
Today's Top 3 Takeaways:
Go Watch FAT A Documentary, the first release.
Now Go Watch FAT 2 as well!
Listen to Vinnie on the popular Fitness Confidential Podcast!
Today's Guest & Resource Links:
Our Mentioned Influencers:
Watch us on YouTube:
Timestamped Show Notes:
00:30 – Introduction
08:00 – You can see what's happening to me as I'm doing this, I'm holding myself now a little bit. It really screws me up a bit when I talk about it. But it's why I think I have so much compassion for people. Because I looked around at some point and I went, you know what, I don't really have a religion. I became an atheist because of the nuns, go figure. I decided, well, what's it worth, what's life worth? What I figured out was you got to help other people. You know, we're all in this together. Like when you and I were first getting started out, before you were even working as part of our company. You called me up and asked me to do a podcast. I was like, yeah, sure thing, whenever you want anything I could do to help you.
10:00 – I don't even look for the coming back. I'm a very lucky man, I have a wonderful relationship. I have a great step daughter. I got a lot of great things and so I don't worry about that. I don't worry about things even coming back. We're here to help each other out, that's all it is. That's why societies form to begin with, we're greater in numbers than we are as just a unit coming together. I don't think that that gets enough awareness. I think we pay too short shrift to that in the world today.
20:00 – Shoutout to Peter Pardini again for anybody who never heard about the first FAT A Documentary I mean, for Peter, anybody who can figure out how to create a legit professionally done documentary film for only 150 grand, I'm air quoting now, because you guys went way over budget. You were just that committed to this project and again, we haven't even started to talk about FAT 2 coming out, like this is just how much foundation is behind the healthy FAT movement. That's why I loved working on this project.
31:00 – The guy just spews out lies. The world's biggest lie, he's just lying through his teeth to the point where the other two vegan doctors who are sitting next to him, they just look down at their hands. They're like, they just can't believe he's saying that. He's lying. I mean, the world's biggest lie, and they're like, oh, why did you have to go there?!
40:20 – As long as I'm telling the truth, I'm not going to lie to people here. Here are the facts, here's what's going on, so be it.
55:00 – I do 260 podcasts per year on Fitness Confidential. I do all the other stuff in addition through social media and now the movies. I do the Adam Carolla show I do everybody else's Podcast. I am on Twitter. I picked one place to own myself, that is my Twitter. That may change at some point. Because, you know, as we were figuring out, I'm being shadow banned or something on Twitter, for whatever reason. And you know, I'm not political, so I don't know what is going on there.
01:10:00 – I've been traveling more by car lately because of obvious reasons I don't want to get onto a plane. Every time I stopped for gas, I do some exercise. Sometimes I'll do a few sets of lunges while I'm waiting for it to fill up. The other thing I like to do to keep that blood flowing while I'm traveling is push ups. You don't want to get on the ground at a gas station. So I'll just put the tailgate down on the truck and do a few push ups to get the blood flowing while I'm waiting for the gas to fill up. Same with a car, you can use the hood.
01:18:00 – Final Words Shown Below…
Our Final Words of the Show:
I think I've used this before, and I'll use it again. This means more now than ever, I always say take the garbage out, you know, just take the garbage out. What that means is, whenever you see something that needs to be done, don't wait until someone else tells you to do it, just do it. Like we're living through a different time right now in the world. We need to help each other more than any other time in recent history. I'm here to help you guys. I'll do whatever I can to help anyone you know that. I won't stop doing that. But if you have a friend in need for any reason whatsoever, and you have the capacity to do anything to help even a stranger, just go do it. Go do it because it really matters nowadays.
Positive Actions:
Help us reach more listeners with a 5-Star Review on iTunes and Submit a Review
Please consider supporting our 501c-3 non-profit and visit http://fuelfoundations.org
Join our private Facebook community The FUEL UP Mindset
Need brand growth?! Visit us at FuelUpMarketing.com