Booze Ingenuity and the Corona Bullet Sanitizer with Christmas City Spirits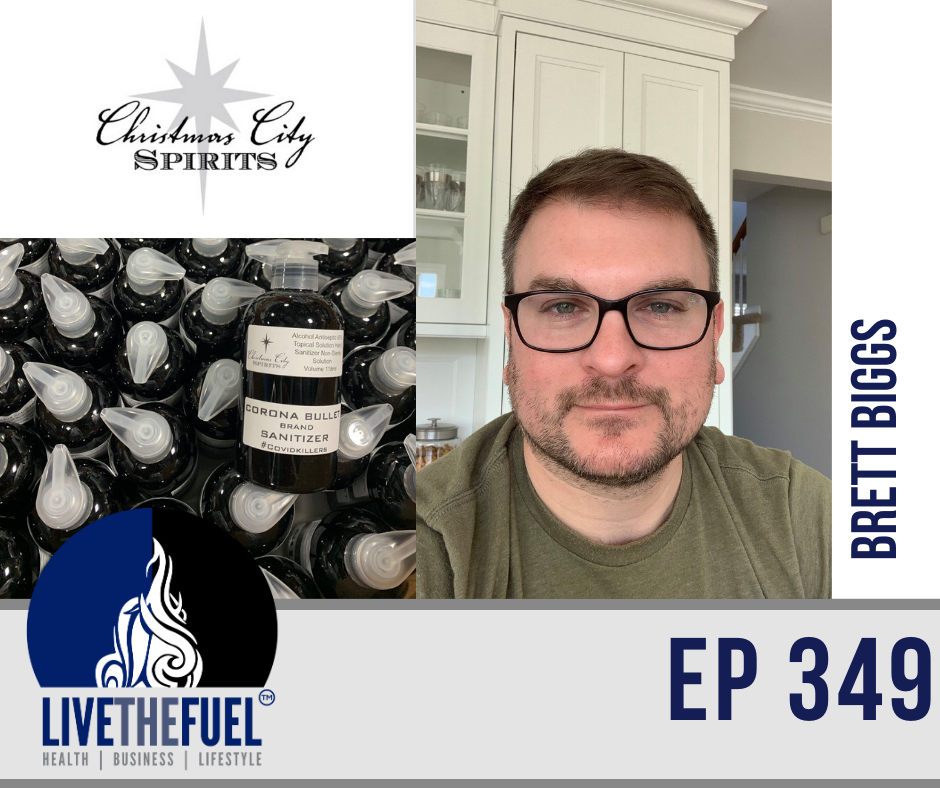 In The Face Of A Pandemic, Christmas City Spirits Launched Booze Sanitizer Ingenuity:
IN THE SPIRIT OF HISTORY: Alcohol played a major role in colonial America. You could even argue that massive taxes on the trade were a trigger for the American Revolution. The Moravians bought their distilling knowledge to Bethlehem in 1741 and the craft has had a presence throughout the entire region ever since. A group of Lehigh Valley friends brings back the authenticity and history of this tradition with products made with local sources.
"We just felt like we were doing the right thing at the right time" – Quote ~ Brett Biggs
CHRISTMAS CITY SPIRITS produces quality and authentic spirits, aiming to exceed the consumers' expectations for a unique experience. Our historically inspired products, developed by our team of dedicated alco-historians blends with our sense of community to bring history and place to the palates of our consumers.
"You can easily outwork a lot of people. It just takes determination to do that. So get out there, do something positive, and we're going to get through this!" – Quote ~ Brett Biggs
WHO IS BRETT BIGGS: I have successfully managed with my partner a $190,000,000 book of business consisting of individualized financial plans for hundreds of households, and corporations. I pride myself on recommending practical solutions for my clients. For more information about Janney, please see Janney's Relationship Summary (Form CRS) on www.janney.com/crs which details all material facts about the scope and terms of our relationship with you and any potential conflicts of interest.
Top 3 Hot Point Takeaways:
Innovate to endure the times.
Entrepreneurship requires adaptation.
Boozes equals hand sanitizer.
Today's Resource Links from the Podcast:
Our Mentioned Influencers:
Watch us on YouTube:
Timestamped Show Notes:
00:30 – Introduction
08:45 – I love the innovation man. You guys were listening and said, hey, we can't get bottles so let's go large volume and we'll go door to door truck style to the hospital to deliver it. So that's what we're doing.
15:00 – You know, it's hard. I wish I had more hours in a day, to be honest with you about that. That's always a factor and that was the case beforehand. I'm a financial advisor by day I know, my clients need to talk through things and look at how their financial plans are dong. Which by the way, has been upended by a virus, which came completely out of the blue, it's crazy.
22:00 – I think with success, America has become more divided. You know, for one reason or another, and this is a good reminder that, hey, we're all American. We're all in this together.
29:00 – I've always loved the science of money and that's what I studied in school. It's fascinating to me, what it does, how it compounds, and everything else. From the simplest case of realigning somebody's debt and how to pay off credit cards and things like that, when working with their budget, to significantly detailed estate plans that involve very complicated mechanisms. It's all very interesting to me.
38:20 – It's perseverance. A lot of people probably would just say, hey, we can do it once. Let's go home and do whatever. I don't sit still well and I don't like being told no. Which is so common for many of us. But there is always a way around it. You know, we've navigated legal systems and everything else to do what we need to do. The Pennsylvania Liquor Control Board, they're tough to work with too, but within a week we figured out a lot of stuff with them. We're learning the processes there too.
44:50 – Final Words
Our Final Words of the Show:
I just see activity and you know, being forced, it is up to being an American and being able to start a business and work every day. If you're not happy with what you're doing in life, only you have the ability to change that. I think from a standpoint that this might be the opportunity, if you were working somewhere and got laid off, that it might be a time to start looking elsewhere. You need to be the backer of that change.
Ask yourself, is it time to get educated in a different industry or whatnot? You just need to apply yourself, you know, the will to work will probably outpace almost anything, including even in jsome cases, education. You can easily outwork a lot of people. It just takes determination to do that. So get out there, do something positive, and we're going to get through this!
Action Steps:
Support our 501c-3 non-profit and visit http://fuelfoundations.org
Help us reach more people with 5 Star Reviews, visit iTunes and Submit a Review
Join our private Facebook community The FUEL UP Mindset