260: Your Mindset Wiring and Become a Lifter!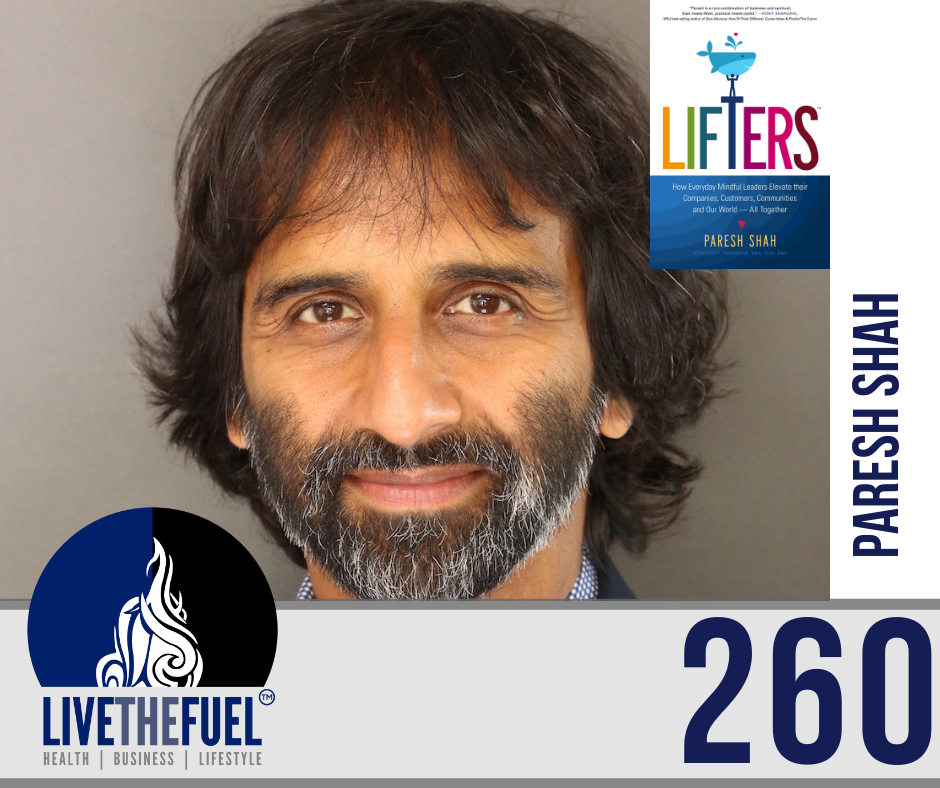 Helping Companies and Individuals Tune In To
Lifter Leadership:
From TEDx Hong Kong to his home in southern California, Paresh Shah loves to
help others see the light of Lifter Leadership. Lifters can be anyone from the receptionist that brightens everyone's day, to the call center rep who knows exactly how to listen and make an angry customer a raving fan, to senior executives and CEOs who understand that by aligning purpose with profit and consciousness, they can create 10 times the performance relative to peers, according to the Harvard Business Review.
Lifter Leadership is what organizations have been waiting for to motivate today's unengaged worker, innovate to solve some of our biggest problems, avoid being disrupted and serve a demanding set of customers and workers with high standards for integrity, authenticity, and value for all humans on the planet.
Paresh is the Lifter behind this movement.
Top 3 Hot Points:
What is a lifter?
How to become a lifter?
Are you born a lifter?
[spp-tweet tweet="Become a Lifter! Join The Lifter Academy on this #BusinessPodcast @pareshLA "]
Final Words:
Are you going to be the one to uplift people like Scott did or brings people down complains, shames in today's society? There's a lot of shaming going on and it's basically your choice in every moment, every moment, and every moment. So go deep on that or be shallow about it. It's your choice.
Resources:
Influencers Mentioned:
On This Episode You Will Hear:
[spp-timestamp time="00:30″] Introduction
[spp-timestamp time="06:00″] I've got a 77 Nova right under down here in my garage buddy. It's parked so tightly in our garage because we've got, you know, not much space here. I have to pull it in backward to be able to pull out because it's long like a Batmobile.
[spp-timestamp time="10:00″] I started running around to all kinds of spiritual things for two years, I became like a monk. I've been married for 30 years.
[spp-timestamp time="20:00″] We were talking about the blind spots we have, and how many of our strengths. A lot of work in neuroscience and psychology, how many of our strengths are our greatest strains, that end up becoming our greatest blind spots? Have you've gotten a taste of Landmark, or any of those cognitive kinds of transformation technologies?
[spp-timestamp time="31:00″] A Jim Rome quote, we are the product of the five people we spend the most time with.
[spp-timestamp time="35:30″] Look, some of the best lifters come from very regimented organizations. Let's not get lifters wrong, lifters are everyday ordinary people who elevate their co-workers, their customers, their community, to a certain way of showing up.
[spp-timestamp time="40:00″] I gotta have nerds and geeks even though I don't understand them. I may not agree with what they're saying but they understand what's happening. What I say in my TED Talk there, what our research is, and what our team has been researching and writing about.
[spp-timestamp time="54:30″] Lifters get that it's all energy, lifters get the point that what you put out, you get out, and lifters get that it's not just words. This is energy. It's quantum physics. Positivity attracts positivity, it is magnetized. When we serve others, it just comes back.
[spp-timestamp time="01:11:00″] Final Words
Action Steps:
Watch On YouTube:
Follow on Instagram: