256: Toxins, Your Gut, and Bodybuilding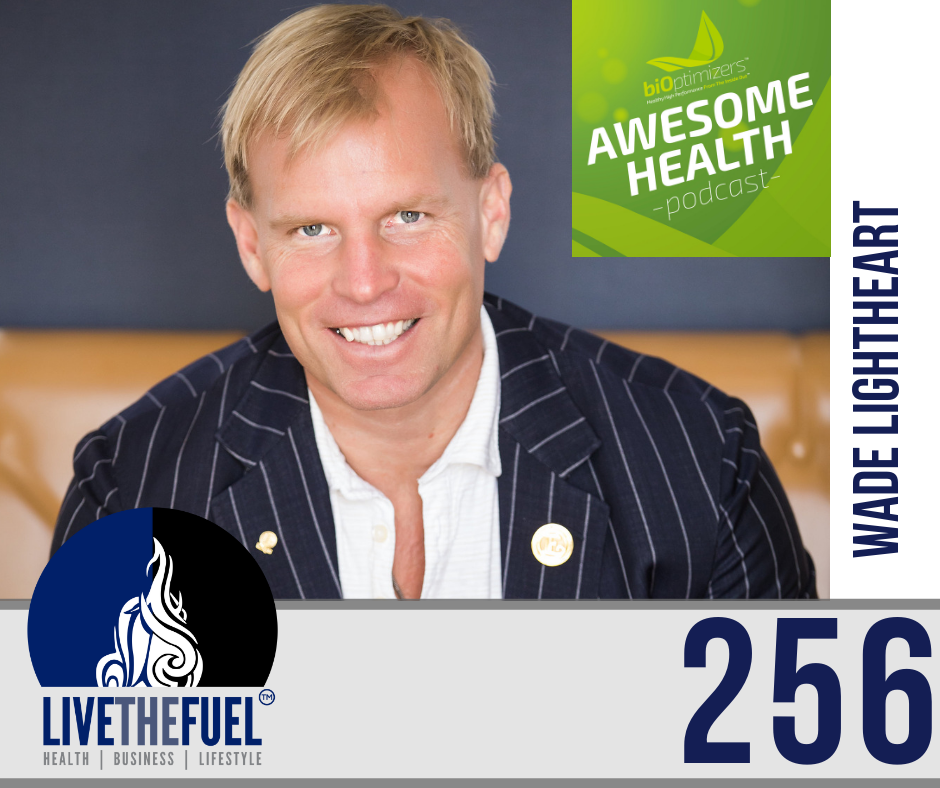 Living All Natural Requires Hard Work. Staying Alive In A Toxic World Is Even Harder. Learn About Toxins Impact On Your Gut Health and Much More:
Wade T. Lightheart, the host of the AWESOME Health Podcast, is a 3-time All Natural
National Bodybuilding Champion, advisor to the American Anti-Cancer Institute and
Director of Education at BiOptimizers Nutrition, one of the world's most innovative
nutritional supplement companies. He is also the author of several books including
the best-selling books, "Staying Alive in a Toxic World" and "The Wealthy Backpacker."
The AWESOME Health Podcast is a big part of his mission to help others fix their digestion and transform their health with the daily practice of positive principles,
rituals and optimizers.
Finally Live With Awesome Health. – Wade Lightheart
Few alive have traveled farther or crusaded harder on behalf of helping individuals
transform their digestive health, wellness and overall lives than Wade T. Lightheart.
After competing in Mr. Universe and his health failing him following a competition
victory, Wade began to search for answers. In the process, he learned so much about
what makes digestion work, along with other principles that form what he calls the
AWESOME Health system. Wade's journey into vegetarianism and bodybuilding took
his health to new heights, empowering him to help others with a unique perspective.
Wade also serves as an advisor to the American Anti-Cancer Institute and is the
Co-Founder and Director of Education at BiOptimizers, a digestive health company.
[spp-tweet tweet="You Too Can LIVETHEFUEL! @bioptimizers "]
Top 3 Hot Points:
Cut Sugar, Grains, and Toxins
Bodybuilding Diets Can Trigger Gut Health Issues
Rebuild Healthy Gut Bacteria
Final Words:
First, I think if you're listening to the podcast, you probably have an interest in health and performance and being the next level you wouldn't be otherwise you'd be watching something distracting. So first I want to honor that.
Second I want to say is be willing to experiment, be willing to take steps you can always on to nowadays you can usually find someone that's already been down that pathway that you want to experiment with and you can see if that works for you. I think that's a great tool.
Third, always keep learning because the game keeps changing all the time.
Then the final piece I would say is don't underestimate the power of fixing your digestive system. My business partner is a ketogenic guy, I'm a vegetarian, we're both as far off the spectrum of mutual formats or dietary choices. We're dietary agnostic, and what I mean by that is that I think that everybody should choose the diet that works for their lifestyle, their genetics, and epigenetics. Remain flexible enough that they're willing to spend a bit of time experimenting with other things in order to see if there's something they might be able to add from some other perspective as opposed to narrowly attacking other people because they're doing something that's right for them, which I think is so asinine.
Resources:
Influencers Mentioned:
On This Episode You Will Hear:
Action Steps:
Watch On YouTube:
Follow on Instagram: