237: Colorado Life, Chiro, Leaky Gut, and Inflammation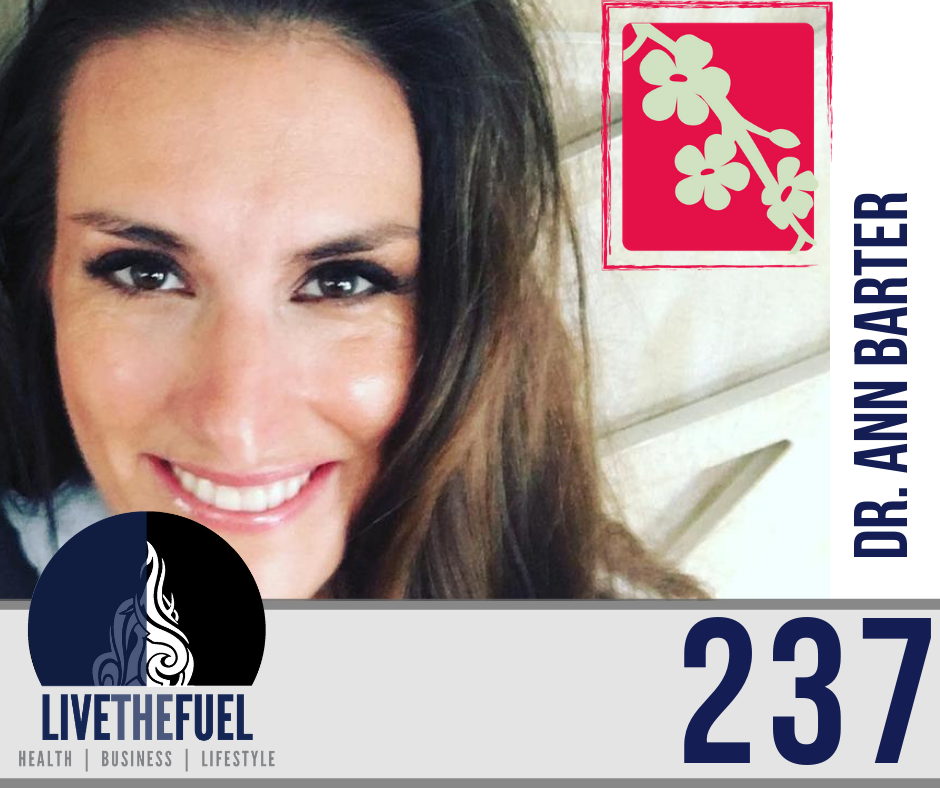 Alternative Medicine, Colorado, Leaky Gut, Paleo, Vegan, Inflammation, and Athletic Performance:
Dr. Ann-Marie Barter is a chiropractor and functional medicine practitioner who serves Denver, Niwot, Longmont, Boulder, Lyons, Louisville, Lafayette and the surrounding communities in the Denver Metro Area.denver longmont chiropractor ann barter
Ann-Marie graduated from the University of Western States in Portland, Oregon, an accredited 4 year Doctoral program that is considered a leader in evidence-based medicine, and the first Chiropractic school to be awarded a federal research grant.
Dr. Barter underwent rigorous clinical training with some of the finest chiropractors. Ann has also undergone advanced training in Applied Kinesiology, completing over 400 extra classroom hours and is certified to practice Applied Kinesiology. She has also studied Functional Blood Chemistry under Dr. Kharrazian.
She has taken an interest in optimizing health by incorporating diet counseling, whole food supplementation, herbal therapy, wellness and lifestyle coaching, scar tissue work, deep tissue massage, and exercise programs.
Dr. Barter has completed the 18 hours required for certification by The Running Clinic for: New Trends in the Prevention of Running Injuries. This training course has been delivered more than a hundred times, on 5 continents! It has been developed using the most recent scientific evidence, it questions several current unjustified practices. The techniques learned in this class help Dr. Barter better assess her patients and aids in making recommendations for avoiding future running-related injuries.
Ann's Bio Continued:
Medicine is a second career and passion for Dr. Barter. Initially, she worked at Lockheed Martin Aeronautics in Fort Worth, Texas negotiating major systems for their fighter jet program. She excelled at difficult negotiations and was able to hit challenging company goals.
Ann is passionate about chiropractic, helping people get out of pain and reach their maximum potential. Chiropractic changed Dr. Barter's life. When she was in initially introduced to chiropractic (in her early 20's) she was skeptical. The more educated she became in the art of chiropractic, the more interested and intrigued she became, until she finally asked for an adjustment from a family friend who practices chiropractic. The treatment was like magic. He not only adjusted her spine but also her feet, hips, knees, wrists, and elbows. She felt new and light, like a better version of herself. He also took extra time to put her on a specific dietary protocol and nutritional regimen, from which she realized major positive changes. She excelled academically, experienced less gastrointestinal upset, reduced brain-fog, lost weight, and started to enjoy activities like hiking, because her foot mechanics had been changed.
Dr. Barter has been active in athletics her entire life. For 17 years Dr. Barter was a competitive dancer. These days she can be found dancing, skiing, running, performing yoga, biking, hiking, lifting weights or walking her Rhodesian Ridgeback, Ritz. She knows what it takes to be an athlete and she finds great satisfaction in helping athletes reach their maximum potential.
Ann uses chiropractic care to improve the health and wellness in all areas of patient's lives, whether they are having problems with back or neck pain, or just want to start feeling better when they wake up in the morning. Dr. Barter takes a "whole person" approach to chiropractic care, which means looking for the underlying causes of disease, discomfort, and pain, as opposed to just treating the symptoms.
Many seemingly unrelated symptoms often arise from imbalances in the spinal column, extremities, biochemical disturbances, and stress and Dr. Barter will be able to determine the root of the problem and create a personalized chiropractic and wellness plan to suit each patient's individual needs.
Dr. Ann-Marie Barter is passionate about helping you and your family. She has a broad range of diagnostic skills and enjoys working with women and men of all ages including pregnant women, kids, and geriatric patients. She is dedicated to appropriately assessing your condition, building an individualized treatment program, and optimizing your health.
On This Episode You Will Hear:
Shoot for the moon. Even if you miss, you'll land among the stars.
– Norman Vincent Peale
[spp-tweet tweet="You Too Can LIVETHEFUEL! @livethefuel "]
Watch On YouTube:
Co-Host Links and Resources:
Mentioned Influencers:
Final Words:
Being a practitioner, sometimes practitioners don't connect because there's this concern about scarcity and they don't do what's best for the patient. It can be working with our MD or working with a surgeon or whomever it is, to give them the best care when we integrate.
It is powerful medicine because multiple eyes looking at one thing is so much better than one set of eyes looking at one thing. I just think people really do need to take control of their health.
The people that I see coming in here, they are 20 years old, especially in my Denver location. They're 20 years old, they're struggling with crazy things that they cannot get to the bottom of. I mean we're talking eczema, we're talking about abscesses in their large intestines. You have to take these alternative methods seriously earlier, because, you know, you're going to have a much better life, you're going to have a much better quality of life. I don't know why people don't want to do that. I don't know why people don't want to embrace that. It's just baffles me.
Action Steps:
Follow on Instagram: