211: Attend THRIVE, Real Estate, Swinging for the Fences with Legacy Perez & Cole Hatter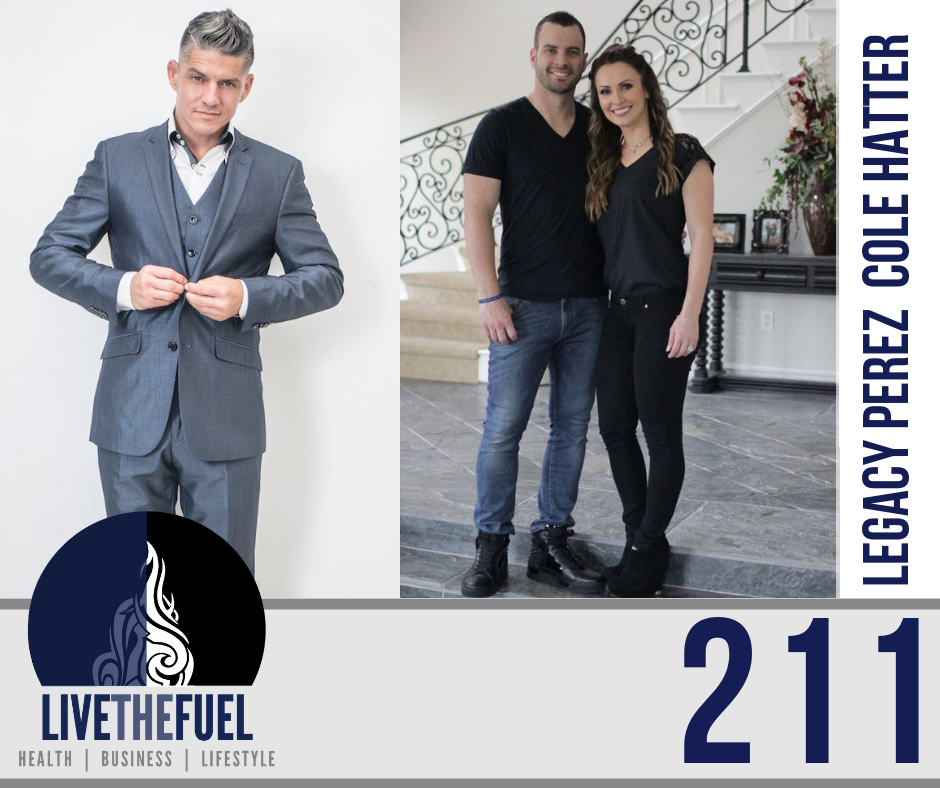 Catching Up On Real Estate, Entrepreneurship, and Value To Attend THRIVE With Legacy Perez and Cole Hatter
Discover how to Make Money and Create Your Legacy!
#MakeMoneyMatter
Who is COLE HATTER?
Hey, what's up! My name is Cole Hatter, and this is the part where I tell you what makes me…me.
Growing up I always knew I wanted to do something important with my life. I did not want to sneak through life unnoticed and arrive at my grave safely; I wanted to shake things up, make a difference, matter, be remembered, and have a blast while doing it. I believe most people would like to live a life that looks something like that.
So, I decided to become a firefighter. What better way to give back, make a difference, and live a meaningful life than a career serving others? Unfortunately that dream was cut short by 2 accidents 2 months apart that left me in a wheel chair. Based on my injuries at that time, firefighting was out.
My body was physically broken, my heart emotionally broken, and my bank account…it was "broke" too.
Out of desperation and an uncertain future, I pursued entrepreneurship. Fast forward a few years, and I've started several multimillion dollar businesses, I'm living what others tell me is a dream life, and sure enough, it's the life I dreamed of having. It's important to know how to make the kind of money you've always dreamed of making, but it's more important to not sacrifice actually living your life while you do it.
Being rich financially is meaningless if you're bankrupt emotionally, spiritually, in your relationships, and in your purpose.
Who is LEGACY PEREZ?
I remember as if it were yesterday, dancing on the streets of Miami for donations.
Can you imagine watching a dance film and blindly thinking that one day You could be in a movie, so you decide to leave Miami with 240 dollars, running out of gas in New Orleans, having to street perform for money to continue the journey to LA and then arriving and almost getting arrested in Santa Monica (needing a permit to street perform) then finding your way into every night club trying to find the major choreographers to battle. Being recognized for the effort and getting hired to be in "Step Up 3"
And countless other movies as well as touring with Gwen Stefani, Mariah Carey and every major artist still active, making it into the top 2% of highest paid professional dancers.
Thats a dream, more so a dream come true!
Here's how this relates to you, everyone has a dream and there are principles to achieve this dream of YOURS.
I believe strongly with every ounce of my being that knowing the right time and getting out of your own way, as well as , giving yourself permission and coupled with a definite purpose (a clearly defined dream) and developing a burning 🔥🔥🔥 DESIRE for its Achievement is the exact thought process you can adopt in order to find yourself as the person you are intended to become.
This is what I did, and I have done it with every area of my life, and I believe that Movement is the key, and behind the movement is what's important, YOUR "Why".
We are all ordinary people doing extraordinary things.
"Don't doubt yourself, and instead surround yourself with people that work just as hard if not harder than "YOU"
I'm behind Your movement!
Quote: "Your real legacy is what you give the world as opposed to what you leave the world." – Philip McKernan
On This Episode You Will Hear:
[spp-tweet tweet="Swing For The Fences! You Too Can LIVETHEFUEL! @ColeHatter @LegacyPerez @LIVETHEFUEL "]
Watch On YouTube:
Links and Resources:
People Mentioned:
Final Words:
Legacy's final message today:
Quoting, Philip McKernan, "Your real legacy is what you give the world as opposed to what you leave the world." Constantly working hard to achieve whatever goals you wanna do and knowing that it's possible. There are people left and right that don't have the things people out there have. For the ability to do what you wanna do and just apply yourself. Find what you're really good at, what you enjoy, what you've been doing for a really long time, find that certainty that you do it with and apply it to whaterver new venture you wanna do. Put your head down and just keep drilling, keep working, and that's what I've done and that I know works. I believe that if anybody does this, I'm not anyone special, constantly go to work and that success will creep in. You'll start to see that light at the end of the tunnel.
All of us out there have it, some just have a bunch of curtains covering the light that we truly have inside. The ability to let go and open up, is up to each and every one of us.
Cole's final message today:
Stemming off of Legacy's strong words. Regardless of your religious beliefs, whether you believe you were reincarnated, or that you have eternal life in heaven, or that you believe that you die and become dead and that's the end of your story. We can all agree that the life we are living right now does end. So I want to remind people that "this is our one at bat". The thing I see is that people aren't afraid of failure, people just never get started. People say, for example, oh we are already in August so I'm going to finish this year and start what I always wanted to do this January. They've been saying that since 1998. So I'm just going to encourage people that life is short, life is precious, life is fragile, I've almost died a few times, I've lost people, and I have a really strong appreciation for how fragile life is. Some people go through life without any of those neardeath experiences or without any real huge loss in their lives, and they assume they have forever and that they'll get to it someday. So on the back of what Legacy just said, I'll had one more little thought, don't hear that and say, he's right and someday I will. Do It Now!
This is your shot, this is your one at bat. To use that baseball analagy or metaphor, some people get to that bat and they are just hoping to get walked. There are literally people that won't swing at anything and they're just praying to god, come on four balls and let me get on base through a walk. I'm not going to go down in history as the guy that was praying for a walk, I'm going to swing and I'll either go down swinging or I'll walk off with a grand slam. I encourage everyone to "Swing For The Fences"!
Your Action Steps: