190: A LIVE CrossFit and Healthy Aging Podcast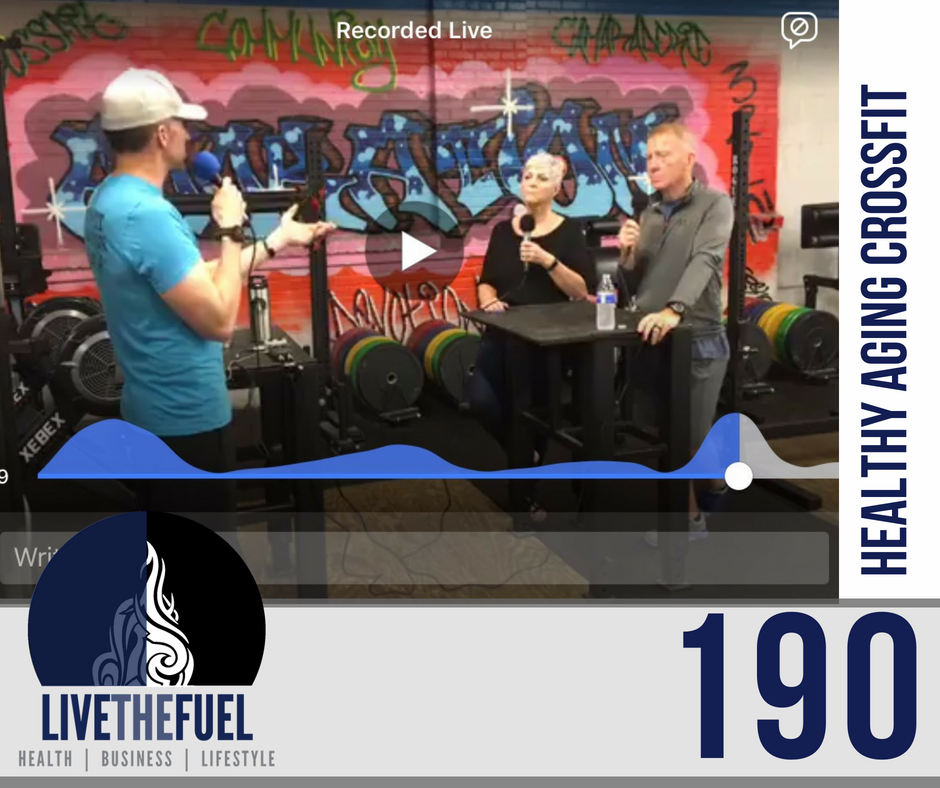 Are you aging healthy? How about aging healthy in the CrossFit world?!
This episode we dig into the power of CrossFit and the positive impact on healthy aging. Janet and Mike join us from the membership community of CrossFit Adoration. Let's give you a little more of some of the behind the scenes of who/what/why CrossFit Adoration where we hosted this LIVE podcast.
Values CrossFit Community and the Foundation of CrossFit Adoration:
HONESTY – At CrossFit Adoration we strive to keep everything out in the open and remain truthful and honest with our members, staff, and community.
INTEGRITY – There are many definitions of Integrity. At CrossFit Adoration we focus on two in particular. The first is regarded as adhering to moral and ethical principles; exhibiting sound moral character; the honesty, accuracy, and truthfulness of one's actions. "Doing what's right even when no one is looking". The second is in regards to structure. A sound, unhindered perfect condition: "the integrity of a ship's hull". We remain strong because of our members! Integrity defines our gym both structurally and morally!
COMMUNITY – At CrossFit Adoration we are a community above and beyond anything else. Every decision we make here is for our members. We want this to be a place you can not only get a workout in but also develop lifelong friendships.
DEDICATION – At CrossFit Adoration we are dedicated to what we do. We strive for excellence at all times. This is our passion. Our coaches eat, sleep and breathe CrossFit so they can provide you with the best possible programming and coaching available.
HONOR – We love what we do! All of our coaches are here to help you become a stronger person, both physically and mentally. You are the PRIORITY.
Rules of the Box
Leave your EGO at the door.
Be early, stay late.
Leave the coaching to the coaches.
Respect each other and always be kind.
Introduce yourself to new members.
Keep the chalk in the bucket….it really doesn't make you stronger.
The WOD is done when the last person is finished. Encourage and support your fellow members until they complete their last rep.
Don't cheat. You are only competing against yourself.
Clean up after yourself.
HAVE FUN!
On This Episode You Will Hear:
[spp-timestamp time="00:30″] Introduction
[spp-timestamp time="01:10″] Meet Janet, 62 years of and Mike, 70 years of age.
[spp-timestamp time="06:30″] Patience with the timeline, working with the lifecycle. Keep showing up.
[spp-timestamp time="13:30″] The community aspect of CrossFit box locations vs traditional gym environments.
[spp-timestamp time="19:55″] Coaches setting healthy examples on how to properly work through your injuries, surgeries, etc.
[spp-timestamp time="24:00″] Janet's story before CrossFit, she never even lifted a barbell.
[spp-timestamp time="36:00″] Final Words
CrossFit, The Anti-Aging Drug. – CrossFit Quote
[spp-tweet tweet="CrossFit can positively impact Healthy Aging. @LIVETHEFUEL "]
Watch On YouTube:
Links and Resources:
People Mentioned:
Final Words:
Mike:
If you're thinking about CrossFit, if your inner voice is telling you to do something, to change for the better, then take the step. Come to a CrossFit gym, Mike knows you'll find a very welcoming, healthy place to be. You will come in and you will appreciate the steps you're taking. It WILL change your life.
Janet:
Get your foot through the door. Cross it. Embrace the journey. Don't be afraid, times a ticking. Do it now, don't wait. Just do it!
Action Steps: