Vulnerability vs Armor for No Limits with Brian Bogert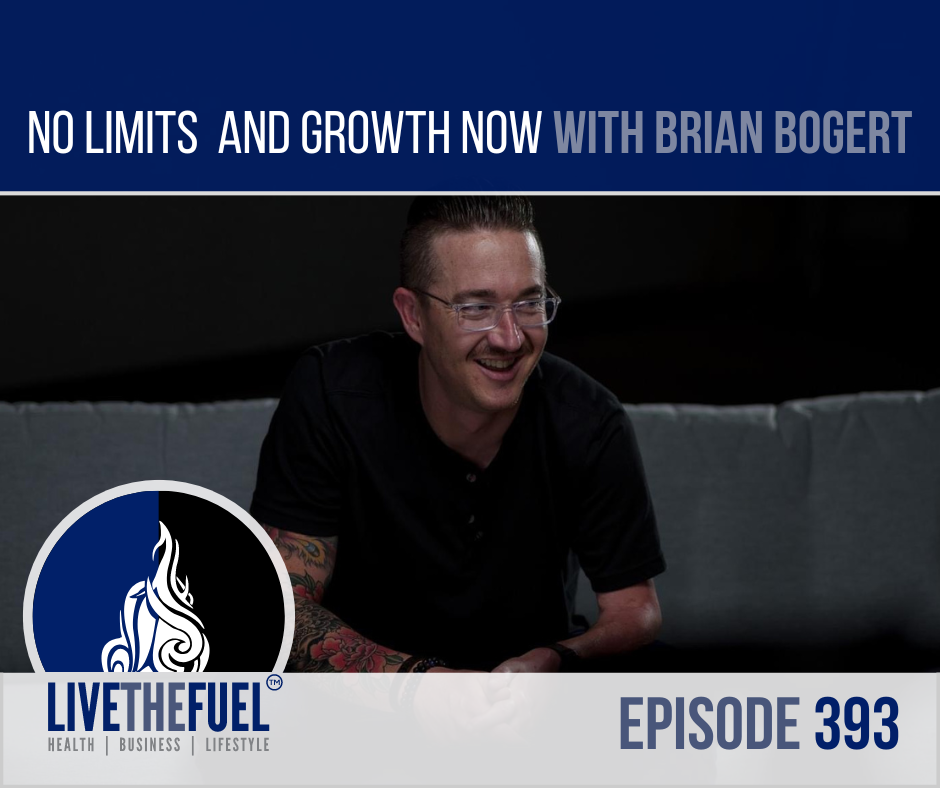 Today We Discuss Ways  To Acquire Your Own NO Limits Mindset:
There is a sleeping giant in every human. Brian's purpose in life is to awaken those giants within and turn them into legends by helping them grab what they believe is just out of their grasp. Brian is a heart surgeon without a blade. He does not start outside with what you need to DO, he starts inside with who you ARE. In a world that is disconnected, Brian is revolutionizing how individuals, leaders, and entrepreneurs deeply connect with their authentic selves to achieve the best version of themselves. As a human behavior and performance coach, speaker, and business strategist, Brian disrupts the normative approach on how to create sustainable growth and lasting change personally and professionally. His philosophies on "how to embrace pain to avoid suffering," "people before profits," and "who before what" has helped individuals and companies discover and activate their limitless potential. Brian and his team lead with intentionality as they are driven by their vision to impact a billion lives by 2045.
Today's Top 3 Takeaways:
Working Through Shame
Connecting Deeper
Vulnerability vs Armor
No Limits
Today's Guest & Resource Links:
FREE Help, No Limits YOU Prelude:
http://nolimitsprelude.com/
Our Mentioned Influencers:
Justin Schenck of the Growth Now Movement!
Watch us on YouTube:
Timestamped Show Notes:
00:30 – Introduction
11:40 – Seven years ago, almost to the date, is when I founded the company. Brian Bogert companies, if you will, which was just coaching and speaking at the time, there were no courses, there weren't group coaching, there wasn't any of these other ancillary businesses that are supporting our mission. But five years, I ran it side by side with another business. So I was in the risk management world and benefits consulting business for about 15 years, the last 10, of which my partners and I scaled the business from nothing to over 15 million in revenue in that period. It was great, and it was fun, but so much of that didn't align with who I was and who I was becoming.
20:00 – You are gonna burn out , I'm going to burn out my body, the body will fail. So we're sitting there holding it and we may start out thinking we're really strong and it's good, right? Yeah, but then the burning starts to happen, then the weight happens. Those weights get heavier and heavier and heavier, guess what, our armor is the same way. We put it there thinking it's protecting us. But it actually gets heavier, the longer we carry it and it starts to incrementally crush us over time. So that's the second thing that armor does to us, physically, emotionally, and mentally.
30:00 – I find myself being able to connect even deeper, the more I continue to evolve myself, there is no final destination only constant evolution itself. So what I can absolutely definitively say is that there was a massive shift, probably two years into my coaching business, because that's around the time that I really started to understand emotion a lot deeper.
39:00 -So the aha moment was probably six to seven years ago. My daughter was young. We were playing, we were laughing sounds and we lay down on the couch, and she wraps her arm around my neck, and she kisses me on the cheek. She says, I love you dada. I then broke down in tears of joy and I am not somebody that cries, but it's because I conditioned it out of myself. I want to be really clear, men who have the ability to cry and can express emotion, I think, is one of the most powerful moving things to be apart of. It's nothing that I believe carries any shame. It's just not how I have learned to feel emotion. But what's cool is I'm starting to learn how to feel that in that way, but when I felt joy that way, I realized I had never experienced joy to that capacity before.
58:00 – Final Words Shown Below…
Our Final Words of the Show:
We're on a mission to impact a billion lives as quickly as possible. And for us, that means by reducing the level of suffering that exists on this planet, and that happened through a whole bunch of different vehicles. If anything resonated with you, and you decide to follow on social or jumped in, if you follow on social, Brian Bogert on any channel, truly, legitimately, I don't care about the vanity metrics. But if something moves you, I just asked you to move through the world. If you're sitting next to somebody, you're like, Oh, this is cool.
But if that's not something that you want to do, don't feel pressure, but show it to somebody next to you. What I've known through all this time is that move people move people. And so I'm asking as many people to move others and move themselves so that we can have a collective impact as quickly as possible. The other thing that they could do, if they're interested in there, that five to 10%, we do have a free course. And it's something that we put a lot of time energy and effort into No Limits prelude.com I don't think it I don't think there is access on either one of those ones directly. Okay. I understand the marketing flaw and a whole lot of that. But here's why I say this. The reason we distribute it, we publish it out, and the way that we do is I want to give full disclosure so that you understand what you're getting, you get over 30 minutes of video content, the first chapter of our course, which let you begin with the end in mind. And here's the deal. Yep, I get your email in exchange for it. Yep, you're gonna get some emails through the process of doing it. And yep, you're gonna get four emails from us after your complete, to outline other opportunities to help you on your journey, whether it's with us or not. So this is completely free. And I want to let you know all those expectations because this is not about getting you into a forever funnel and spamming you in perpetuity, just to figure out where and how we can move you so you can move others, but this is this is something that will add value into your lives. And I just hope that something we've said today moved something inside of each one and everyone knew.
Positive Actions:
My New Book is LIVE! Go get "So You Want To Be A Hotshot"!
Please don't forget a positive book review after your purchase too. The Kindle and Paperback are up and the Audiobook book version for Audible is coming soon!
Help us reach more listeners with a 5-Star Review on iTunes and Submit a Review
Please consider supporting our 501c-3 non-profit and visit http://fuelfoundations.org
Join our private Facebook community The FUEL UP Mindset
Need brand growth?! Visit us at FuelUpMarketing.com