Smart Nutrition and Health with Ari Tulla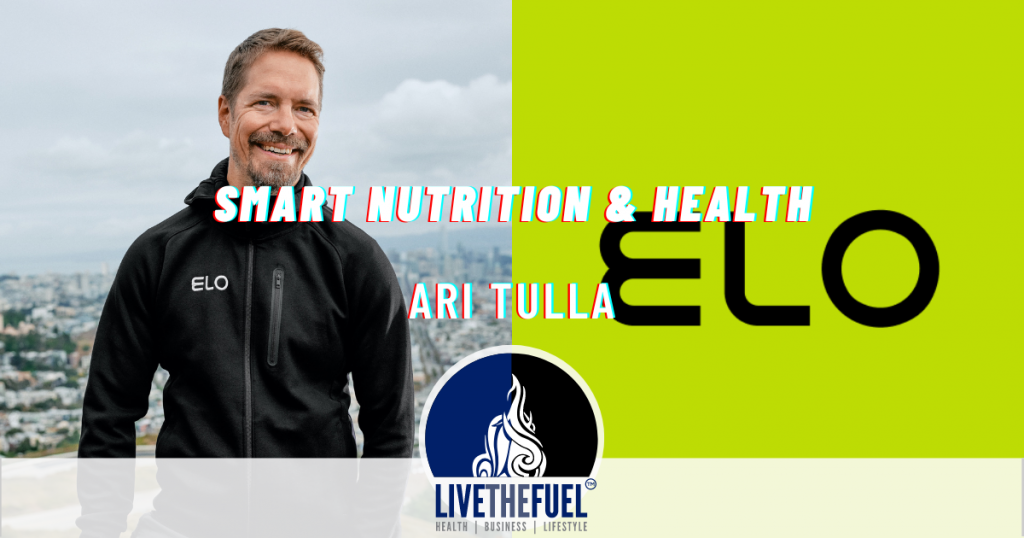 Getting Smart With Our Nutrition & Health:
Ari Tulla is a San Francisco-based entrepreneur and the co-founder & CEO of the smart nutrition service, Elo, whose mission is to transform food from the leading cause of disease to medicine. Ari is also an active angel investor and advisor with a portfolio of 40 startups, including Virta Health, Good Eggs, and Ōura.
Previously, Ari was the CEO of Quest Analytics, the market leader in doctor data and network management. Ari led the company through a pivotal growth stage from $15M to $40M in revenue. Before joining Quest Analytics, Ari was co-founder and CEO of BetterDoctor, a doctor search engine.
When not working or co-parenting his two young children with his wife, Ari spends his time on the steep cliffs, powdery slopes, and big cold waves that only Northern California can offer.
Today's Guest & Resource Links:
Timestamped Show Notes:
00:30 – Introduction
11:15 – It's also powerful in a way that, I became a believer of the idea of food as medicine. I always remind myself that I wake up, the kids are here, because food was medicine. We would not have done that. We would not have, they would not be here. So, I mean, it's pretty powerful for them. They don't know the story yet.
20:00 – Some of them actually are facts that you need to listen, it just took time to find the right people to start implementing the implementers, whether it be engineers, or just people who just decided to execute on the on the game plan and figure it out. All of a sudden we apply these discoveries that weren't fully applied, they were implemented before.
32:45 – That's the point about this idea that we are looking at, you know, 12-13 biomarkers today on blood. Normally we think about blood biomarkers, we can think about, maybe sweat, but you can also think about digital biomarkers, like sleep and weight data, and your HRV and your activity, your heart rate, and many other things. So, one thing that we are trying to do a lot every day, is to really focus on understanding. How do we master nutrition? How do we build these things that are going to help you make that behavior change stick?
41:30 – So it's so interesting, it's why we alone, we talk about the nutrition problem, and we work today in a world of supplements and powders and stuff like that. It doesn't mean we are going to stop there, we're going to go into into food fairly quickly. But while we did start with the supplements, for example, I think it's mind boggling and many people don't know the fact that 20 million people in this country are taking supplements every day.
57:30 – In the bag, what we are sending to people and is handed back to that person, is blended specifically for that person. We have worked with really, really good people on the backend to make it scalable. This is something that has never really been done before. So every product we do, we try to be able to customize the protein, literally every protein bag we put out is gonna be different for that customer.
01:03:45 – Final Words Shown Below…
Our Final Words of the Show:
I think for me, the really the big thing is that the smart nutrition is something that you know, I believe it can become a real thing. Like a smartphone. What if we, now in the next decade, we invent this concept and take it further not us, but you know, hundreds of people, 1000 people, you know, hundreds of companies are gonna I hope adopt this idea. What if we, what if this becomes like a smartphone? What if half the people adopt smart interest and products that come from this world? What if we can actually with this sense, the way healthcare is perceived, and my big thing that I want to work on? I don't know if it's possible, but I think today that we might be able to figure it out, the code of health for humans by connecting us into more sensors and more biomarkers, and I think we can all find the universal theory of health, and it will look very different than what we have today.
When we have 100 different types of doctors. Looking at one part of your body. It's like you're blindfolded and you're taxing the elephant from the nose and from the tail. That's what the doctors do. and they don't communicate to care, they don't convene together to talk about your condition, the one doctor makes the call and then the other ones are not in the loop, they barely even see the data or the audit or the record.
You Taking Positive Action:
Get my book on Amazon today! "So You Want To Be A Hotshot" – HotshotBook.com
Positive Reviews "DO" help grow books and free podcast shows, those review really do matter!
Did you submit your 5-Star Review on iTunes? – Submit a Review
Need a charity to believe in? Check out our 501c-3 non-profit! Visit – FuelFoundations.org
Need brand growth, sales strategy, marketing execution?! Visit – FuelUpMarketing.com