Rocket Your Dollar Investing with Henry Yoshida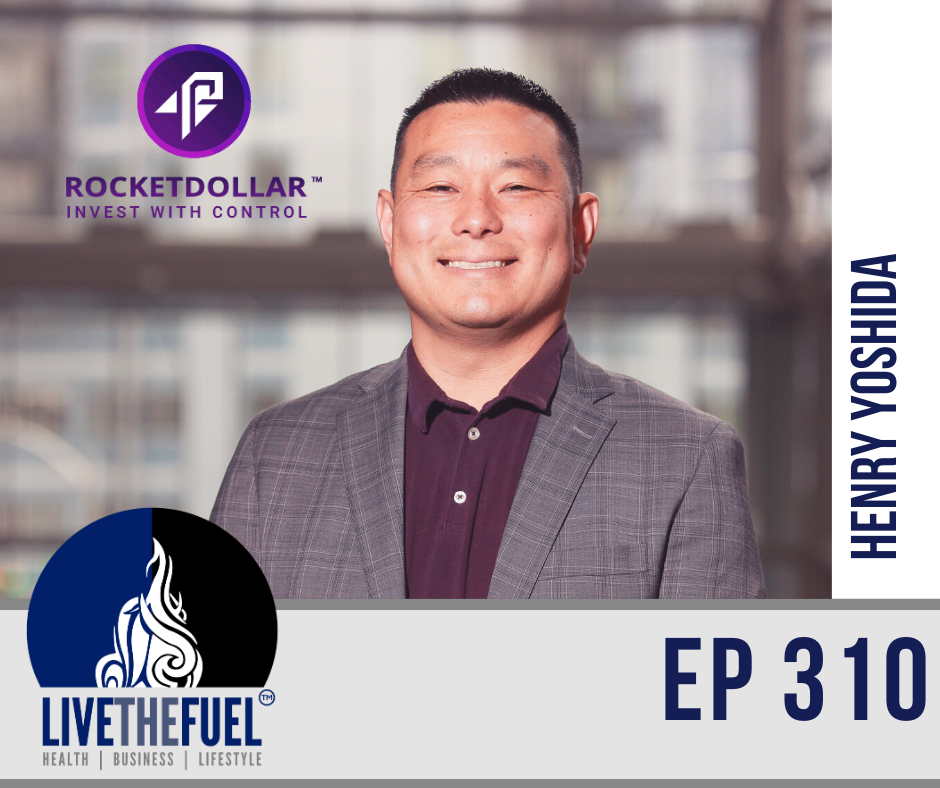 Today we learn about Self-Investing and the Rocket Dollar platform with co-founder Henry Yoshida:
Henry is CEO and Co-founder of Rocket Dollar, a web platform that lets people invest tax-advantaged retirement monies into private alternative investments. Henry was the founder of venture capital-backed Robo-advisor retirement plan platform Honest Dollar[acquired by Goldman Sachs], was the founder of MY Group LLC[acquired by Captrust], a $2.5 billion assets under management investment firm, and a Merrill Lynch Vice President.
QUOTE: "The only person who never makes mistakes is the person who never does anything." – Teddy (my brother's name too) Roosevelt
Henry has many retirement and financial industry accolades and certifications. Henry is a Certified Financial Planner and was a finalist for the ASPPA/NAPA 401(k) Leadership Award and was recognized as a finalist for Plansponsor Magazine's Retirement Plan Adviser of the Year. Henry shares his industry expertise as a speaker at several industry conferences, as well as having been featured or quoted in the Wall Street Journal, TechCrunch, Bloomberg Businessweek, Inc. Magazine, and Financial Times. He is extremely passionate about FinTech innovation in wealth management and has brought multiple innovative products and methodologies to the market.
Yoshida graduated from The University of Texas at Austin, has an MBA from Cornell University, and lives in Austin with his wife and two daughters.
Top 3 Hot Point Takeaways:
Become Self-Directed.
Gain Control over your investing.
It's always better to be a giver.
Today's Resource Links from the Podcast:
rocketdollar.com
linkedin.com/in/henryyoshida
twitter.com/henryyoshida
twitter.com/rocketdollar
linkedin.com/company/rocketdollar
Timestamped Show Notes:
00:30: Introduction
10:00: I was reading in the Wall Street Journal this week that about $1 trillion of decision-making is being done by folks between eight to fifteen-years-old. Snapchat is around 90% of that audience right now. So they're really concentrating on ads and the Wall Street Journal article went into trying to communicate with these companies need to synthesize the ads to both maybe spend 75% of the time speaking to the younger generation, because they do have some influence over maybe us as parents, and they're in the buying behavior for our children.
20:20: I always tell people you should understand where you live, the market around you, and especially if there are benefits, which you were hinting at. So let's pause on that. I never realized what my local community was about, it was about your local community and how there are tax benefits.
30:00: I just saw that there is a new technology, it's a tech platform, getting funded as such because it's basically just a chain of bars. However, they serve non-alcoholic drinks ONLY. They're capitalizing on the fact that people don't really see each other as much as they used to. It's a hot, hot space. I'm kind of wondering when there's going to be more technologies that actually force us to go non-digital and force you to sort of communicate, touch, feel, and see people that's like playing sports, doing exercises and stuff like that.
42:40: I used to do a lot more of the direct sort of financial planning and working with individuals. Now, I think to myself more of how can I make the product usable for a broader base because I'm not there to talk people through it. So it's a different way of thinking you know, running the business and when you run the business, you try to grow it the way that we're growing. It's different than if I were just trying to work individually and solve people's problems.
50:00: If you don't have passion for it, then why am I putting my dollars into it? I don't know that I agree. I want to feel good about where I'm going with my financial angle.
53:20: Final Words
Our Final Words of the Show:
For me, it's probably, always be giving. So if I'm in a position, I'm not saying that I'm the one that has all the resources and by no means do I do it, if that's the case. I have a couple of things. Don't keep score and always be giving because you never know, it's always better to be a giver if you're in a position to do so. You don't need to worry about people following you. I think it's just sort of a human thing. So over the years, I've tried to help friends find new positions, meet new people, or whatever it may be. That's just sort of what I've always done.
Action Steps:
Support our 501c-3 non-profit and visit http://fuelfoundations.org
Help us reach more people with 5 Star Reviews, visit iTunes and Submit a Review
Join our private Facebook community The FUEL Tank, at https://www.facebook.com/groups/TheFUELTank/
Watch us on YouTube:
Pending