Rock Your Life, Rock The Recession with Jonathan Slain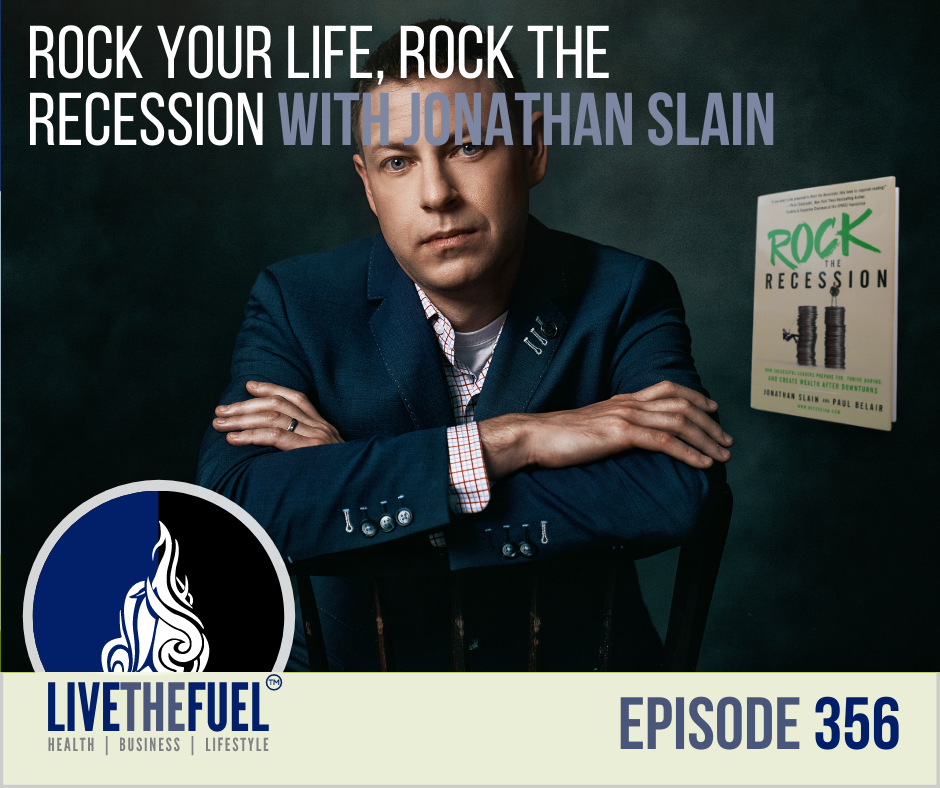 Are You Ready to Rock The Recession and Come Out On Top?!
Jonathan's book, "Rock the Recession: How Successful Leaders Prepare For, Thrive During, and Create Wealth After Downturns" came out in September 2019 and is a #1 Amazon Best Seller.
Jonathan coaches high growth leadership teams across the United States to implement the Entrepreneurial Operating System® also known as "Traction." He focuses on working with entrepreneurial niche/specialty firms and large corporations ($10M+ in annual revenue), spending over 100 days per year working with teams just like yours.
Jonathan was Valedictorian of his graduating class and had the highest GPA ever in the history of Shaker Heights High School, where he was also voted "Next Bill Gates and Least Likely to Lose his Virginity."
Quote – A Recession is When Your Neighbor loses His Job, A Depression is When You Lose Your Job!
Top 3 Hot Point Takeaways:
Today's Resource Links from the Podcast:
https://www.facebook.com/RockTheRecession/
https://www.linkedin.com/company/rock-the-recession/
https://www.youtube.com/channel/UCkAKdWaeESrylXXpQCD6DPQ
https://twitter.com/RockRecession
https://www.instagram.com/rocktherecession/
Our Mentioned Influencers:
Pending
Watch us on YouTube:
Timestamped Show Notes:
00:30 – Introduction
10:00 – I do think this is different than several other countries right now and we are used to a standard of living probably above what we can actually afford. The tough part, Scott, as we know, is that since it's been 10 years since we've had a recession, I think we have all gotten kind of complacent. As a society, we've gotten a little arrogant. It's been pretty easy and we had a very smooth run.
20:00 – Even if you're going in the wrong direction, maybe even some leadership in the wrong direction, at least we get some momentum and get people moving which is better than just sitting still and waiting.
31:00 – They'd send me an Excel spreadsheet, $35,000 worth of equipment, and I'd be like, look, I can get you $1,000. The guy would be like, let me call you back. He'd come back an hour later and be like, if you overnight a cashier's check, it's yours.
41:00 – The worst part Scott is that it wasn't even all at once. It was a series of 12 loans for about $20,000 each. That's how much I needed to make payroll every two weeks.
50:00 – For me, for my spouse, we have already spent a lot of time talking about what's truly important to us. So we can go back to that, and we get some psychological safety from it. I'm not saying it's perfect, you know, we still have our issues.
01:10:00 – Final Words
Our Final Words of the Show:
I think people are, are focusing more on this now. And are starting pay attention. I think people understand that we're going to have an economic downturn. And so it's time to start to figure out how you're going to rock it, instead of getting rocked by it. Don't be Don't be like me, man. Don't be like me and have to borrow a quarter of a million bucks from your mother in law.
Action Steps:
Support our 501c-3 non-profit and visit http://fuelfoundations.org
Help us reach more people with 5 Star Reviews, visit iTunes and Submit a Review
Join our private Facebook community The FUEL UP Mindset