What is Quantum Health & Biology with Meredith Oke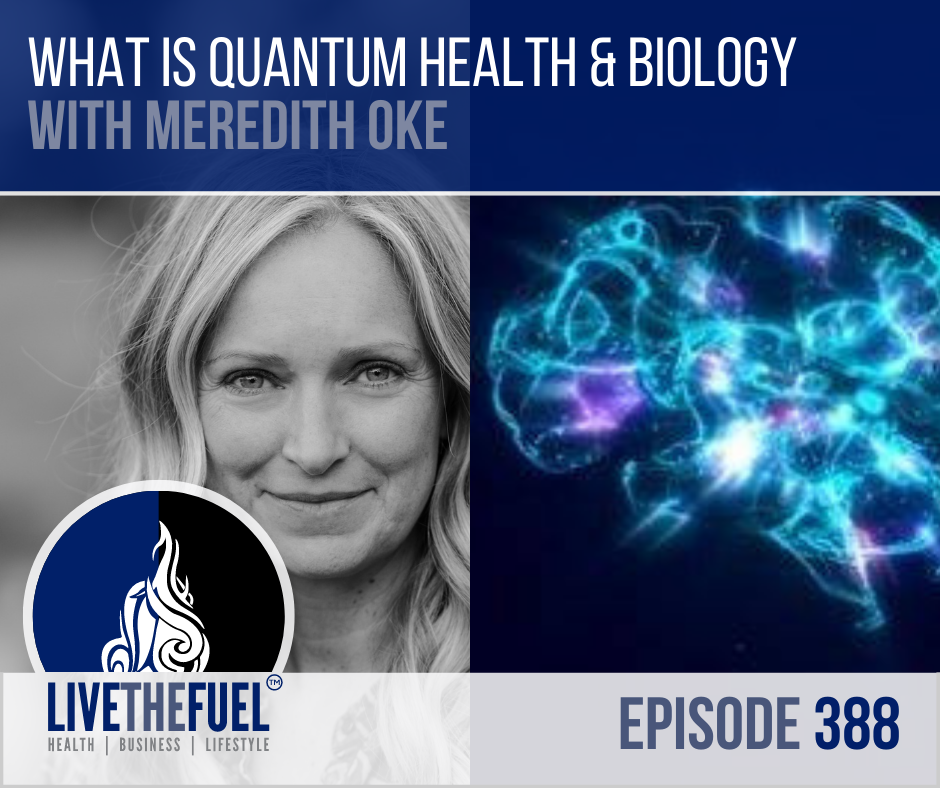 Healthy Red Light, Your Circadian Rhythm, and more Quantum Biology:
SPECIAL Timing Note: We originally recorded this episode in October 2021. Thank you in advance as we catch up on episode releases since our host, Scott Mulvaney, started returning from his time off to finish writing and self-publishing his inspirational first book, "So You Want To Be A Hotshot" on Amazon.
Meredith Oke is an Executive Coach and the co-founder of QuantumHealth.TV, the world's first video streaming channel focused on decentralizing health education. She's also a founding member of the Quantum Biology Collective, an organization that supports and encourages health practitioners to incorporate quantum and circadian biology into their work with clients and patients.
Quote: "How one encounters reality is a choice" – Martin Heidegger
Meredith has lived and worked on three continents, and has helped clients from all over the world – from Hong Kong banks to French business schools to American stay-at-home parents.
She's deeply studied personal and professional development, parenting strategies and a range of spiritual growth practices.
She began her career working in media, covering entertainment and interviewing movie stars, before she shifted into communications and coaching. Meredith is married with three children, and is a proud global nomad.
Today's Guest & Resource Links:
@quantumhealthtv

IG: 

@quantumhealthtv

Facebook: QuantumHealthTV
Our Mentioned Influencers:
Dr. Jack Kruse
Watch us on YouTube:
Timestamped Show Notes:
00:30 – Introduction
11:00 – The absolute most all encompassing aspect of that is the light that we're under. So if it's not totally dark, when you're sleeping, your body knows. Our bodies, even if you're covering your eyes, your body can tell that the light is there, because every single cell in our body is being programmed by that light. So I've done all these things and then like drinking a Red Bull before you go to bed, right?
21:50 – One of the things I was learning was the importance of being in the sun for making vitamin D. I knew you couldn't make vitamin D in the winter and a lot of places, but I'd never thought much about it beyond that. I gave my kids a supplement, because the pediatrician told me to and that was kind of it. So I downloaded the D minder app, which tells you where the sun is in the sky, and it geo locates you and tells you how much vitamin D you can make on that day, depending on where you are.
32:15 – I love it. That's beautiful, Scott, and that's exactly it, right? It goes back to what we were saying before. You can take really good care of yourself. But then if you go to bed in a pile of asbestos, everything you've done that day is not going to save you right. So it's if not taking care of our light is like I would say as toxic as sleeping in a pile of asbestos.
40:45 – You do want to be getting some blue light during the day. That's the reason the darker the lenses, the more blue light is being blocked. There is no blue light in nature after sunset. There is blue light present in nature, during the day, especially around high noon. However, the natural light that you get from the sun, while it contains some of the blue spectrum, you never get just the blue on its own. It's always balanced out with some orange and some yellow and some red. I mean, it's the Sci Fi like it's not blue. So high noon, when you when it's like that really bright, intense light, that's when you have the most blue light present and the least red and then sunrise and sunset. Obviously, it flips around and the blue almost disappears. So if you were nighttime blue blockers during the day, you're still messing up your circadian rhythm. Because you're, you're telling it there's no blue light, which will trick your body, it'll make you sleepy.
50:20 – I have my red light on. So if there's decent quality and then this, I like that. So that's from a company called EMR tech. Yet these are those nice little lens. So it's not like a full red light panel where you can lay in front of it. and do your whole body. They do have those too.
01:10:00 – Final Words Shown Below…
Our Final Words of the Show:
I'm gonna go back to when I was at when I asked the doctors, when this type of information would make it into med school. And they said if if it ever does, it'll be another 15-20 years. And what I've realized through my research is there's something called the translational gap, when new information or a new discovery is validated and real. But there's, there's a lag between when it has been discovered, like say penicillin, and when it's something that's actively prescribed through the medical system. And we're in that gap right now with this type of information. And that gap is being filled with things like this podcast, and listening to this podcast and having mentors like you, and being people who are willing to take a risk and do their own research. We're shifting the paradigm and closing that gap faster, if it would you and maybe wouldn't even ever get closed. So I just want to say that what you do, and the people who listen to this podcast, it really matters.
Positive Actions:
My New Book is LIVE! Go get "So You Want To Be A Hotshot"!
Please don't forget a positive book review after your purchase too. The Kindle and Paperback are up and the Audiobook book version for Audible is coming soon!
Help us reach more listeners with a 5-Star Review on iTunes and Submit a Review
Please consider supporting our 501c-3 non-profit and visit http://fuelfoundations.org
Join our private Facebook community The FUEL UP Mindset
Need brand growth?! Visit us at FuelUpMarketing.com