When Food Is Your Frenemy with Jacob Bustos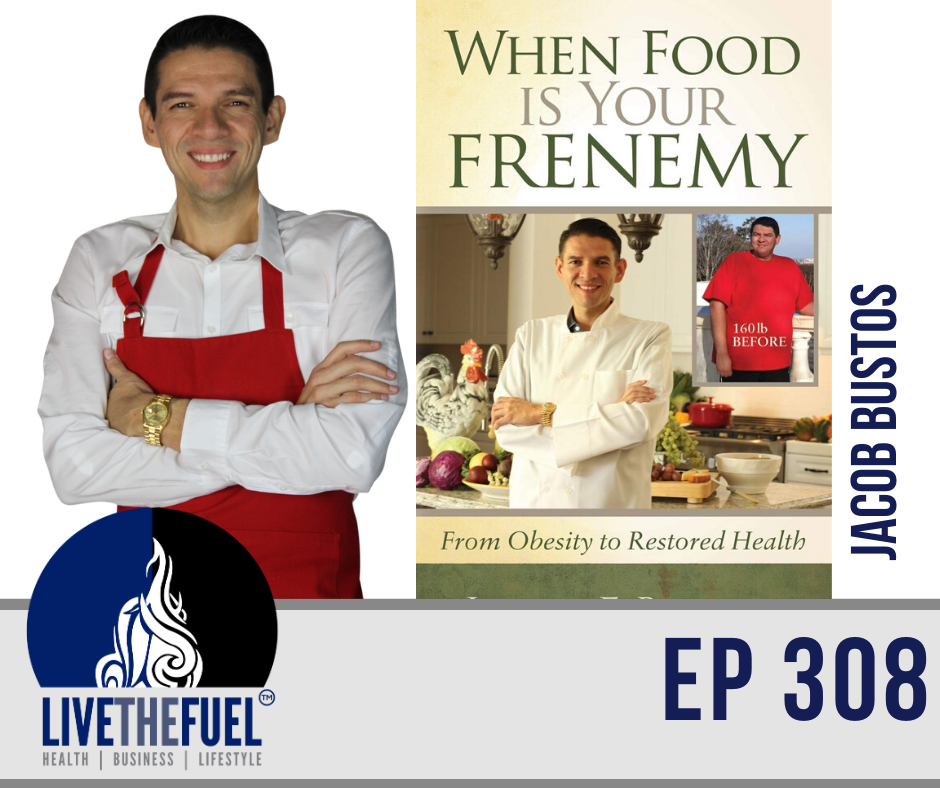 Portion Your Plate and Your Food Frenemy on this Health Podcast:
Jacob Bustos is a chef, cooking coach, and food enthusiast who has been in the food business for twenty-four plus years. Jacob is passionate about eating healthy and has set out to make a positive impact after his own battles with morbid obesity.
Quote: Food, Faith, and Fun. – Jacob Bustos
Top 3 Hot Point Takeaways:
Cooking and Portion Your Plate
Obesity and Gastric Bypass
Food Frenemy
Today's Resource Links from the Podcast:
http://www.portionyourplate.com/partnerships.html
https://www.barnesandnoble.com/w/when-food-is-your-frenemy-jacob-f-bustos/1129980142?ean=9781642793376
https://blog.livligahome.com/2018/07/book-review-when-food-is-your-frenemy.html
https://www.livligahome.com/bariatric-s/1918.htm
Timestamped Show Notes:
00:30: Introduction
10:00: Chapter four is all about mindset. In fact, that's the title of the chapter, mindset matters. The mind is a powerful thing.
20:30: Even the science behind eating breakfast, one of the things I had to really force myself to do is the first thing I did was I even put a refrigerator in my bedroom. It's stocked with my protein drinks, which only have one gram of sugar and 30 grams of protein.
30:30: When I got home from the hospital after having gastric bypass, I literally started looking at what I could eat versus what I used to eat. I would put a plate next to another plate and I would put what my old portion used to look like. With my new portion I thought, wow, Portion Your Plate, that's kind of what I'm doing.
40:50: You need to have dinner with Condoleezza Rice. Oh my god she is inspirational. I spent probably five minutes with her. She had to be alone for 12 minutes, believe it or not, but I spent about five minutes with her. She told me something that I will never forget and that was the confidence you exude. In a room, no matter who is in that room, you may not be the most important person in the room. But you better act like you're the most important person and don't ever let anybody treat you any less than that. She said, putting on the confidence that you need to walk into a room is like putting on a jacket, you got to put it on. When you walk into a room with people, you stare at them straight in the face and you shake their hand, and you don't ever act as if you're less than the most important in the room.
50:00: Final Words
Our Final Words of the Show:
If there's one thing that I can do or if there's one thing that I can say that will make somebody else's life any better Scott and if my book just inspires one person to get after it and lose some weight, I will feel like I've done my job. The reality is that you can see my before and after picture there before I had 160 pounds in my after. I want to be able to impact just one person and if I can impact just one person, the whole book was worth me writing it. I never ever had a plan or a dream to write a book. I feel like this message is so important in the United States especially because there are some people who are suffering from morbid obesity.
Action Steps:
Support our 501c-3 non-profit and visit http://fuelfoundations.org
Help us reach more people with 5 Star Reviews, visit iTunes and Submit a Review
Join our private Facebook community The FUEL Tank, at https://www.facebook.com/groups/TheFUELTank/