Live Patriotic Entrepreneurship with Skibinski Flag Company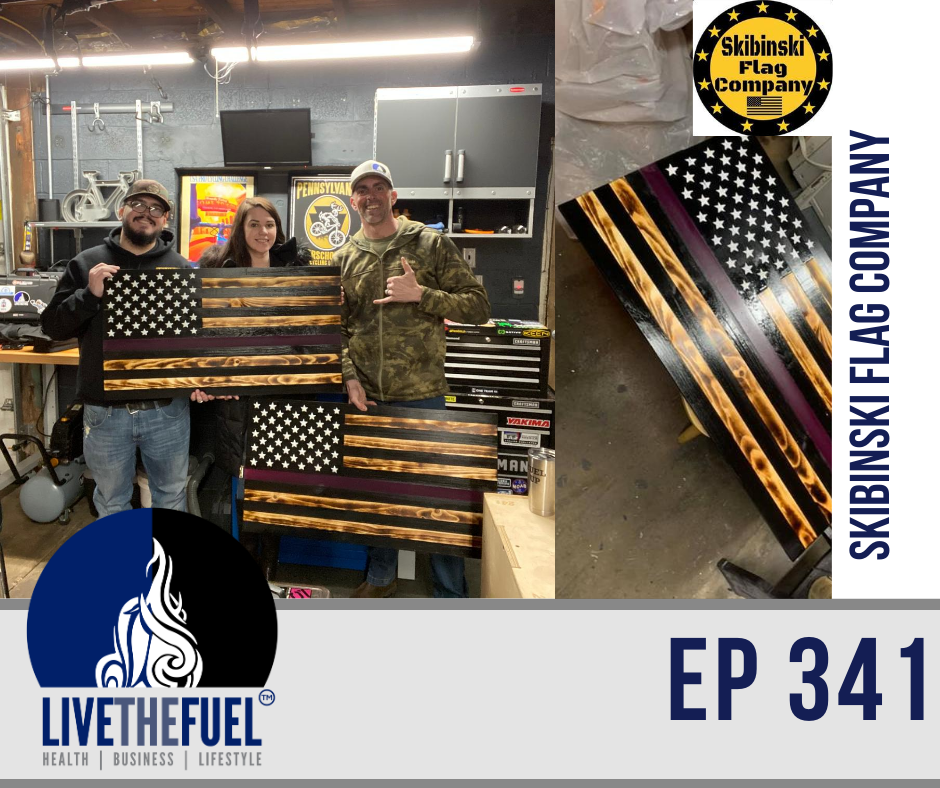 From DIY Wooden Flags to Patriotic Entrepreneurship:
Another LIVE podcast today from inside my This Old Garage restoration project. Today we talked about Patriotic Entrepreneurship with Dyann and Jason of Skibinski Flag Company upon their delivery of my new Thin Violet Line wooden flags! This is a wife and husband dynamic duo who work the front lines of our respected medical profession. We love sharing the side hustle inspirations that turn entrepreneurial, especially from our local city of Bethlehem from the Great Lehigh Valley of Pennsylvania.
Quote: "100% Handmade wood flags made by my fiancé and I." ~ Jason Skibinski
Top 3 Hot Point Takeaways:
Nothing comes easy.
Learning to work together as married business partners.
Life balance from jobs to a side hustle.
Today's Resource Links from the Podcast:
Facebook: https://www.facebook.com/Skibinski-Flag-Company-473687793386642
Instagram: https://www.instagram.com/skibinski_flag_company/
Instagram: @skibinski_flag_company
Contact Skibinski Flag Company: Phone- (610) 417-9616
Contact Skibinski Flag Company: Email – skibinski_flag_company@yahoo.com
Our Mentioned Influencers:
Fallen Granite Mountain Hotshots: https://azstateparks.com/hotshots/the-hotshots/about-the-hotshots
Only The Brave Movie: https://www.imdb.com/title/tt3829920/
Eric Marsh Foundation: https://ericmarshfoundation.org/
Watch us on YouTube:
Watch us on Facebook:
Timestamped Show Notes:
00:30 – Introduction
10:00 – Our first flag was April of last year, 2019. Just getting around to a year at this. Not even at a year. You just fire you just finished your hundredth flag. Well, actually I'm actually at 103 right now.
20:30 – We're going to be making the gun concealment flags and tables one day soon too. I made one coffee table that's in our apartment right now. When you're moving into a furniture price, that is another level.
30:00 – I was hoping that was your shop. As soon as I saw that, I was like, look for the flag and you will find me. You have to peer through my patriotism to get into this building.
40:00 – As of 2020 how many different flags are you making? I mean, I'm just gonna keep adding new ones. As you know, if anybody approaches me and they're like, hey, can you put this on, I just say yes. For example, like their department logos? I've done EMS ones with their custom logo. I have a guy actually in Arizona that makes the stencils for me. So it's one-time use until I start to get into that or I get Dyann into it.
50:00 – That's again where she stepped into it when I was running myself dry in the beginning because I was going all over the place. If somebody lived two hours away and they reached out to me on Facebook, I'd be like, you know I can meet you halfway at an hour, right? So think about an hour there, an hour back, I was losing time and that's gas money. So she shut that down real quick.
56:00 – Final Words
Our Final Words of the Show:
Jason:
Honestly, I do provide for my wife and one day our kids, you know, I want to build something that they can be proud of. I want to be humble. I don't like to be like, hey man, these are the coolest flags, like yeah, you can find better flags out there too.
Dyann:
We came a long way and not even a year later he wasn't sure it was gonna come to anything. The first day he was like, hey babe, I want to do this, do you? A DIY project? I was just like, okay, and the first flag came out horrible. I won't lie. The blue was over here, the stars were all over the place. But his mom actually has our first flag. She kept that, she's gotta have the origins.
Action Steps:
Support our 501c-3 non-profit and visit http://fuelfoundations.org
Help us reach more people with 5 Star Reviews, visit iTunes and Submit a Review
Join our private Facebook community The FUEL UP Mindset