What is an Outsource School for Virtual Assistants and Entrepreneurs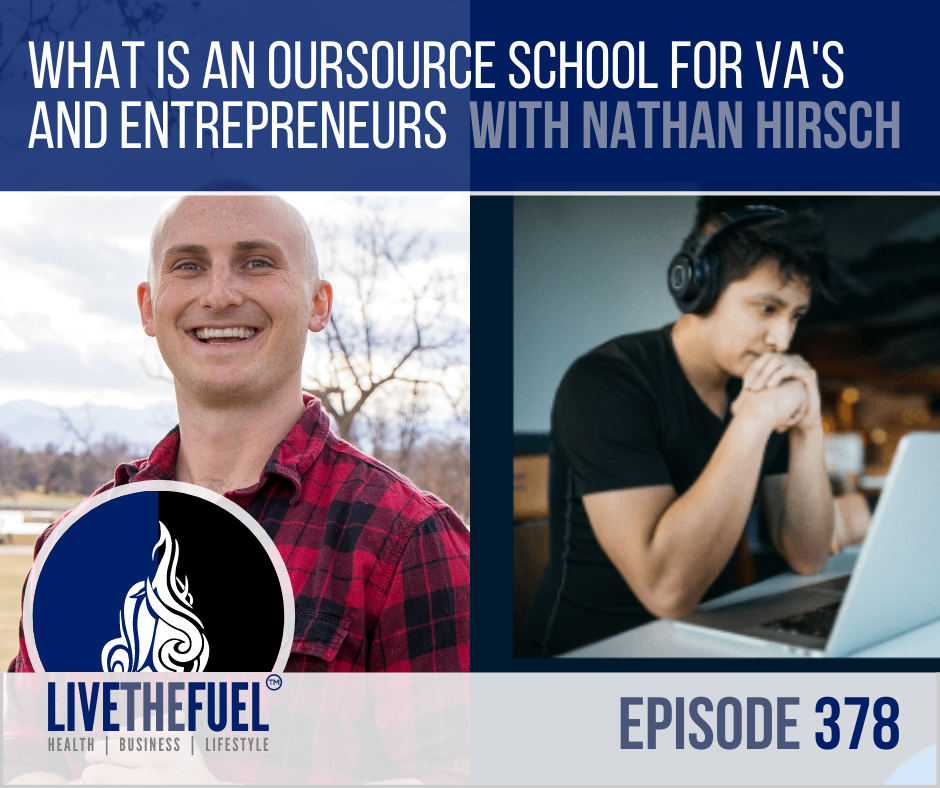 Entrepreneurs with with virtual assistants outsource schooling:
Nathan Hirsch is an entrepreneur and expert in remote hiring. Most recently, Nathan co-founded FreeeUp.com in 2015 with an initial $5,000 investment, scaled it to $12M per year in revenue, and was then acquired in 2019. Today, Nathan is a co-founder of Outsource School, a company working to educate entrepreneurs on how to effectively hire and scale with virtual assistants through formulas and playbooks. Nathan has appeared on 300+ podcasts, is a social media personality, and loves sharing advice on scaling remote businesses.
Today's Top 3 Takeaways:
Don't give up on employee help when you can get virtual assistants.
5 work hours of freedom can change your professional and your personal life.
Time freedom is the ultimate hack as an entrepreneur.
Today's Guest & Resource Links:
Facebook: Outsource School
LinkedIn: https://www.linkedin.com/company/outsourceschool
Twitter: SchoolOutsource
OutsourceSchool: Outsource School | The Best Outsourcing Course Online
Personal Links:
Facebook: Nathan Hirsch
Twitter: realnatehirsch
LinkedIn: https://www.linkedin.com/in/nathanhirsch/
Instagram: https://www.instagram.com/realnatehirsch/
Watch us on YouTube:
Timestamped Show Notes:
00:30 – Introduction
05:25 – Now, did she ever get the chance to work remote until these crazy 2020 changes? Or no? No? Oh, so this is her first opportunity experiencing what you and I know.
10:00 – We transitioned from remote to the office, which was actually like a huge culture drain for people, we can slowly tell that people started to hate it more and more as they drove to the office. Some people moved to Florida and they missed their family. There's a lot of elements going on there. I think personally, I mean, I never had a corporate job after college. I'm much more productive remote, where I can work in shorts and a T shirt and wake up and I usually do the most important thing every day and kind of have my own schedule.
22:40 – Absolutely, but they're doing a great job with live streaming. I'm a workout junkie, I do intense workout every day and their live streams are awesome. They have a bunch of people together. It's fun. It's high energy and it's all I've been doing as a workout since COVID started. So it's kind of the the force pivot that they had to do, but very smart.
30:13 – We sold pre op in November of last year. We launched Outsourcing School in March of 2020. So once we got through the holidays and celebrated, we hit the ground running with our school.
41:55 – We are cracking the code, we go through interviewing, onboarding, training and managing. A lot of the reducing turnover stuff comes down into the management part, although there's parts of it and interviewing and onboarding. In terms of marketing, we have lead generation, we have influencers out there, and we have podcasts.
49:40 – It's a real role in your company. It's something very important, like customer service or sales. The default should always be full time. Now, I always say that with hesitation because if you're someone listening and you can't afford someone full time, you should absolutely hire someone part time and eventually make them full scale, hire another person.
54:20 – Final Words Shown Below…
Our Final Words of the Show:
To me, life's too short to do stuff that you don't want to do. I'm all about flexibility, freedom, doing whatever you want, whenever you want, within reason. If you don't have that flexibility and you're an entrepreneur, chances are it comes down to your systems, your processes, your teams, and if everything we talked about sounds a little bit overwhelming. Start off with just getting five hours a week back you'll be amazed at just hiring a five hour week virtual assistant what it'll do for your personal life, your relationships, your business life, your focus by the stuff like that can be game changers like guy that's gonna cost you 1300 bucks a year. You're gonna get six and a half weeks back a year just by hiring a VA for five hours a week. It's gonna get addicting. And my goal is to get as many people as possible into that flexibility, freedom lifestyle that I'm in, and I'm very grateful for.
Positive Actions:
Help us reach more listeners with a 5-Star Review on iTunes and Submit a Review
Please consider supporting our 501c-3 non-profit and visit http://fuelfoundations.org
Join our private Facebook community The FUEL UP Mindset
Need brand growth?! Visit us at FuelUpMarketing.com