Optimize Your Health & Mindset with Dr. David Minkoff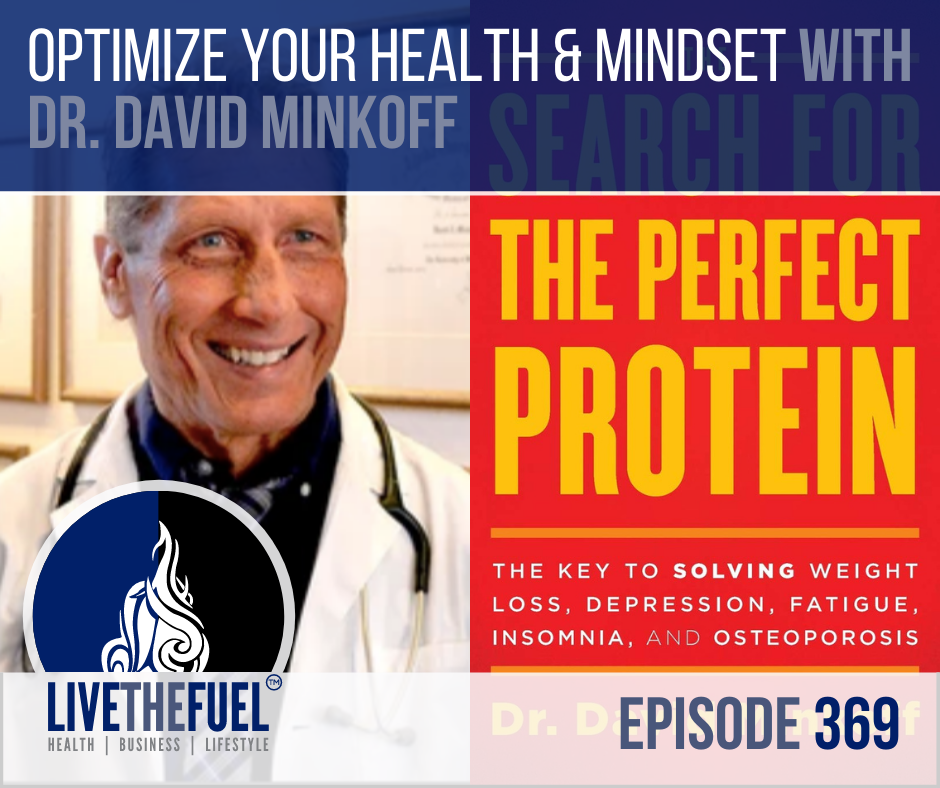 Today We Learn How To Optimize Our Healthy, Mindset, and Much More with Dr. Minkoff:
David Minkoff is a leading physician with 40+ years of experience, best-selling author, athlete, and devoted family man on a mission to help people optimize their health and vitality so they can live a prosperous life.
Quote: "You're here and that's what life's about. You just make it into what you want." ~ Dr. David Minkoff
Dr. Minkoff founded LifeWorks Wellness Center in 1997, now one of the largest alternative medical clinics in the U.S., and BodyHealth in 2000, a nutrition company offering a unique range of dietary supplements for the public and practitioners. Dr. Minkoff has a diverse background as a board-certified pediatrician, a Fellow in infectious diseases, an ER physician, and as the co-director of a neonatal intensive care unit.
He is an expert in Hormone Replacement, Functional Medicine, Chelation, Allergy Elimination, European Biological Medicine, Neural Therapy, Prolotherapy, Ozone Therapy, Longevity/Anti-Aging Medicine, Enderlein Therapy, Insulin Potentiated Therapy, and more.
Dr. Minkoff is passionate about fitness and at 71, he completed his 43rd full Ironman Triathlon and has qualified for the Kona World Championships 8 times. When he's not training, he devotes time for his wife of 50 years, their 3 children, and 8 grandchildren while also writing and researching. He recently wrote the bestselling book The Search for the Perfect Protein, and he is writing his second book and writes two online newsletters each week, The Optimum Health Report and the BodyHealth Fitness Newsletter.
Top 3 Hot Point Takeaways:
Nutrition does matter and much more for Health & Mindset.
Impacts of mercury as a poison on our bodies.
Impacts of Lyme disease on our mindset.
Today's Resource Links from the Podcast:
https://www.drminkoff.com/
https://www.drminkoff.com/the-search-for-the-perfect-protein/
https://www.facebook.com/BodyHealthOptimized
https://www.instagram.com/bodyhealthoptimized/
https://bodyhealth.com/
Book: The Search for the Perfect Protein – on Amazon – https://amzn.to/3kbmtsB
Watch us on YouTube:
Timestamped Show Notes:
00:30 – Introduction
07:15 – I heard an interview, which said about 70%, depending on the season, especially with election season, but about 70% of the media buys are pharmaceutical related. So they have a lot of influence on what gets published and what doesn't, and what can be said and what isn't. Did you know, Google is a vaccine company, they have big stakes in vaccine companies. So you get these huge conglomerates, which really control what we see, and what we can learn about, and what we're going to read and what we're going to hear on CNN, Fox News, or whatever you tune in to. So they can control the narrative unless you're especially interested, or persistent, to try to find out what is actually the true data so that you could make an educated, understanding assumption about what's good.
10:35 – Now there are information sources that are really good. There are 1000s of podcasts from real experts, real guys who are shaping public policy or have an understanding of this or that. I think if you spend time doing that stuff, you can actually learn the important stuff. Then you can make your own decisions and you can look at your own life and compare. Does that work? Is that true? Is that helping me? Is my attitude better? Am I feeling better?
23:00 – I think the challenge of the current generation is that it's way too easy. You know, it's just way too easy. The parents are too nice and the homes are too nice. There's too much food, it's too easy for many out there. I grew up with the Depression, with parents who grew up in the depression, so it was hard. It definitely wasn't easy and you just had to gut it out. It doesn't matter what area you look at, I remember coming home from school, in high school, with seven subjects, six A's and one B, and my mother would be all over me like, you're better than that. What is this stuff?
30:00 – That's the most common thing for a doctor's office. It's I'm tired, and I hurt, right? When those things start to end, and for many people within six to eight weeks, they just go, okay. They may go on an organic paleo diet for six weeks, and for about 80% of the people, their gastric reflux, their constipation, and their bloating, all will go away. They'll feel better and their skin issues will go away, and their sleep will be better. You can't not do that and still get there. So nutrition is the key and I think the other part of it is that the food today isn't what it used to be. The soil isn't any good, it's depleted of nutrients. So you need a good supplementation program to be able to nurture your body with the things that it needs.
40:00 – Steam is aerosolized water particles. You break up the bonds enough so now they come off and that's what happens with mercury. So there are a lot of experiments that were done with sheep, take a nice sheep, create a cavity, fill it with mercury, radioactively labeled mercury. So you can tell, does it stay there, or does it go somewhere else? What you find three months later, they sacrifice the sheep, and they look in the kidneys and there's mercury in there.  They look in the heart and there's mercury in there. They look at the brain and there's mercury in there. Well, it comes off, and it floods the body, and it's a poison.
49:00 – You can't just stop the drug because they will get in trouble. The drop is producing a function. but it isn't the optimal way to do it. You know, just as we're talking now, it reminds me of a kid, he was a 16-year-old kid who came from Arizona to Clearwater, Florida with depression. He had a diagnosis of Lyme disease and severe anxiety. In fact, in his initial interview, he said I can't even be in my own skin, because I just feel too uncomfortable and he had tried many medications. The medications made him feel worse than if he wouldn't have taken them. Also, part of his survival, was that he had decided to adopt a sort of a gothic type of lifestyle. Being you know, his hair was dyed black, and he had those great big earrings in his ear with chains, piercings, and he dressed in black. He just kind of scowled, he wouldn't really even talk to me. After about three months of treatment for his Lyme disease, which we do without antibiotics, we don't do it with pharmaceutical drugs, he one day came into the patient room, and he undyed his hair black, and he had taken out his earrings. He didn't have his black t-shirt on. He didn't have all of the chains on and the nurse in our room called me and she said, I don't know what's happened to this kid, but something's happened, and you better see him right away. So after his initial exam, he came back and I interviewed him and I said, what's happening? He said, I don't feel anxious anymore. He said, in fact, I actually feel good, and I looked at myself in the mirror, and I saw what I had done to myself. I realized that this wasn't me at all. So I took all this stuff off. So I said, well, what are your goals now? He said, well, next week, I'm going to be 16, I'm ready to go home now and I want to get my driver's license. Because I feel like I'm normal.
52:30 – Final Words Shown Below…
Our Final Words of the Show:
I think that what you're telling people is the right message. You are responsible for your own condition, that 98%, but 100%. So you see people from all levels of society, from all areas of the world, and some people decide that I can make my life because I decided to do it. Some people decide that I'm a victim, and everyone else is responsible for my condition. If you want to be happy, the second one doesn't work. You know, hard work and keeping your moral code in play, surrounding yourself with good people, and having a purpose for your life, whatever it is. But it ought to involve helping someone else or somebody else.
If you can live toward that end, you can enjoy the time that you have here and feel like for whatever purpose you were put here, that you did it. I think that the image I always have for myself, is I've been informed that at 120 years old, I have one hour to go and I am able to look back and reflect on my life. Did I do what I did and did I accomplish what I set out to do? Also, were other people glad that I was here and I did it. If you can answer those questions, there is a piece for yourself, no matter what's coming, you're going to be okay. If you're at that and you can assess that right now, then you create your own tomorrow so that you can decide. You can decide if I could be a little bit better here, I could have done that, or I've always wanted to do that.
Tomorrow, you can decide to do that. Write it down in your goal book and look at it every morning and figure out if I want to end up here and if I'm here now. What are the steps to get there, maybe I need more education, maybe I need more influence in this area, maybe I need to meet new people? Whatever it is, you have the power to do it. You just have to decide and if you've been in a marathon or an Ironman or you've been running work in an 80-hour week, you've got what it takes to move your butt from where it is to where you want to go. So you might as well do it. Because you know, you're here and that's what life's about. You just make it into what you want.
Positive Actions:
Help us reach more listeners with a 5-Star Review on iTunes and Submit a Review
Please consider supporting our 501c-3 non-profit and visit http://fuelfoundations.org
Join our private Facebook community The FUEL UP Mindset
Need brand growth?! Visit us at FuelUpMarketing.com