Mindset, Health, Fitness, and Entrepreneurship!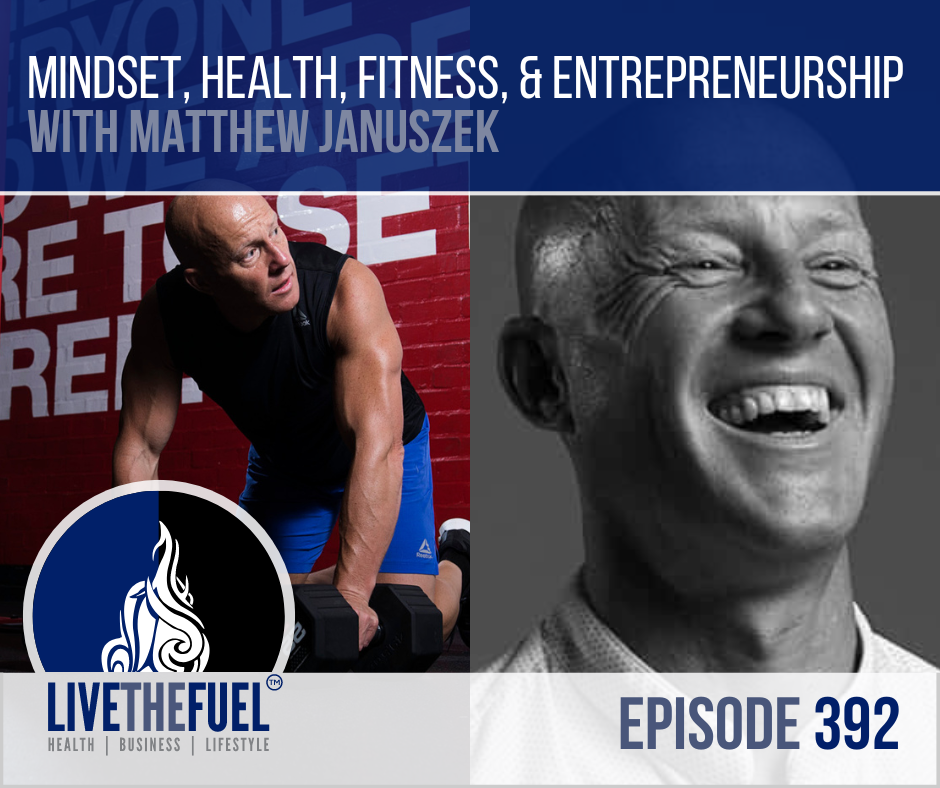 Here's to a Better 2022 in Mindset and Fitness Entrepreneurship!
Matthew Januszek is a health, wellness & fitness expert and entrepreneur that turned his passion into a $33 million-dollar global business.
While Escape has experienced massive changes that come with growing a global fitness company over two decades, the hallmarks that have defined and shaped us are ever-present. Matthew believes our longevity in a tough industry proves that founding a business on deeply abiding passion, sharing that passion with like-minded people and making sure it's contagious to customers are just some of Escape's secrets to success.
Today, the company innovates with designs and installs from concept to completion around the world. Escape offers hundreds of innovative and colorful products, from the Octagon range to athletic and strength equipment, or studio, boxing and flexibility training tools, fitness space flooring and more. In addition, Escape offers programming and education – including MOVE IT and HIIT THE DECK – for a personalized approach to exercise that brings the equipment to life.
SPECIAL Timing Note: We originally recorded this episode in October 2021. Thank you in advance as we catch up on episode releases since our host, Scott Mulvaney, started returning from his time off to finish writing and self-publishing his inspirational first book, "So You Want To Be A Hotshot" on Amazon.
Today's Guest & Resource Links:
Watch us on YouTube:
Timestamped Show Notes:
00:30 – Introduction
09:25 – I know a lot of people overthink it, and then because they overthink it, they end up really stalled with paralysis by analysis. So I've got to do this, go do that, I haven't got time for this. I'm gonna, you know, start next month and I think that's it is very simple and the thing that I think people want to do before anything, and I've been doing it since I was a junior bodybuilder, sort of 16-17 years old and I've been I'm 52 now. So I've been doing it for all my life pretty consistently, I'm a little bit of an anomaly. But I think for the average person that hasn't done that consistently for years and years and years, then really, the most important thing that you need to focus on is creating a habit, where you're gonna fit some kind of activity, or movement into your life. I've not actually met any people that have not been able to create a habit of cleaning their teeth, at least in the morning, and when they get up and before they go to bed in an evening.
20:30 – For whatever reason, everybody is obsessed, relationships break down for it, everything is really driven about people's desire for money, what they think money is going to give them.
31:00 – We've got a pretty decent process and we're predominantly business to business. So we work with a lot of gyms trainers, we we have a small part which is direct to consumer, but predominantly, it's going into clubs. Most of that gives us the ability to plan out a little bit further than people who kind of want to just purchase things immediately.
35:00 – I never thought I'd ever get into unofficially designing my own space. I mean, to be fair, actually, I love the fact you guys actually do design services, which is super cool.
40:00 – You got yoga combined with spinning, boxing, etc. So you got to think of how you're going to really differentiate yourself. There's a lot of ways that you can do that, obviously. But a lot of people react to the simple things, I used to be a boxer, and I like boxing, and I know some friends do too, etc. So I'm going to open a boxing gym but then what.
48:22 – Final Words Shown Below…
Our Final Words of the Show:
I'll just remind them of what I said at the beginning. I suppose you think that there'll be a time where you'll figure out how to make health and fitness important in your life. I've interviewed probably two or three-hundred very successful people in all areas, not just fitness, but in many different areas in business and I think consistently the one thing that that really separates those from anyone else is just finding where that fits into your life. But putting it before everything else in your hierarchy of things to do,  stick fitness at the top. I think if you can make that a habit then you'll find that dealing with all the other stuff that life throws at you on a regular basis including preventing yourself from getting totally destroyed from whatever pandemic happens and everything else that is out there, you won't go far wrong.
Positive Actions:
My New Book is LIVE! Go get "So You Want To Be A Hotshot"!
Please don't forget a positive book review after your purchase too. The Kindle and Paperback are up and the Audiobook book version for Audible is coming soon!
Help us reach more listeners with a 5-Star Review on iTunes and Submit a Review
Please consider supporting our 501c-3 non-profit and visit http://fuelfoundations.org
Join our private Facebook community The FUEL UP Mindset
Need brand growth?! Visit us at FuelUpMarketing.com