Our Mental Health with The Addiction Coach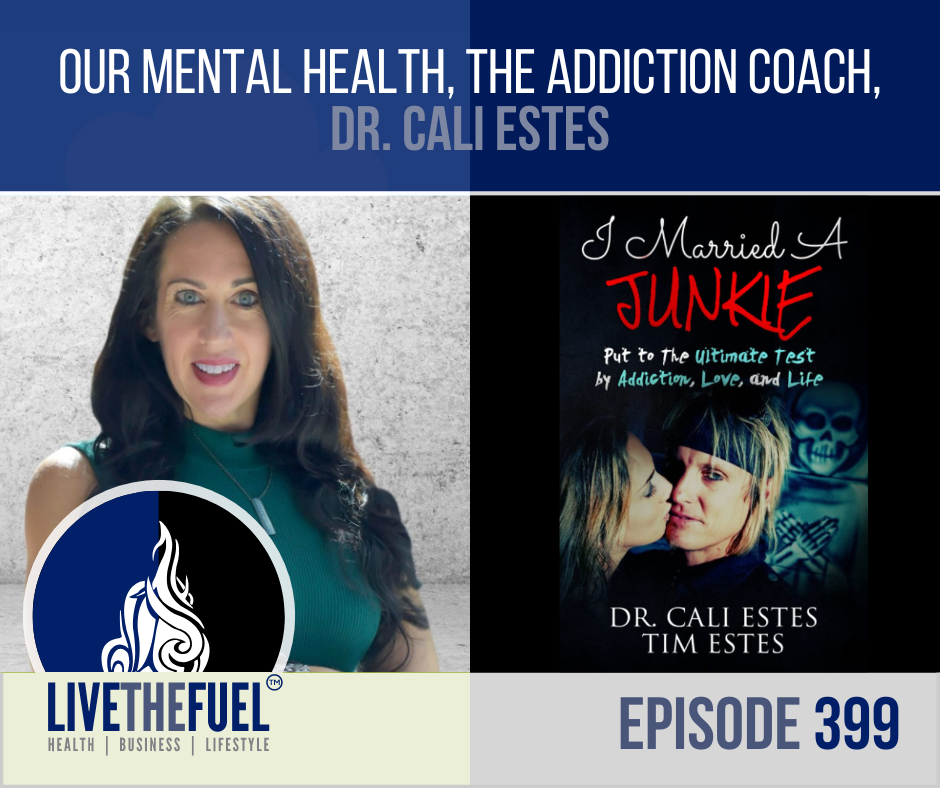 Understanding Our Addictions with Dr. Cali Estes:
Dr. Cali Estes, Ph.D is a highly sought after Celebrity Addiction Therapist, Life Coach, Recovery Coach and Wellness Guru that blends talk therapy with forward and positive change to assist her clients in unlocking their true potential. She has been featured in books, magazines, radio and television for her work in the addictions and therapy fields. She works with individuals, drug and alcohol treatment teams and addiction professionals looking to advance their knowledge base. She is best known for her Sober on Demand program, where she brings the entire treatment team directly to the client, anywhere in the globe.
Dr. Estes has over 25 years' experience working with drug, alcohol and food addictions. Her deep  understanding of drug and alcohol addiction, including the behaviors and ramifications that are associated with it, place her at the top in the field of addiction therapy. Dr. Estes is an interactive,  solution-focused Positive Psychologist and Cognitive Behavioral Therapist. Her unique no-nonsense  approach of cognitive behavioral therapy, positive psychology and life coaching combine to provide the perfect support for an addict. Dr. Estes' background in food addictions and the emotional and physical tolls it takes on one's psyche and physical well-being is highly unique.
Dr. Estes is currently serving as a private practitioner working with a broad spectrum of clients, including top executives, celebrities and NFL.NBA athletes. She has been featured on top tier outs such as NBC Universal News, MSN Money, Entrepreneur Magazine, Max Sports and Fitness, among others for her work in Addiction Recovery and has been published in several journals and is the #1 Best Selling author of 3 books. She has also created and founded the largest online addiction and mental health educational institution in the globe, The Addictions Academy that is currently accredited and trained in 28 countries, 40,000 students and offered in 5 languages.
Today's Top 3 Takeaways:
Mindset and Mental Health
Addiction Awareness
Lowering Stressors for Work-Life Balance
Today's Guest & Resource Links:
Our Mentioned Influencers:
Watch us on YouTube:
Timestamped Show Notes:
00:30 – Introduction
06:15 – In my second book, the seven keys to tap into the wealth inside you. The first chapter is called eat your broccoli. It talks about how you cannot pour from an empty cup, if you're not healthy, how are you going to help other people? You have to work out, you have to handle your mental hygiene, you have to do these things. Otherwise, you're gonna be a burnout, and then you're not good to anybody.
13:20 – So I got in trouble on the Dr. Drew show with that exact question. I am pro cannabis. He was anti cannabis. So we had a huge debate going on. Yeah, it's interesting. To debate with him, was a whole other level.
20:35 – You have to keep in mind, it is the same thing with diabetes, it is the people that create the problem, then offer the solution to the problem. So they make money on the front end and money on the back end. So you've got the people pumping out Opioid's, they get addicted to this, you get the person addicted to it, boom, here's your solution afterwards too. You know, here's a doughnut, let's get you addicted to sugar, and then let's of course give you that product to fix the ship.
31:00 – So all of a sudden it is also food and alcohol. So what happens is people get addicted. They start  off with the easily available cupcake and then it's oh no, this weekend I got so and so's birthday too. So then I'll just have two cupcakes. Next thing you know, you're eating cupcakes all of the time, and you don't know how you got there. It's the same thing with drugs and alcohol. It starts off in moderation. I'll have a little and next thing you know, it's uh oh! During the VID we produced so many alcoholics over COOFID because people were locked in their house. We went up to one in five people became addicted here in the USA.
41:40 – The success stories are why I do this. I still have clients that call me. I've been doing this work 27 years, and I still have clients that call me and say, hey, I'm sober 15 years, I got 20 years, you know, I'm married and I have kids, I have this amazing job, I created this company. So that's very cool. It's very rewarding to hear you said something or did something and sometimes it's not even a client. It's neat to be able to do this kind of work, and not know who you're affecting, or how many people you're affecting, and how well they're actually doing with it.
45:45 – Final Words Shown Below…
Our Final Words of the Show:
There are people who do what they do, they take a break and go to an inpatient rehab for 30 days, and they reset, but then they come out and go right back to what they were doing at the level they were at before they reset. Inpatient treatment has 95% fail rate, you can easily look that up. So we go in and we said, let's learn how to live in that environment that you're functioning at, in regards to that high level, but let's also get some work life balance. That's what's wrong, with regards to that theme of work, work, work. You're going to get, 10 stickers and a couple eight balls of coke just to calm down. That's no good for you, because that's not calming down. That's their idea of relaxation and then I come in, and I'm like, alright, let's kind of fix that. Figure out what your stressors are. Lower your stressors, if we lower your stressors, you're gonna lower your use so you're not chomping at the bit to get away from work and the wife and the kids and the dog and then her parents and your parents and whatever else is going on.
Positive Actions:
Get my book on Amazon today! "So You Want To Be A Hotshot" – HotshotBook.com
Positive Reviews "DO" help grow books and free podcast shows, those review really do matter!
Did you submit your 5-Star Review on iTunes? – Submit a Review
Need a charity to believe in? Check out our 501c-3 non-profit! Visit – FuelFoundations.org
Need brand growth, sales strategy, marketing execution?! Visit – FuelUpMarketing.com