Life with Passion & 6 Figures Online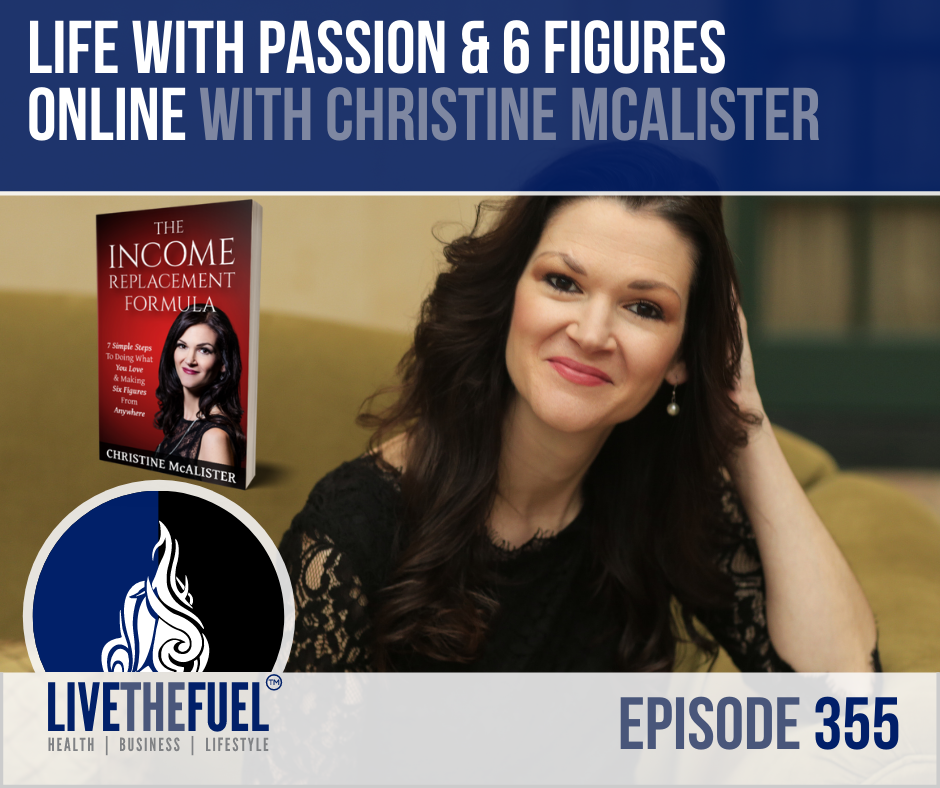 Show Subtitle and Keywords:
Christine McAlister is an entrepreneur, business coach and the author of the #1 bestseller The Income Replacement Formula: Seven Simple Steps To Doing What You Love And Making Six Figures From Anywhere.
An expert on turning tragedy into triumph, she founded her company, Life With Passion, after the full-term stillbirth of her first daughter, Maeve.
Christine helps high-achievers all over the world to quit their jobs, replace their incomes, and scale to 6 figures, doing what they are uniquely gifted to do.
Christine, her husband and "rainbow babies," live with their 2 rescue dogs, near their Arabian horses, in Louisville, Kentucky.
Life is 10% what happens to you and 90% how you react to it. – Quoted Charles Swindoll
Today's Resource Links from the Podcast:
https://www.facebook.com/lifewpassion
https://www.facebook.com/groups/lifewithpassionsociety
https://medium.com/@christinemcalister
https://www.youtube.com/channel/UC8V4KvBLBi_jvP7X4Ojt9fg
https://twitter.com/lifewpassion
www.linkedin.com/in/christine-mcalister
Christine's new podcast "No One's Ever Asked Me That":
https://www.stitcher.com/podcast/no-ones-ever-asked-me-that
Our Mentioned Influencers:
Trey Downes of Your Superior Self Podcast
Watch us on YouTube:
Timestamped Show Notes:
00:30 – Introduction
05:00 – How did you get connected with Trey Downes? Jeff Brown of the Read To Lead Podcast is a friend of mine. He helps podcasters and he had sent me potential connections that were right for people who are looking for guests.
10:40 – If you're home and you're healthy, and you're protecting yourself by staying home healthy, then you have all this extra bandwidth. You're not commuting and you don't have to wash your hair, right?
21:45 – Everybody has a choice. Right? That's what that quote is about. That's what I'm here for. That's like, what I've dedicated my work to.
33:00 – That's what I'm here to do. That's what's going to take me to Super Soul Sunday. I don't want you to have to go through some tragedy or get to a break breaking point? I'll leave everything behind. I think it's being willing to play with your mind and wiggle around the fear that's keeping you stuck.
40:00 – I am so disappointed if they're not the ones reading their books. A lot of times I wouldn't even buy it. I'm like, I want to hear from you. I want to hang out with you. It gives you the freedom that when you hit a certain part of the book, you can add a couple little extra snippets in, because it is your story.
50:00 – That's how you build a sustainable business that fuels your life and vice versa. I've been a guest on over 100 podcasts and people were telling me all the time for years that I should have my own. I was like, nope, nope, nope. I don't have a vision for it. Nope, it doesn't feel good yet. No, I'm not gonna do it just because I should.
59:18 – Final Words
Our Final Words of the Show:
You get to choose what you do with this time. Right? Whenever you're listening to this, whenever you're watching this, you get to choose the opportunities that you're going to make out of this time. You have incredible resources like this one in this podcast and this conversation to help me figure out your next right step. Like if you want to create something more for yourself, in health, in business and lifestyle. This is your opportunity, right? This is the opportunity you've been waiting for. You get to create it!
Action Steps:
Support our 501c-3 non-profit and visit http://fuelfoundations.org
Help us reach more people with 5 Star Reviews, visit iTunes and Submit a Review
Join our private Facebook community The FUEL UP Mindset