Kettlebells and Preparing for Battle with Chad Price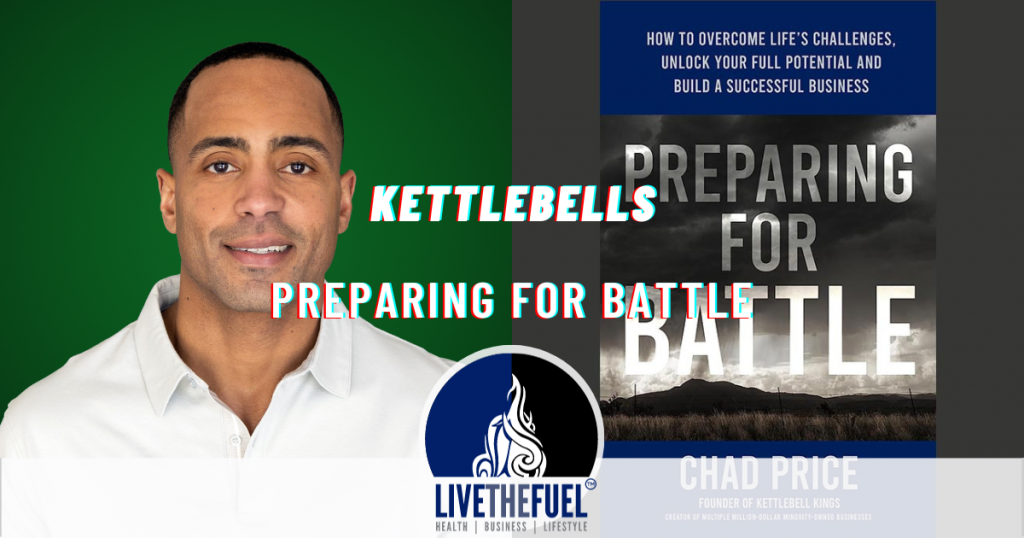 Today We Discuss Helping Yourself, Preparing for Battle, Kettlebells, and more:
Chad is a seasoned serial entrepreneur with an impressive track record spanning over a decade. He founded Kettlebell Kings from scratch and orchestrated a remarkable 3 year multi-million dollar acquisition back in November of 2021. Today, it stands tall as a thriving international company, making waves in the esteemed Inc. 5000.
In 2019, Chad pivoted into another passion of his, natural lifestyle products. His new company, Life Grows Green, is uprooting negative stereotypes about hemp and creating new products by only using the elements found in nature. With his background as a student athlete, Chad's passion for sports permeates every aspect of his work.
Chad's approach to business is the same as his approach to sports. Athletic competition is good, but outside the sports arena, competition takes new heights. His latest project is an upcoming book titled "Preparing for Battle".
Chad discusses a wide range of topics, from developing a winning mindset to creating a solid business plan, building a strong team, and navigating the challenges of scaling a modern-day business. "Preparing for Battle" is targeted at aspiring entrepreneurs and minority-owned business leaders who are looking for actionable advice and insights that they can apply in their own lives and businesses.
Today's Guest & Resource Links:
Watch us on YouTube:
Timestamped Show Notes:
05:30 – So after I kind of, quote unquote, hung my cleats up, I was looking for a more kind of functional fitness workout routine for myself, and going to gyms and you know, 24 Hour Fitness, Lifetime Fitness, these things felt more like social scenes, and they felt like a place to workout at the time. So I really got into home fitness and just trying to find my own routine that I can rely on, I don't always have the convenience of going to a location. Kettlebells were just one of those things I explored during that journey.
10:45 – I was telling someone earlier, I think one of the opportunities sports gives you is you get to play all of those battles out, kind of in a simulated way. Whether that's practice or lifting or the actual games and championships, you kind of get different levels of intensity of battles, and you get to win and lose them. I think that hardens you and prepares you for leading a team through obstacles, especially the unseen ones, you start into entrepreneurship, you never know exactly what every problem is going to be. Out of the problems that come along, the will, perseverance, and grit to get through comes about. If you have the right mindset, you can make it through.
15:45 – I don't like to hurt people's feelings. But there are always going to be winners and losers, there's no such thing as not being winners and losers. Yes, we can live in a better society than we did 100 years ago, and 100 years before that. We should be striving to do that. But even in those societies, there are still going to be people who do better, and people who do worse. Striving to do good is something that I think everyone should do.
22:45 – Preparing for Battle, my book, is launching on Amazon. Even this experience, we talked about preparing for battle, this is my first book, this is my debut book. There were things that I didn't even know I needed to prepare for myself to do this. But you know, I had a small team that I put together, I worked with my editor quite a bit to make sure I was trying to create something that people actually could digest. So you know, it's not just me saying it the way I want to say it, but I'm trying to say everything in a way that's easily digestible, and something that builds a lot of confidence and inspiration and people who are thinking about starting their own business, I think it's more about getting in the right mindset for the challenges ahead than thinking that you can study or cram all the information or memorize all the information necessary to be an entrepreneur.
31:00 – In football, you had to position yourself and prepare yourself for that type of impact, potentially, or avoid that type of impact. That was part of the strategy. I think that's the closest that we actually get to combat sports or physical sports like that. I think it's the closest we actually get to the kind of real world consequences for some of our decisions.
40:00 – I think that's the issue, like you said, not every company cares, and the companies that don't care, unfortunately, they get the profits early on. They also get the best stories that come out about them. I'm sure there are people who are saying, hey, this company was too good to be true. Or you could have done your research and seeing prior to the story coming out that they necessarily weren't abiding by the book. Trying to put a high quality product as the foundation of what they do. For me, it's hard for me not to do that with any brand that I associate myself with.
52:25 – Final Words
Our Final Words of the Show:
When I graduated from college, and even when I first started the business, I didn't realize how many people don't necessarily have the same intensity about business, but the same same intensity about kind of creating or leaving a legacy. I know there are people out there like that now, and I think a lot of times you have doubt, because maybe everyone in your circle or everyone around you is not necessarily as intense about success or healthy lifestyle. I tell people to lean into that and to lead people towards the direction in what you know, is right. I think all business owners, especially any type of person that's in a position of leadership needs to be kind of held more accountable to the overall well being of what they're trying to achieve. Am I a cut enough corners today to get to the bottom line? I think it has to be a more conscious approach to life, especially now that we're in this digital age.
Please Take Positive Action Forward:
Posting Positive Reviews DO help grow book(s) and podcast(s) success, YES, those 5-Star reviews really do matter!
Get my book on Amazon today! "So You Want To Be A Hotshot" – HotshotBook.com
Did you submit your 5-Star Review on iTunes? – Submit a Review
Check out our 501c-3 non-profit! Visit – FuelFoundations.org
Strategy, Execution, and Coaching for sales and marketing brand growth! Visit – FuelUpMarketing.com