KETO, Oxygenation Toxicity, Nutritional Fasting with Dr. Dominic D'Agostino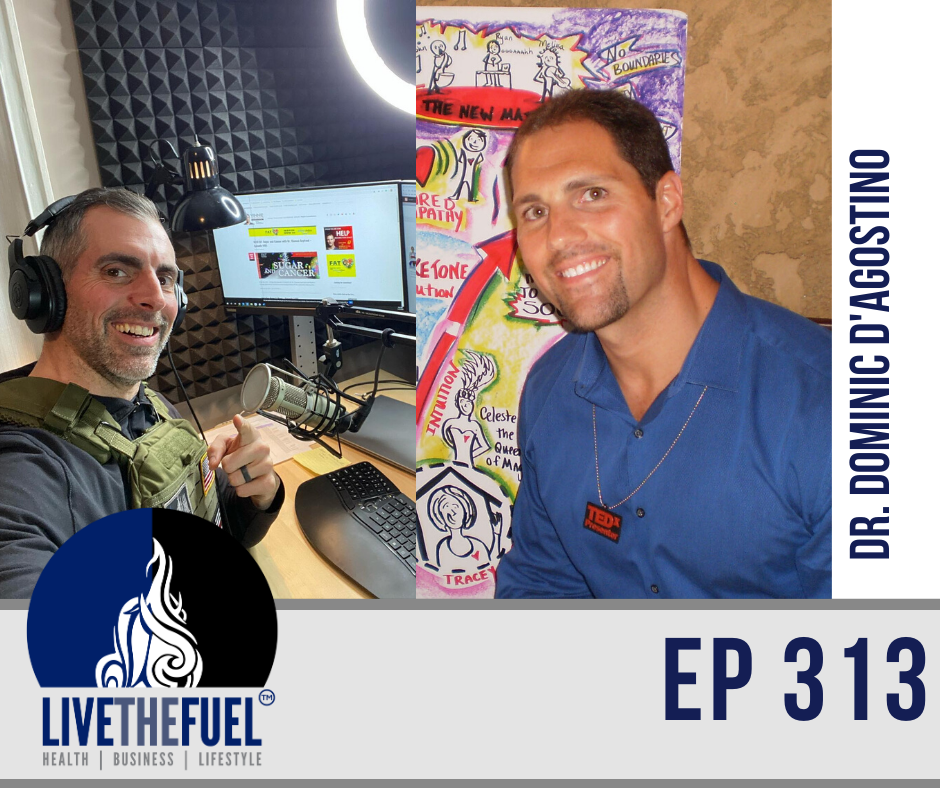 Discussing KETO Nutrition, Farm Life, Toxicity, Fasting, Ketones, and more:
Dr. Dominic D'Agostino is a tenured Associate Professor in the Department of Molecular Pharmacology and Physiology at the University of South Florida Morsani College of Medicine. He is also a Research Scientist at the Institute for Human and Machine Cognition (IHMC). His laboratory develops and tests nutritional strategies and metabolic-based therapies for neurological disorders, seizures, cancer, and metabolic wellness. He was a research investigator and crew member on NASA's Extreme Environment Mission Operation (NEEMO 22) and has a personal interest in environmental medicine and methods to enhance the safety and physiological resilience of military personnel in extreme environments. His research is supported by the Office of Naval Research (ONR), Department of Defense (DoD), private organizations and nonprofit foundations.
Quote: Of all the paths you take in life, make sure a few of them are dirt. – John Muir
Top 3 Hot Point Takeaways:
Seizures, Epilepsy, Diabetes, and Anti-Inflammatory Benefits
Keto, Ketogenic Diet, Ketosis, and Ketones
KETO Nutrition, Nutritional Ketosis, and Nutritional Fasting
Today's Resource Links from the Podcast:
Our Mentioned Influencers:
Timestamped Show Notes:
00:30: Introduction
10:00: I grew up studying nutrition, I never heard of anything in fasting ketogenic diets. They were the things to avoid at all costs, right? So, I went to Rutgers University actually grew up in Allentown, New Jersey.
20:00: It's really a result of many things going on, but it's giving the brain an alternative fuel that allows the brain to function under these extreme environments. It also changes some of the neuropharmacologies of the brain in ways that we're just understanding now.
30:00: My wife is Hungarian and she and I went over there. They're eating brains, kidneys, and liver. I mean this is what they have every night. So it's a little strange and it was about the same time I met my wife and actually started doing ketogenic research about the same time. So now she has gotten to incorporate a lot more organ meat into our diets. We grew up hunting, the liver was what we would give to the dogs. We would never think about eating the deer liver, we would just dress the deer when we got home and just keep the neat stuff.
40:00: Kristi Storoschuk helps on so many projects, she's been like a godsend as our Head Writer. My student Andrew Koutnik is now Dr. Koutnik. He's type one diabetic and also does nutritional ketosis and gave a TEDx talk on nutritional ketosis. You can look them up, fantastic TEDx talks and is a new writer who's super educated and passionate about this.
51:00: I would tell people to check out the Metabolic Health Summit. I have a link to that on ketonutrition.org
54:00: Final Words
Our Final Words of the Show:
I'm a scientist, I'm a data-driven person, and I do experiments in the lab. But the thing that I think is really the cornerstone of my health is really good relationships, you know, with my wife, with my friends with my family. It's really important to prioritize relationships in addition to learning and in addition to nutrition. I think that's the key.
I think you ave to take a step back and look at what's important and really put that at the top, Then your passion for everything else will just come through. So I think for me, for my own health, mental health, and just health as a whole person, prioritizing those relationships is key.
Action Steps:
Support our 501c-3 non-profit and visit http://fuelfoundations.org
Help us reach more people with 5 Star Reviews, visit iTunes and Submit a Review
Join our private Facebook community The FUEL Tank, at https://www.facebook.com/groups/TheFUELTank/
Watch us on YouTube: