I Am The One and Cancer Advocacy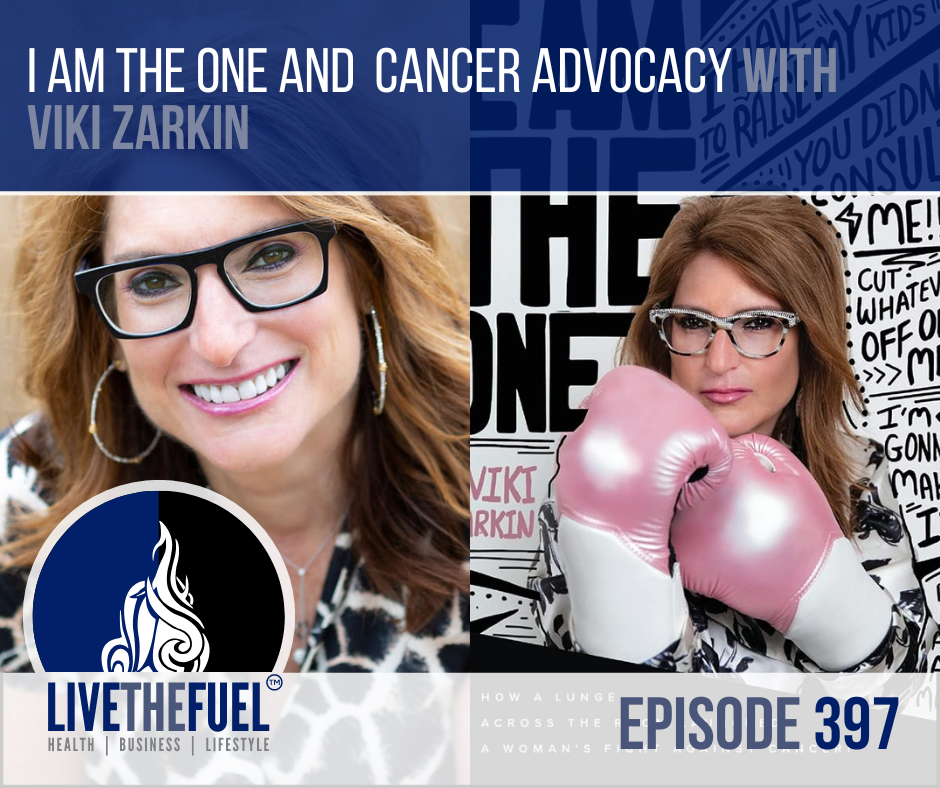 Learn To Advocate For Yourself with "I Am The One" Author, Viki Zarkin:
Viki Zarkin is the only person alive with this aggressive form of Stage 4 metastatic cancer for over 11 years. She was diagnosed in her 40's when her doctor first told her to go home and get her affairs in order. At the time, she had two small children at home and was running her husband's dental practice. Viki spent the next several years fighting for her life, advocating for herself and navigating through the healthcare world, and following her gut. Now,
"I really am the luckiest girl around. But I just happen to have Cancer." ~ Viki Zarkin
Viki is a beacon of hope as a national motivational speaker, coach, and author of I Am the One. She inspires women to change the way we have been programmed to think and emphasizes the importance of starting with young women on how to believe in themselves, challenge the status quo, find their voices, and listen to their hearts. Viki's can-do attitude inspires people to think differently in their everyday lives; by applying her unique thought process, deals can be made in a boardroom just as easily as they can help people through their cancer battle.
Today's Top 3 Takeaways:
Understanding Metastatic Cancer
Realizing Importance of Cancer Advocacy
Put Yourself First
Today's Guest & Resource Links:
Watch us on YouTube:
Timestamped Show Notes:
00:30 – Introduction
09:40 – I'm wholeheartedly aligned with you. I understand where you're going with that. Do you know that women's healthcare today has been cut back so severely that we don't get any of the same procedures afforded us even as much as five years ago?!
20:00 – So find the professionals get the second, third or fourth opinion till you find the professional to your point, who is the different color crayon in the box that DOES care to do their own analysis, their own research. They do exist and I've now met lots of them, and I do mean a lot. I left in the middle of the night, after my mammogram, in a hospital gown flying open, as my mother and my husband wheeled me down the hall running for our lives!
30:20 – It comes back to your advocacy for yourself, do it for yourself, and so on. If it's you just make it organic, I'm not talking about food, I'm just talking about your life choices can become organic, and you make it matter.
37:10 – You don't necessarily have to listen to me. But when you do have a near death experience, it does give you insight, it truly does something that no others have. When you learn, when you drop into the abyss, and you personally are responsible for lifting yourself out. How can you not share that knowledge with others? How can you not be responsible for the other lives and the knowledge that you now have been given by God? I don't say it in a religious tone, I say it in a spiritual tone. Because it's a gift and it's what you do with that gift.
42:55 – So I think that we want to clarify that a little space. Because not everybody has to be an adrenaline junkie to submit to faith or to risk or to not be scared. Just because you choose not to break every bone in your body doesn't mean you were scared to do that. But what it does mean to you, then choose your poison. Don't go through life without risk, find whatever that risk might be to you. Like I said, for somebody, it could be overcoming an agoraphobic condition, it could be literally stepping that foot out the door.
56:30 – Final Words Shown Below…
Our Final Words of the Show:
I have this really crazy motto that I made up. I like models. When I first got sick, I said it came through, it was born out of truth. It was born out of my own honesty. What I said was, you know, I really am the luckiest girl around. But I just happen to have Cancer. That's it. Why? Why does one have to take from the other? All right. I'm just me and all of the parts of me. I'm very lucky to be who I am.
Positive Actions:
My New Book is LIVE! Go get "So You Want To Be A Hotshot" and visit HotshotBook.com
Please don't forget a positive book review after your purchase too, those review really do matter!
Help us reach more listeners with a 5-Star Review on iTunes and Submit a Review
Please consider supporting our 501c-3 non-profit and visit http://fuelfoundations.org
Join our private Facebook community The FUEL UP Mindset
Need brand growth?! Visit us at FuelUpMarketing.com