Healthy Relationships, Porn Addiction, Fail Forward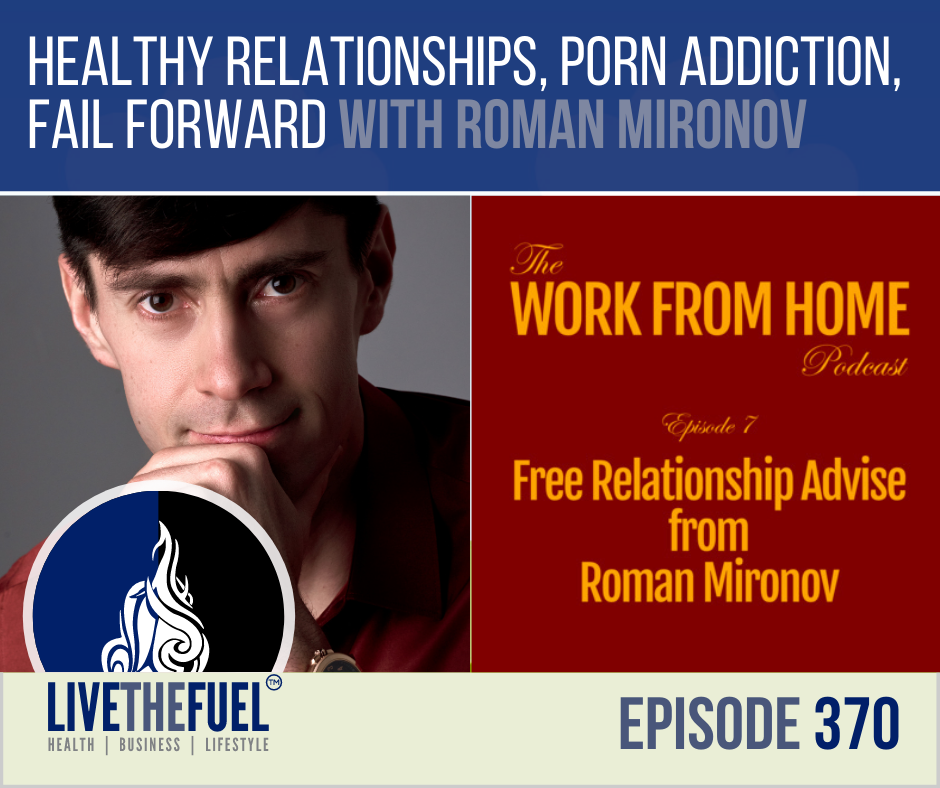 Creating Amazing, Enviable, and Healthy Relationships, Breaking Porn Addiction, and More with Relationship Coach Roman Mironov:
Roman Mironov is a relationship coach in Toronto, Canada. He helps people create amazing and enviable relationships. He has been into self-improvement for over a decade and brings his best ideas and tools to people he works with. Roman is all about teaching insanely actionable strategies for happier relationships.
Quote: "It was at this time, at the lowest ebb, that the smooth-running editorial machine broke down." ~ Jack London, Martin Eden
Do you want your relationships to bring you the most joy in life? You've come to the right place with Relationship Coach, Roman Mironov as our guest co-host today.
Top 3 Hot Point Takeaways:
Be accountable for fixing yourself.
Relationship Coaching vs Fixing
Commit to Daily Intimacy
Today's Resource Links from the Podcast:
Website: https://romanmironov.com/
YouTube: https://www.youtube.com/channel/UCTpjfwxdtmsJ78QiPGMrsOQ/
Podcast: http://romanmironov.libsyn.com/
Instagram: https://www.instagram.com/be20ofyourself/
LinkedIn: https://www.linkedin.com/in/romanmironov/
Facebook: https://www.facebook.com/roman.mironov.10/
Watch us on YouTube:
Timestamped Show Notes:
00:30 – Introduction
10:00 – I tell them that in my marriage, I was a workaholic. I focused on work single-mindedly. When we are overly focused, and a lot of men do that, we just ignore all the other areas. Very quickly, all those areas, start to deteriorate, including our relationships, health, and our friendships. They all need our attention. That's the point because our life is exactly that, it is everything is intertwined. It's just like our body. It's a feedback system. When we smile, we feel good. So it's a feedback loop.
19:45 – You know, like the very first one I think I started with is people actually come into a relationship not to give, but to get.
25:45 – Just a quick reminder, I am very big on this tip that I mentioned before, which is being missed by many. The value of having to have enough space is very important. The other thing is actually making sure that you have those daily intimate moments. Hugging, kissing, holding hands, these are all important and I recommend to them on a daily basis.
30:00 – Another thing is being creative, really looking for ways to maybe scan your laptop and then go work outside for a few hours.
41:00 – For me, the important part of coaching is accepting the person as they are. I'm not there to change them, if a guy feels happy by being addicted to porn, that's not necessarily my job to change him and to try to improve him in a way that I see things. Going back to your original question about the system that I use. My general idea is that I pursue using that system by setting goals and going into specifics about each goal that is to help the person achieve what they want. So for example, let's say a guy is addicted to porn, and at the same time, he wants better results in his career. I might think that these are both areas that we need to work on. He might think that he only needs to work on the career thing and if he wants that, I will help him with the career thing. I won't even engage in porn addiction because, again, it's not my job to "fix" people.
51:00 – Fail Forward, there is, this is one good statement. The general idea is to be able to start with the very worst version of what you want. But as long as it works, if it works, it's fine. Like, start with a draft.
53:25 – Final Words Shown Below…
Our Final Words of the Show:
We talked about all those different life areas, life zones, and relationship is one of them. So for example, if you spent eight hours working every day, so we spent eight hours on your career, the area of your career, you can't put any hours into your relationship. I mean, maybe you need to put some hours into the relationship area as well. It requires work it requires being intentional, it requires conscious effort, just like your work does. This is very important to understand because people have this, as the Iranian belief that they already know how to make relationships work. As if by default, they know it, and they are often wrong. So they think that their relationship will be great. Even if they don't, it doesn't really need any work and I think that's the main issue with our relationships today. They do require quite a lot of effort and if we ignore them, they tend to deteriorate. So like, try to use the same approach as you use it with your work. You read books, like in your profession, your career, your business, or whatever, read a book about relationships, and don't just read it, but also apply it.
Positive Actions:
Help us reach more listeners with a 5-Star Review on iTunes and Submit a Review
Please consider supporting our 501c-3 non-profit and visit http://fuelfoundations.org
Join our private Facebook community The FUEL UP Mindset
Need brand growth?! Visit us at FuelUpMarketing.com