Free Debbie from Domestic Violence with Tammy Munson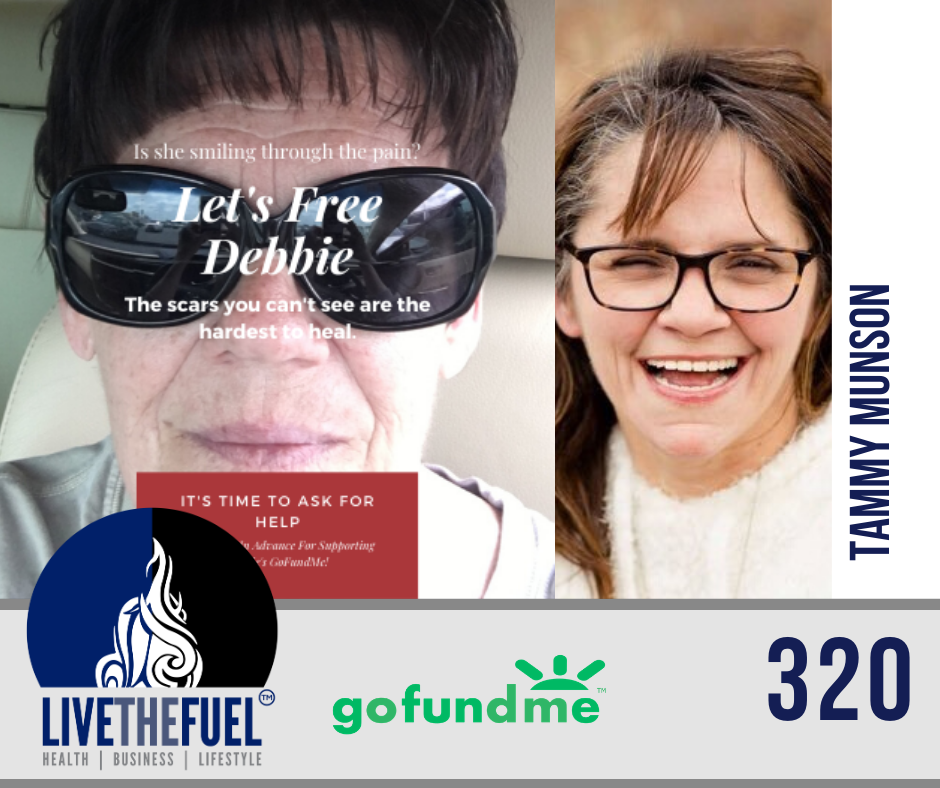 What is a Narcissist, Narcissism, and a Public Service Announcement to Free Debbie from Domestic Abuse and Violence:
Debbie's own words are below. We want to preface this by saying if we exceed our campaign goal, we will work together to make a donation to a Women's Shelter, Community Center, or Transitional Housing to be named at a later date. Thank you in advance, your Campaign Advocate ~ Scott Mulvaney. Now here are Debbie's current life transparency words:
I'm a victim of domestic violence, and I've now learned there's nowhere to turn. With your help, I can avoid being a casualty.
Like most women, I never thought I would be here. Yet I am, I'm living with emotional and verbal abuse, worrying if each day it will turn to physical.
It started slowly. The first time he threatened me, I wrote it off as a mistake. The next time, I blamed myself. Then, I declared it would be the "last time." It wasn't. After a while, I stopped bothering to make excuses. The abuse started to feel normal. Recently, things have gotten worse, it's bad enough now that I have realized I need to run or I will die this way.
He's a functional alcoholic, who fires off insults and gaslights my every move. While he doesn't remember what he's said or done the night before he denies it ever happens and blames it on me. He's threatened to lock me out, has drawn a fist and aimed it at my face and told me to get the hell out, and take nothing. Everything, to his way of thinking, belongs to him. 30 minutes too long at the grocery and I've been with a 'boyfriend', and that sets off another round of insults. Nothing is my business, (I'm his wife right?) his health, his finances, nothing. Nothing is shared by him. He has to know the details of every penny I spend. His tossing a beloved pet across the room triggered my breaking point.
I would just leave but I cannot afford to leave everything behind. As a woman of a certain age, it's hard to recoup financially to be able to start over. Although I have contributed to our household, as well as furniture and household goods that I purchased myself, he says I have no right them. Not even my personal clothes. I have pets that I love and do not want to abandon. I need to escape.
I work, but paying medical bills from a recent surgery has left my coffers drained. (He is my husband, but refuses to pay my medical expenses) He pays toward rent and utilities, part but not full, but the rest of everything is on me. This campaign is to help me get the resources I need to leave quickly and safely, with the goal of raising funds by March 15, 2020.
I'm tired y'all, really tired. I'm scared if I don't get out now, I won't, at least not whole anyway. I hate airing my "dirty laundry" but what I've been told is that I'm deserving of help, and this is not my shame, it's his. I'm asking for help to restart my life where I can live peacefully and without fear.
~ Debbie
Here is the breakdown of the minimum of what I need from the $7300 minimum:
$3K upfront to attorney
$3K for 3 months of living, rent, and utility expenses
$800 movers (can't lift anything myself due to recent shoulder surgery)
$500 running money
Top 3 Hot Point Takeaways:
Develop a supportive circle of trust
Create the escape plan
Work with law enforcement
Today's Resource Links from the Podcast:
Go visit our GoFundMe at bit.ly/freedebbie
11 Signs You're Dating a Narcissist — and How to Get Out go visit https://www.healthline.com/health/mental-health/am-i-dating-a-narcissist#1
Our Mentioned Influencers:
Tammy Munson of Business & Learning visit businessandlearning.com
Tammy Munson on LinkedIn visit linkedin.com/in/tammymunson
Action Steps:
Support our 501c-3 non-profit and visit http://fuelfoundations.org
Help us reach more people with 5 Star Reviews, visit iTunes and Submit a Review
Join our private Facebook community The FUEL Tank, at https://www.facebook.com/groups/TheFUELTank/
Watch us on YouTube: