Fired Up Human Connection with Ginger Johnson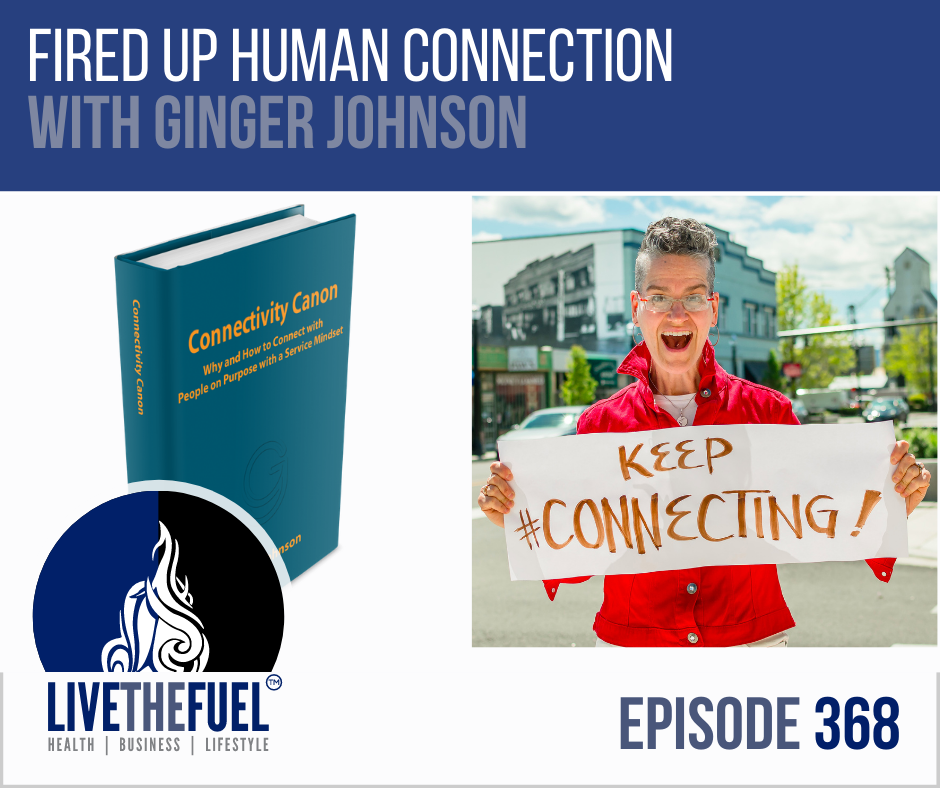 Become A Connector, Not A Networker. Embrace True Human Connection For Success:
What does it feel like to confidently walk into any room and start a conversation with anyone?
And why would you want to do that anyway?
Today's guest is one of Those People – who can do just that.
The great news is that everyone who wants to learn to connect, can.
Ginger is a professor of her expertise & practice – Human Connection, a topic that's living large right now. She teaches leaders and CEO's why & how to connect on purpose, with the intention to serve. Speaking – live & virtually, leading workshops & writing are how she works with great people ready to seriously up their connecting game.
Oh – and so it's clear: Connecting Isn't networking. It's way different!
Listen up to skill up! Now's the perfect time to become a better connector.
After all, Connectors change the world.
Top 3 Hot Point Takeaways:
Connecting vs Networking
Become a Connector with her book the "Connectivity Canon"
I.G.S.T. – Intention, Goal, Strategy, Tactics
Today's Resource Links from the Podcast:
https://www.linkedin.com/in/gingerjohnsonconnector/
https://www.instagram.com/gingertheconnector/
https://twitter.com/gingerjohnson
https://www.youtube.com/channel/UCILGZjxOFhI1cbnbP7_scIw
Watch us on YouTube:
Timestamped Show Notes:
00:30 – Introduction
11:00 – You've got it and it brings us to connection. That's the connection of fire with the earth. It is regenerative, it is restorative and Mother Nature is built in. She's an amazing engineer. Like she's gonna kick our butts every single time if we think we can best Mother Nature. We are whistling dixie because we are unconnected with the truth of the fact that this earth and it is way more powerful than us. So it's being connected with what is. Here's a story I would illustrate it with from years ago. I attended a sheriff's academy in Ames, Iowa. I applied and I took it and it was fascinating Scott because what do you think I knew about being a sheriff? Most American's don't know what the role of Sheriff is.
19:30 – Marketing is communication. Marketing is connecting. It's finding out who are your people, where are they at? How do they want to be communicated with, what is their rhythm? What's their style? What's their desire? What do they think they want? What do they know they need? That's the engagement of connection and when it hits, Whoa baby, it's magic! Yeah, like a full blast, let's go. But when it's not connected, when you are struggling, when you're forcing jokes, when you haven't honed your craft, I also delineate very much between public speaking and professional speaking. There's a huge difference.
30:00 – Right now week to week, things are changing, it actually feels like day-to-day. You can have this great client who has been abused, who already has 15 flaming plates spinning in the air. They're already thinking, damn, I just need another damn thing. So how does she react, how do we help her? People like you and people like me, how do we coach? How do we lead? How do we teach so people can effectively lead their own lives in perpetual adaptation? Look, the world hasn't stopped. Oh, clearly, it has changed in a very remarkable and very, very condensed manner. This could have stretched out over 10 years, this could have stretched out over a millennium. But Mother Nature said alright, you're not paying attention. I'm going to really give you a wake-up call. So being connected with yourself first, always your why, it's the number one thing I teach. You got to know your why and your purpose!
40:00 – I'll send you a list of 12 people or I'll do a bunch of connections because now I know you and I are here because of somebody else, right? Let's talk about what connectivity is here for a couple of minutes. Because we do need to delineate the N-word aka Networking and no judgment. Use what you want, simply know that there is a fundamental difference. The word network is a noun, it's something you built. Think of it that way. If you can envision a net, I don't care how you envision it, I just don't use it anymore. Because it's a noun, it's static. When you connect, you're actually in action. You're in motion. You're looking for something deep and it can happen pretty quickly, depending on how you approach it. That's what I teach. I teach people why and how to connect on purpose with a service mindset. That's the book, I literally wrote the book, The Connectivity Canon.
58:25 – That's where muscle builds, we know this for a fact we know when we work out and it's when we are sore afterward. That's because we're rebuilding, that's your neural plasticity, same thing. We can literally change our brains. If we put the effort into it, it will be a huge chunk. Of course, it is your frickin change in your brain. The brain is ready. She's gonna know how that's really being connected to the purpose of whatever it is you want to accomplish.
01:05:00 – Final Words Shown Below…
Our Final Words of the Show:
You know that feeling Scott, when there's a door and you're going to walk through it, your intention is to walk through that door and there are people on the other side of that door, you're telling yourself that you should, you want to and you can. You have to be on the other side of that door with those people. When you grab that handle or you push that bar and you enter that room when you can do that with confidence and belief in yourself when you know why you have chosen to be there, whether it is physical or virtual. You are a connector you have chosen very intentionally with what I call I.G.S.T." Intention, Goal, Strategy, and Tactics. You have chosen to engage in a way that feeds your why, that helps you serve yourself and serve others better. That is why connecting is so important to me. I can tell you stories, but I know what it's like to feel disconnected. I know what it feels like to be unconnected, and I know what it feels like to be connected. That's my legacy to help people learn why and then how because once we know that, everything's possible,
Positive Actions:
Help us reach more listeners with a 5-Star Review on iTunes and Submit a Review
Please consider supporting our 501c-3 non-profit and visit http://fuelfoundations.org
Join our private Facebook community The FUEL UP Mindset
Need brand growth?! Visit us at FuelUpMarketing.com