EdTech, Online Learning, and Virtual Life with Jordan Levy of CapSource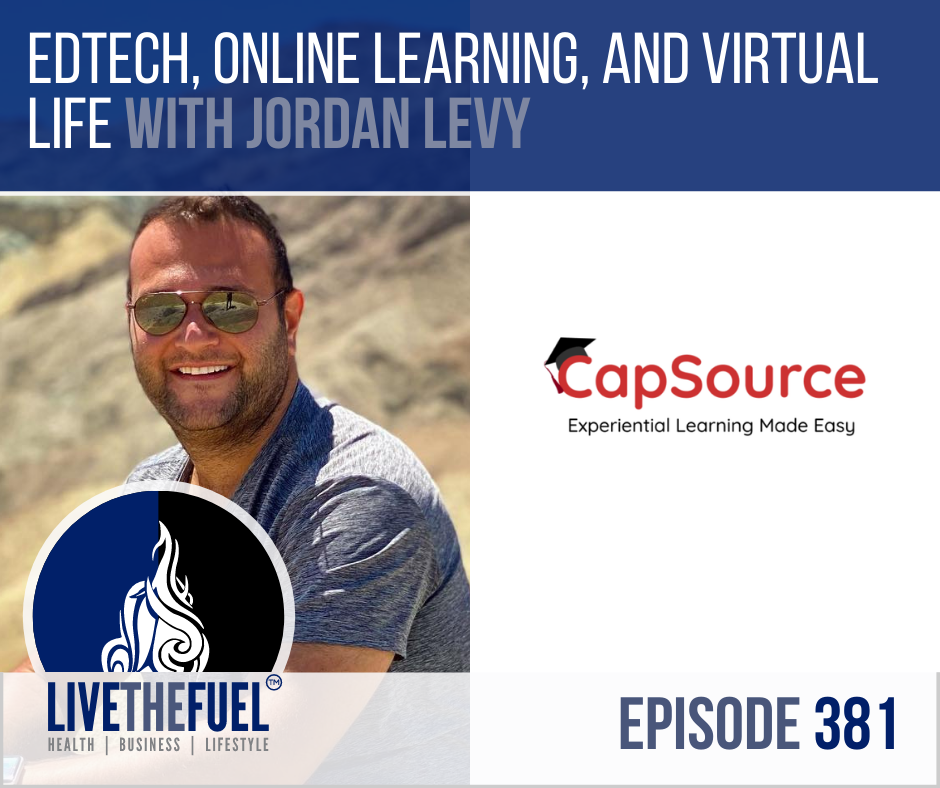 Jordan Levy Is Here To Discuss Online Learning, A Virtual Life, and Educational Technology:
Jordan is a serial education technology entrepreneur. He has started two EdTech companies that help higher-ed programs bridge the skills gap for their students through experiential learning. His method is to integrate real companies into the education process through hands-on collaborations that expose learners to new circumstances with real stakeholders, challenges, and outcomes.
Quote: Learning is experience. Everything else is just information.

His company CapSource makes building and scaling industry-integrated project-based experiential learning programs easy. Through a combination of software and services, CapSource helps educators match with companies and design projects based on narrow academic requirements. Jordan started his first company, Real Time Cases, while an undergraduate at Lehigh University studying Accounting, Finance, and Entrepreneurship. Outside of work, Jordan is passionate about cooking, hiking, traveling, sailing, tennis, public speaking, photography, mixology, and coaching/connecting fellow entrepreneurs.
Today's Top 3 Takeaways:
The new world of Education Technology.
Online Learning and Mentoring for businesses.
The power and fun of a Virtual Lifestyle.
Today's Guest & Resource Links:
Watch us on YouTube:
Timestamped Show Notes:
00:30 – Introduction
08:15 – The reality is, we put a lot of pressure on our educators to solve all of society's problems in the way that they teach and educate and prepare our youth for the future. That's the main objective of our education system is to prepare a future workforce. Now, the reality is, those people are often in education, and never got a chance to enter the workforce in the same way that the 80 to 90% of people do. They are back in education, they spend their careers in education, they trained to be an educator, so we cannot expect of them to guide in a way that a professional mentor, you know, someone from industry would guide. And so that's kind of the issue, right?
13:45 – What we see is virtual learning is really just the theory, like the theory based learning that's now being done in a virtual world, which is not experiential learning. We're not changing the way that we're teaching. We're just changing the modality in which the educators connect with students. So obviously, the best schools, the most progressive institutions are not only transitioning to virtual, but they're also redesigning their curriculum around optimizing for virtual environment. So that's the first thing. The second thing is if you think about that concept of learning, ever since you were a child, you were dropped off at school, and that's where you learned, and then you came home from school. And that's where you're not learning, right?
22:00 – Now we're living in a world where it's not just the data, but it's the AI tools that are being built to analyze that data. So we're on version two, version three, version four of platforms, and it's never not going anywhere, like all of this stuff. It's amazing, internet drops in a place what do people do? Right?
31:05 – The reality is, what a great way to hire people, right? There is a current age-old philosophy which is the case assessments. That's where we're doubling down into that as a tool to get students paired up with the right companies for the internships. So the first thing is, Can you answer this basic challenge, which requires that I learned about the company, it requires that I learn about their their challenges in different departments, it requires that I practice using some tools that I likely will need to use. Then after that, let's give them a real project to work on. That's going to take four weeks, and now they have more expectations, milestones, deliverables, someone to talk to you at the company. Now you have an entry level talent pipeline, you're able to recruit and hire them to really make an impact on your organization.
44:15 – Final Words Shown Below…
Our Final Words of the Show:
Well, I'll stick with this kind of mentor notion and just say that the best way to learn is to teach it's a great you know, tactic for, you know, teaching and employees how to perform better is to give them someone something to teach, so that they can learn it better. Because you you forget you neglect to think about how much documentation goes into teaching, right? Like you're like, oh, if I'm going to try to teach someone how to use our CRM, like I should probably explain like what a CRM is and compare it to other ones and talk about why we use it. And like some of that's that prep process gets you to think more deeply about why you use these tools. So the reality is, if you are trying to empower your team motivate your team, or motivate yourself. Right? Find someone to mentor find something to teach other people. And you'll I think you'll live a more fulfilled life.
Positive Actions:
My New Book is LIVE! Go get "So You Want To Be A Hotshot"!
Please don't forget a positive book review after your purchase too. The Kindle and Paperback are up and the Audiobook book version for Audible is coming soon!
Help us reach more listeners with a 5-Star Review on iTunes and Submit a Review
Please consider supporting our 501c-3 non-profit and visit http://fuelfoundations.org
Join our private Facebook community The FUEL UP Mindset
Need brand growth?! Visit us at FuelUpMarketing.com