The Carnivore Life and Who Is Anthony Chaffee MD Part 1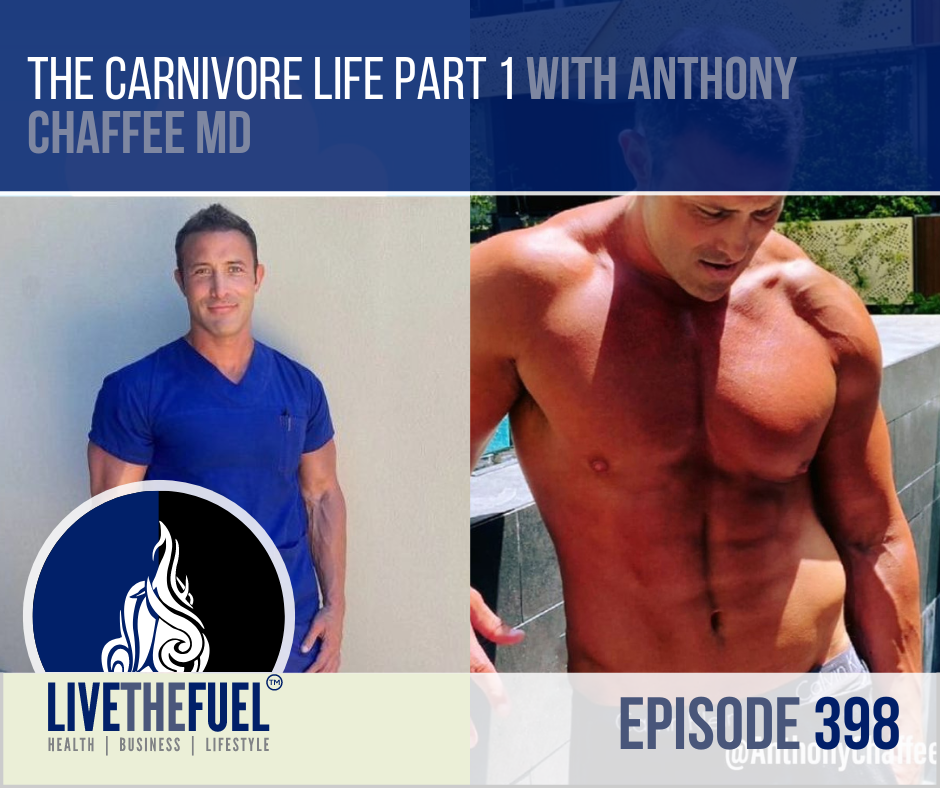 Understanding The Healthy Carnivore Life:
Dr. Chaffee is an American medical doctor and Neurosurgical resident who, over a span of 20+ years, has researched the optimal nutrition for human performance and health. It is his assertion that most of the so-called chronic diseases we treat as doctors are caused by the food we eat, or don't eat, and can be reversed with dietary changes to a species specific diet.
Quote:
"It doesn't matter how brilliant your theory is, and it doesn't matter how smart you are. If it doesn't agree with experiment, it's wrong."
~Physicist Richard Feynman
Today's Top 3 Takeaways:
Burma Genocide Before The Carnivore Life
Correlation vs Causation on Health Data
Mitochondria Health Against Cancer
Plants Attack Your Mitochondria
Today's Guest & Resource Links:
Instagram: @AnthonyChaffeeMD
Twitter: @Anthony_Chaffee
Our Mentioned Influencers:
Watch us on YouTube:
Timestamped Show Notes:
00:30 – Introduction
02:15 – I was already committed to doing humanitarian work in Bangladesh and volunteering in the refugee camps. There was the largest humanitarian crisis in the world at the time and it was in Bangladesh. I don't know that everyone's heard of it. But there was a mass genocide in Burma in September 2017. About 200,000 people were killed in a Holocaust level of evil ways. About a million people fled into Bangladesh, Southern Bangladesh from Burma to escape this and so there wasn't really enough people helping out. So I felt that I needed to go over and help. So I gave up on on playing professional Rugby that season to go go help out.
16:20 – I sort of had my eyes open before I went there. I expected it to be really bad and I figured there was like a 50/50 chance I wasn't coming back. But I felt that it was worth it to do that. You know, I never fooled myself about about the realities of the Third World. But seeing it in person and seeing people just live like that, it obviously makes it very, very real. Understanding things and then seeing them for yourself are two very, very different things. It definitely gives you a broader understanding of humanity in the world in general. So I'm very grateful for that.
23:30 – I would hope that they would find it distasteful to do that to anyone. So the women basically stayed pregnant as often as possible because they would be less likely to be raped to be pregnant. So there was one lady that I met and saw the scars to prove it, she was being detained by the Burmese military and she was being gang raped for the whole day. She was just begging them, she had a very young baby, and she was begging them, please let me go. Please let me go, I need to feed my baby. I have to feed my baby, she's hungry. I have to feed her please let me go, please let me go feed my baby. And so eventually they did, but they cut her nipples off.
32:00 – Macroaggressions vs Microaggressions. That always struck me as a sign of a blessing  of our civilization. If you have time to worry about microaggressions you live a blessed life and things are really good for you vs a culture living with macroaggressions.
45:40 – I think it comes from word of mouth, people actually living the life and having these benefits and having these visible, tangible results. Just being an example, when I first got here, it was very big vegan movement. Everyone was really convinced of that, that just vegan was the way to go. So I come in here and I'm the only human being in Perth and probably most of Australia, who advocated for this sort of thing.
54:15 – Yeah I do not consume lactose as well. That will raise your insulin and when you raise your insulin, your hyperinsulinemia causes a lot of biochemical changes in your body. They are canges that you don't necessarily want and it derails your metabolism. It slows your metabolism. It puts you into a fat storage metabolism as opposed to a fat burning metabolism. There are actual studies with actual science that show that people just on a ketogenic diet and are in actual ketosis, their basal metabolic rate is on average 300 kilocalories higher than someone else who's eating carbohydrates.
01:07:00 – I was a professional athlete, I played professional rugby for 10 years before medical school. Five of those years, I was carnivore, and I was not eating anything else. Those were the best, most explosive and dominant dynamic, athletic years of my entire life. I could not get tired, I couldn't run out of energy, I couldn't get sore, I just could go, go, go. The harder I pushed myself, the more my body gave me. I was able to push myself harder, but I also got more out of it, my body recovered and rebuilt stronger than it would have otherwise. So my performance and my athleticism, they were on a logarithmic scale as opposed to a geometric one.
01:21:00 – Are you open to doing a second podcast episode? Yeah, 100%, it's important that we get into this content deeper. I wanted today's episode to get to know you. But also I want my listeners, until we can do a second show, to just know you better. Plus make sure you subscribe to Anthony's podcast, the Plant Free MD.
01:40:00 – Final Words Shown Below…
Our Final Words of the Show:
This is the medical world, the pharmaceutical world, and everything is tied back to the nutritional world. God forbid, you cure yourself naturally. Now, they can make money off of your unhealthy lifestyle choices. Where they can't sell you the poison, they can then subsequently sell you the cure. Whether that's intentional or not, that is what's happening. We're poisoning ourselves. We're damaging our bodies  and it is worth a lot of money. We're taking medications to then mitigate those those problems. So this was the neurologist saying this and that is in the literature. This guy was recognizing that this is actually something that removes triggers for seizures. It will work but if you stop it, it will stop working.
Positive Actions:
My New Book is LIVE! Go get "So You Want To Be A Hotshot" and visit HotshotBook.com
Please don't forget a positive book review after your purchase too, those review really do matter!
Help us reach more listeners with a 5-Star Review on iTunes and Submit a Review
Please consider supporting our 501c-3 non-profit and visit http://fuelfoundations.org
Join our private Facebook community The FUEL UP Mindset
Need brand growth?! Visit us at FuelUpMarketing.com