Get A Body Reset with Olly Wood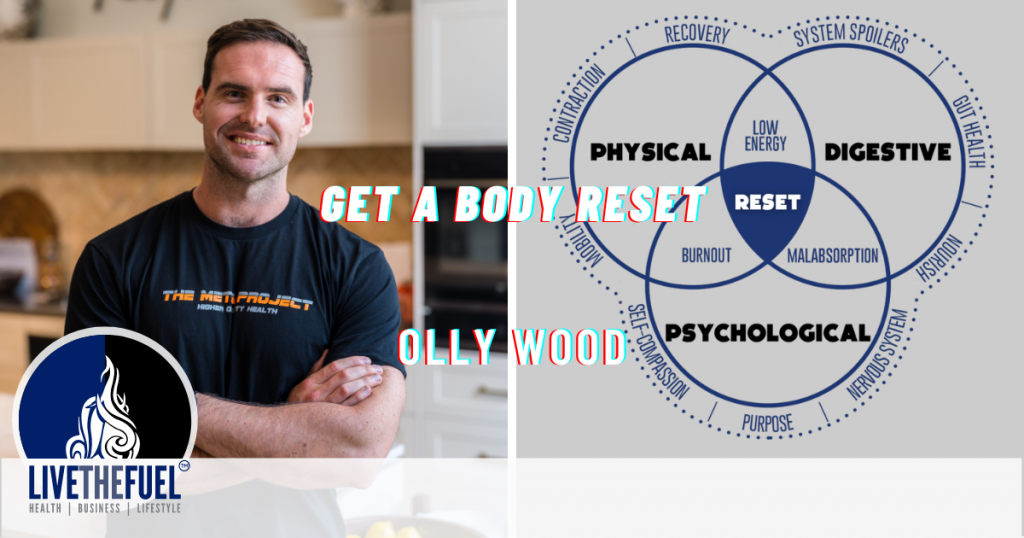 How to succeed in Entrepreneurship with your own Body Reset:
Oliver Wood is the owner of the Body Reset focused on helping career-driven professionals and business owners elevate their energy, body and mind. We have coached thousands of clients with a world-class coaching team, including clinical nutritionists, mindset coaches, and exercise professionals to elevate your entire approach to mental and physical health.
Quote: "You don't have to, you get to."
Today, I have the honor to introduce you to Olly Wood. Olly got started in the business world after 7yrs as an independent personal trainer. As he started online, he rapidly built a company to over 15
staff in his mid-20s, helping thousands of clients upgrade their body, energy and productivity through a 4 step system he has agreed to share with us.
His unique perspective of both running a multi 7 figure company and understanding the behavioral nuances of what truly makes health habits stick after working with thousands of clients, has allowed him
to create his own category in the health market of working with busy professionals that I want to share with you today.
His ability to take complicated topics and simplify them down into actionable steps you can integrate into your busy lifestyle is what makes him a world class coach.
Olly has committed the last decade of his life to the development of his Body Reset program alongside world-class coaches that has now impacted 1000s of clients from around the world.
Olly is a health expert with a deep background in business and health coaching with a deep background in gut health, biomechanics, leadership, mindfulness and nutrition.
Today's Top 3 Takeaways:
High Performance Habits
Entrepreneurship Success from Health & Fitness
Mindset & Mental Health
Today's Guest & Resource Links:
@olly.wood.902 on Facebook
@ollywoodz on Instagram
Timestamped Show Notes:
00:30 – Introduction
08:05 – You can't outwork a bad diet is something we discuss all the time, and just taking the time to understand what parts that are going to look at, you know what part of that picture we need to address. We tend to look at it through running a body like a business, which is really a discussion we have quite a lot because generally the people we talked to in that higher corporate space or business owner spaces.
16:00 – I've always joked, I'm working with the people that need it, but don't want it, I'm always trying to find a way to make sure that we work with courage of men and and business owners in that space . They need to look after their health, but they're still looking at as a conflicting interest from work.
22:15 – I was basically on the brink of the professional bodybuilding world. So really, that scene, getting to 100 kilos, basically 220 pounds, that three or four % body fat, you are looking your best and feeling your worst at that moment.
27:00 – That's the big part of having that conversation around the stress and realizing that it's really an alignment of the two. I've said it a couple of times, it is trying to make sure that you know a lot of these guys, so they can resonate with being an athlete at some point in their life, they became competitive, they push themselves in some way. So they understand what that looks like from a physical threshold, they very rarely understand that they're going through the same mental athleticism in that current role, the amount of responsibility, the amount of mental hurdles that are happening at 3am, the lack of time to actually stop and recuperate.
35:30 – A mentor said to me the other day, and it stuck with me really well, if I gave the level of stress that I just tack on over a day to day basis today, to me 10 years ago, it would have crippled me. I just didn't have that mental muscle built up. So understanding how many more things you're tackling in that day, I think it's such a drastic part of it. That understanding that was pretty big.
40:00 – It's understanding what you're eating with when you're eating, which is where this picture comes in really nicely. We're looking at integration of physical, digestive, and psychological, understanding that you can't separate these three. We're in this world, we're constantly trying to say, well, here's the perfect nutrition plan, or here's the perfect training plan or whatever.
52:15 – Final Words Shown Below…
Our Final Words of the Show:
For me, I think one of the things I learned really early on that's made a huge difference in how I approach all of this was, when I was rowing in high school, it was something that you knew that you were doing more before 9am than everyone else was doing in their day, and you kind of had that as a bit of a chip on your shoulder, going into your day. But what I noticed is I was falling asleep in class and I was you know, grades are impacted. And I was trying to play the poor me mentality, right? Like, now I'm doing rowing. So you know, I need to have special treatment. And I can't remember who it was at the time. But he said, You do realize it's something you chose to do. Right. And I think just anchoring that and realizing that this is something you get to do not something you have to do, right. And I think many of us are just the the dog lying on the nail, right? It's not painful enough for us to move. So we're just moaning about it. And I think taking the time to just be aware of that space is a huge part of just creating ownership around your situation. Right? If you're talking about situations and circumstances you're giving power to it, if you truly want to take ownership of your life and take the time for the parts of it that are less than optimal. Then look at it through that lens you get to you don't have to but if you want to sit there and be that the person the dog lying on the nail, that's ultimately what's happening and you just need to stop lying to yourself. I think it's a big part of it is just intentionality.
Positive Actions:
Get my book on Amazon today! "So You Want To Be A Hotshot" – HotshotBook.com
Positive Reviews "DO" help grow books and free podcast shows, those review really do matter!
Did you submit your 5-Star Review on iTunes? – Submit a Review
Need a charity to believe in? Check out our 501c-3 non-profit! Visit – FuelFoundations.org
Need brand growth, sales strategy, marketing execution?! Visit – FuelUpMarketing.com