From Bankruptcy to becoming the FAIL Coach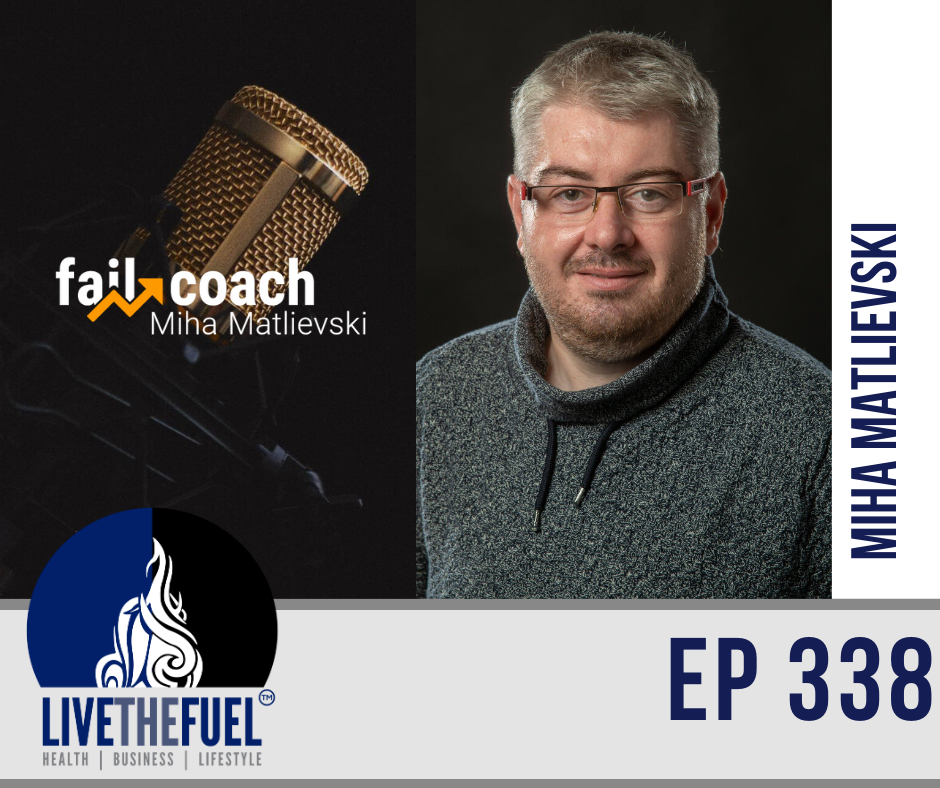 Have Your Learned To Succeed Through Failure? Today We Chat With The FAIL Coach Himself, Miha Matlievski:
One business coach has forged his approach to helping entrepreneurs and business executives by using a monumental personal failure and eventual redemption to help get others where they need to go to find their personal success and fulfillment.
At just 18 years old, Miha Matlievski, a Slovenian high school dropout, dreamed of becoming a successful entrepreneur. And he pursued it with a passion, putting in 12 years of hard work that resulted in four successful businesses and a personal net worth of $15M.
But in December 2009, an unexpected call from his bank, which had decided to foreclose on his real estate investments, brought his world crashing down around him. That one negative event instigated an avalanche of ruin for him and his businesses, resulting in his four, once-successful companies going bankrupt.
QUOTE: Try not to become a man of success, but rather try to become a man of value. ~ Albert Einstein
Top 3 Hot Point Takeaways:
Burnout Awareness
The Power of Systems
The Importance of Life Balance
Today's Resource Links from the Podcast:
Website: www.fail.coach
Website FrameWork4Freedom program: www.framework4freedom.com
Facebook: https://www.facebook.com/matlievski.miha
Facebook page: https://www.facebook.com/FailCoach
Twitter: https://twitter.com/fail_coach
Instagram: https://www.instagram.com/failcoach/
LinkedIn: https://www.linkedin.com/in/mihamatlievski/
Watch us on YouTube:
Timestamped Show Notes:
00:30 – Introduction
10:00 – What you're building is a cascading effect of negative results because you can only go so long that way and then you're going to burn out. You're going to reach a point where referring to your website, "I was literally ready to throw myself over the balcony". I mean, that's a pretty strong statement!
20:00 – The thing was, why all that happened to me, I was that crazy, winging it type of entrepreneur and not laying down any foundations. When I talk about those times, I always reference the Three Little Pigs story, and all my businesses were that first house made out of straws. When the first wind of crisis blew in, bam, it was a domino effect. Because of that, I went through depression, anxiety, darkness, suicide attempts, and so on. Until I had the aha moment and I was able to figure out that I had to take ownership of every mistake that I did in the past that led me to that failure. Then, I could start working on my personal goals and business development.
30:00 – What I see with my clients is often, I see bigger things for them than what they can see. But that's because I was there where they weren't yet. So it's much easier to see and to set big goals, because, for me, eight figures, nine figures, etc, I was there. I know how to do that, I can do it again. That's the difference.
40:00 – I was actually very stupid with my money, spending it like crazy because I could just keep making more at the time.
50:00 – You are that momentum builder and you must create a system that can then move forward. If it relies on you 24-7, 365 days a year, then that's not scalable. You can't create the momentum to create a movement that can go around the world. You can't, you simply and physically can't. So I'm not expecting me to be the one who saves the world from failure. I just want to help. More people are talking about failure, yes, but they're still brushing it off too casually. This subject is very important.
53:00 – Final Words
Our Final Words of the Show:
I'm guessing a majority of your audience is entrepreneurs or future entrepreneurs. So I'll say this, the number one thing that you need as an entrepreneur is a healthy relationship with failure. That's one thing that you will be faced with a lot and you need to know how to deal with it. The second thing that's super, super important, is that you must build a foundation, and always go back to the foundation when you want to go to the next step. It's just like building a house. You start with a foundation, you don't start with the second floor. Then when you say, oh, now I want to make my house larger, you can always go back and make sure that your foundation(s) are in place for that bigger house. This same point goes for your business. I know it's boring, I know. It feels like oh, I don't need this. It's so, so, so important, especially if you want to have a sustainable, long-term, and profitable business.
Action Steps:
Support our 501c-3 non-profit and visit http://fuelfoundations.org
Help us reach more people with 5 Star Reviews, visit iTunes and Submit a Review
Join our private Facebook community The FUEL UP Mindset