Attain Self-Mastery and Life Optimization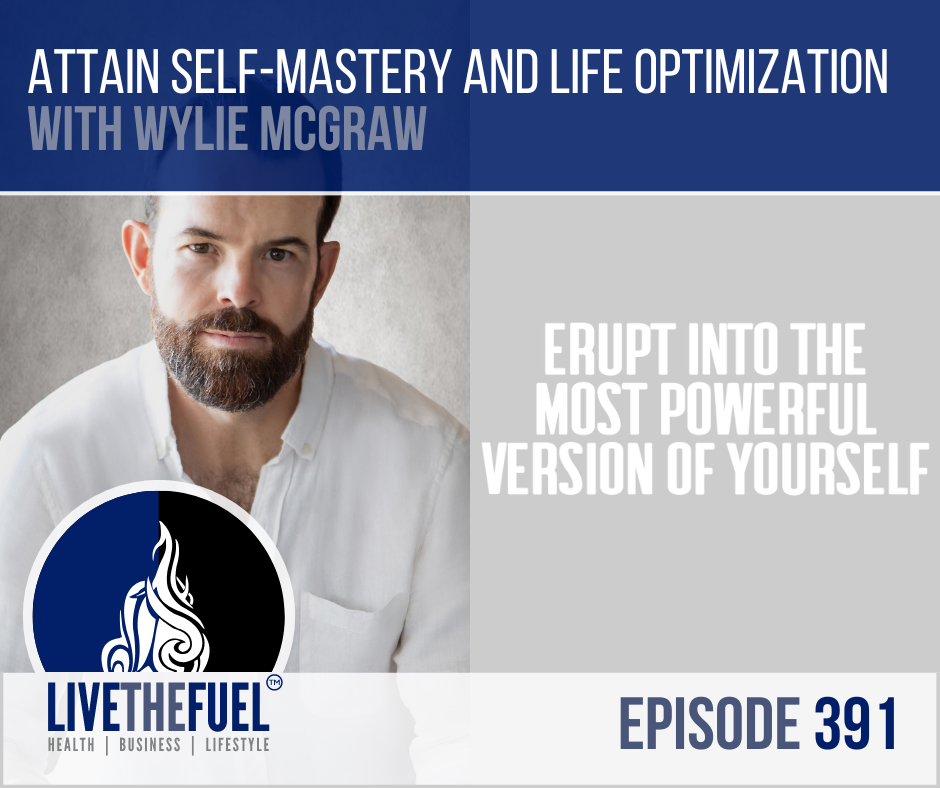 A Clean Burning FUEL Source to Attain Self-Mastery and Life Optimization:
Wylie McGraw is a former star athlete, competitive bull rider, and 3-tour combat veteran.
It was through those intense experiences that he discovered his crazy superpower of being able to expose blind spots, erupt & eradicate stress, and fully unleash the untapped potential of high achievers.
He's the founder of Radical Performance Acceleration and for well over a decade now he's been behind-the-scenes doing life-altering work with powerful CEOs, Entrepreneurs, Leaders, and Public Figures accelerating their performance both personally and professionally.
His work is the proverbial "Navy SEAL Training" equivalent to high performance and leadership development – pushing even the elite beyond their limits so they not only hit their peak but sustain it.
Wylie's formal title is Performance Accelerator. He has been named a "secret weapon" by some of the most influential leaders across industries from Wall St., Hollywood, Professional Sports, Fortune 500 companies, Personal Development, and everything in between.
His work is about giving an elite edge to high achieving individuals while ending their cycle of stress, sacrifice, and suffering that's unfortunately associated when reaching their levels of accomplishment and success.
When Wylie's not traveling the country to meet his clients, this family man enjoys skydiving, mountain top sunsets, and occasionally sipping on an 18-year-old single malt scotch pondering the philosophies of life, the cosmos, and beyond.
Quote: "An optimized leader advances the world, an unresolved one distorts it."
SPECIAL Timing Note: We originally recorded this episode in October 2021. Thank you in advance as we catch up on episode releases since our host, Scott Mulvaney, started returning from his time off to finish writing and self-publishing his inspirational first book, "So You Want To Be A Hotshot" on Amazon.
Today's Top 3 Takeaways:
We must be putting ourselves in the most uncomfortable positions.
I would never put a lower octane FUEL into a high-end sports car.
It's time for you to step into a place of what it takes to be optimized.
Today's Guest & Resource Links:
Our Mentioned Influencers:
Watch us on YouTube:
Timestamped Show Notes:
00:30 – Introduction
09:00 – You've got to understand that there's more freedom in skydiving, despite the dangers, despite what you might think of it, then there is actually been. I would say someone with a death wish, if we had a death wish we wouldn't wear gear. So at the end of the day, I tell people that it's more dangerous to drive a car down the road than it is to jump out of an airplane. I have literally two parachutes in my system for a reason, because I enjoy my life. I'm going to the fullest possible edges of my limitations myself and want to see how far I can really stretch beyond that. So that's why I do it.
20:00 – As I got older, I totally knew this is not where I really want to go, I didn't feel fulfilled in the sport. The world of bull riding came knocking through contacts that I had made. It enticed me and it pulled me in and I found a new side of me being ignited that I had been waiting to meet all along. That's where I realized that I was yielding to the fears of the unknown that bull riding was providing me. That turned me on to the idea and understanding that the only way you're really going to stretch who you are, and see what you're truly capable of, is when you're putting yourself in the most uncomfortable positions. They must challenge you and radically stretch what your thinking is, what your feeling is, and what you expect to be showing up for you. That's where you go beyond your limits.
31:00 – In my life experiences those intense life experiences, I discovered my own unique superpower, if you will, to expose those blind spots and to erupt that stress. It's just a an aspect of my fabric of being who I am, when I'm grounded, and in the presence of someone, they cannot hold on to the stresses that are underlying in and underneath the surface. So it just starts to naturally come up and what I'm able to do with that is I'm able to poke at those and point at them and battle them head on with the people that I'm working with, so that we can actually eradicate them. Because the idea that our past life experiences, you're right, you can't do anything about having them. However, you can, in fact, resolve the negative impact and stress that those experiences provided you.
40:00 – Your mind believes that some, by pulling away from this podcast, that the people that are following you and listening to you somehow are going to have their own reaction to that and it's going to be negative and something's not going to be right, and people are going to be mad at you. There's going to be this feeling of like I'm not fulfilling, what I say I'm going to fulfill in reality is that people in fact, need time to absorb so much information that you probably have provided them.
52:00 – Oh, my goodness, you said a couple of things that I want to I really touch on. You're right, the dynamic between you and your wife had a massive impact on your ability to succeed to the level you are now, here's why. What ended up happening was, if she dumped you, as you said, what she did was she broke the energy between you two, she pulled away because it wasn't working with the way that you were operating with each other. So she had to pull herself out of the equation to radically shake you up. So that you can destress if you will, or resolve whatever is going on, shift your focus, shift your mindset and really approach things from a different way of looking at life. That's why it naturally then came back together. Here's the reason why people don't want to do that, is because they're afraid of facing that kind of truth. They are afraid of how uncomfortable that will actually be to do something so radical, indifferent.
60:00 – I would never put a lower octane FUEL into this sports car, this cars designed to do at 91 or 93 or higher octane. He goes and he gets a 93 because he lives in the south. It's akin to you putting in bad FUEL into a high level sports car and expecting it to perform at the top of its game every time, i.e. who you are in your performance. Listen to this, folks, it's like, if you feel and believe that you're gonna go out and crush your goals and accomplish the highest levels of success possible with all of the stresses that you have still held on to that you have not addressed head on. It's the same thing as you having that Maserati and putting it in drive while the parking brake is still on, then stepping on the gas and think you're not going to break that machine. People don't, they don't get that. They think, well, I'll just keep adding in more strategy and more processes and more systems. But they are not going to ultimately succeed. You're not going to optimize who you are, they're going to give you some momentum, they're going to create some structure for you. But when it comes to human performance, acceleration, life in business optimization, it goes far beyond the helping field, it's time for you to step into a place of what it takes to be optimized.
01:14:40 – Final Words Shown Below…
Our Final Words of the Show:
I know the people that are listening are high achievers, you don't attract people that are not to listen to this type of show. They are aware of the stresses that they're holding on to, despite what might be in the public persona that they portray. But getting real with yourself when you're by yourself and feeling into what is it that I have not looked at or addressed head on. When you can get real with that and you can give yourself that permission to find a resource that you can't control that challenges you, those stresses can be resolved. You'll find that your power, your potential, will be unleashed in ways you least expect it, you'll find that your efforts, the work that you put into what you're looking to create, will in fact, become exponential and highly sustainable.
I want people to walk away from this, listening to that point and go, you know what, let me just get real with myself. Let me be vulnerable with myself and stop BS'ing myself and realize that I don't need to keep adding in more strategy. I need to start looking at how to remove things that are holding me back. Let me look at my dynamics in my life that aren't operating, and uplifting me to my highest potential. Let me face some truths that might be otherwise uncomfortable or something I've avoided and actually do something about that. Because when you do face, like you talked about with your wife, when you broke that dynamic, it transformed your relationship and it transformed your success. You didn't have to add more into your life to figure that out. That's what I want people to walk away with.
Positive Actions:
My New Book is LIVE! Go get "So You Want To Be A Hotshot"!
Please don't forget a positive book review after your purchase too. The Kindle and Paperback are up and the Audiobook book version for Audible is coming soon!
Help us reach more listeners with a 5-Star Review on iTunes and Submit a Review
Please consider supporting our 501c-3 non-profit and visit http://fuelfoundations.org
Join our private Facebook community The FUEL UP Mindset
Need brand growth?! Visit us at FuelUpMarketing.com