A Good Nights Sleep Project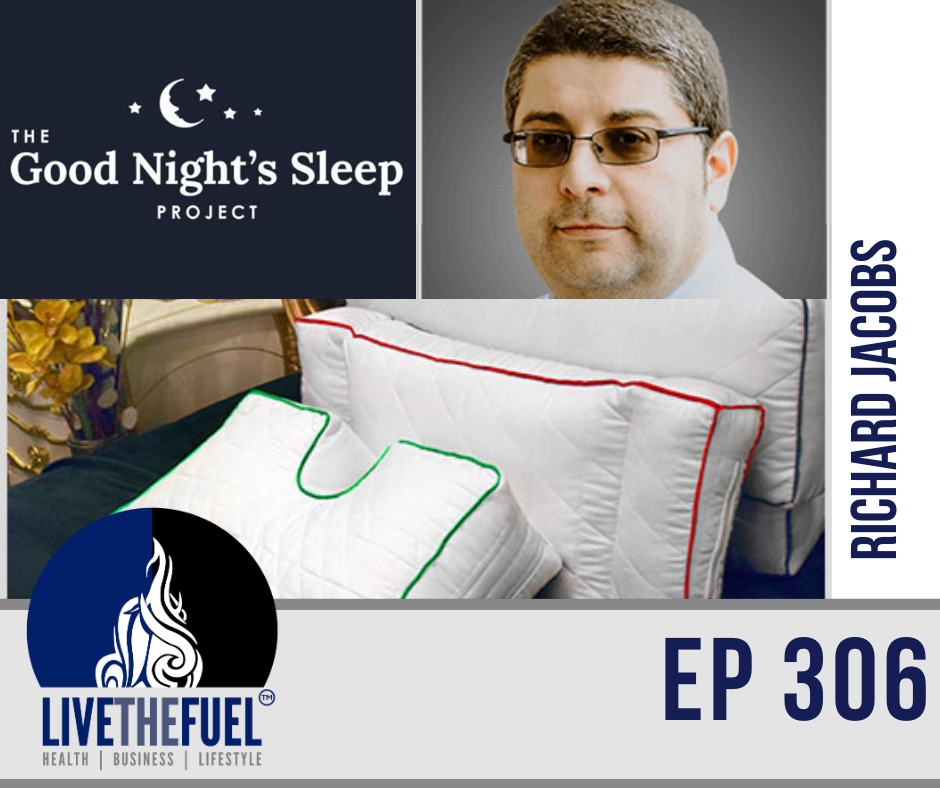 It's Time for A Good Nights Sleep with Richard Jacobs:
Richard's newest venture, The Good Night's Sleep Project, features his patent-pending custom-tailored-pillow. The custom-tailored-pillow idea came from Richard interviewing over 110 sleep professionals, and dealing with his own sleep issues for the past 20+ years.
www.goodnightssleepproject.com
In October 2016, Richard started The Future Tech Podcast and has now interviewed 1800+ companies in artificial intelligence, stem cells, 3D printing, gene editing, bitcoin, blockchain, the microbiome, quantum computing, virtual reality and space exploration and more.
Richard also has 10 years of experience as CMO (chief marketing officer) of Speakeasy Marketing, Inc, a firm that has helped over 900 attorneys nationwide to improve their law practices.
Jacobs & Whitehall, a wholly-owned subsidiary, has helped over 310 professionals – lawyers, doctors, veterinarians, chiropractors, and real estate agents author their own practice area book and become the 'authority expert' in their industry.
Richard is also the author of 5 books including Secrets of Attorney Marketing Law School Dares Not Teach – 1st, 2nd and 3rd editions, the Ultimate Guide to Local Business Marketing (Ultimate Series) (co-author), and Bitcoin, Ethereum & Blockchain: Lessons Learned From 200+ Interviews of Blockchain Companies.
Top 3 Hot Point Takeaways:
Entrepreneurship
Sleep Health
Custom-Tailored-Pillows
Today's Resource Links from the Podcast:
www.goodnightssleepproject.com
Our Mentioned Influencers:
Dr. Mark Fitzpatrick DC testimonial at www.goodnightssleepproject.com/bed-time-stories
Timestamped Show Notes:
00:30: Introduction
09:30: I'm anti-drug, especially with sleep drugs. She's tried three different fancy pillows. I now have one of the fancy pillows. I have no idea what brand it is, but I love it. She moved on to one with water in it, I didn't that was a thing.
20:00: That's pretty smart. How long did it take you guys? Did you actually outsource the app or because you were so techie, did you do it DIY in-house?
30:00: I tried to get influencers, various people that we knew to get to send in their testimonials and everything, so again this is the marketing. If you don't have this stuff, it's harder to sell. So we've been working on this since day one and you know, they're starting to come in more and more and it's getting there. We got a couple of chiropractors, you want the best testimonials you can get like Dr. Mark Fitzpatrick DC.
40:00: Blue Light Blocking to additionally aid in sleep health.
42:13: Final Words
Our Final Words of the Show:
What I've learned about health is that if you don't feel good, you treat everyone around you badly, you're short with them and all of your relationships suffer. If you feel good, you're nicer to people, like your wife, your kids, people at work, etc. So if I can help people sleep better, and relieve their problems without doing surgery on them, without giving them medications, without any of this other stuff, and it's a natural way to do it, I'm happy. That's the goal of this goal, it's called The Good Night's Sleep Project because that's the goal. We got seven nights a week. Can I get you from two good nights to three or four or five or even seven? That's like the overarching goal here.
Action Steps:
• Support our 501c-3 non-profit and visit http://fuelfoundations.org
• Help us reach more people with 5 Star Reviews, visit iTunes and Submit a Review
• Join our private Facebook community The FUEL Tank, at https://www.facebook.com/groups/TheFUELTank/
Watch us on YouTube: