243: New Years 2019 Mindset Evolution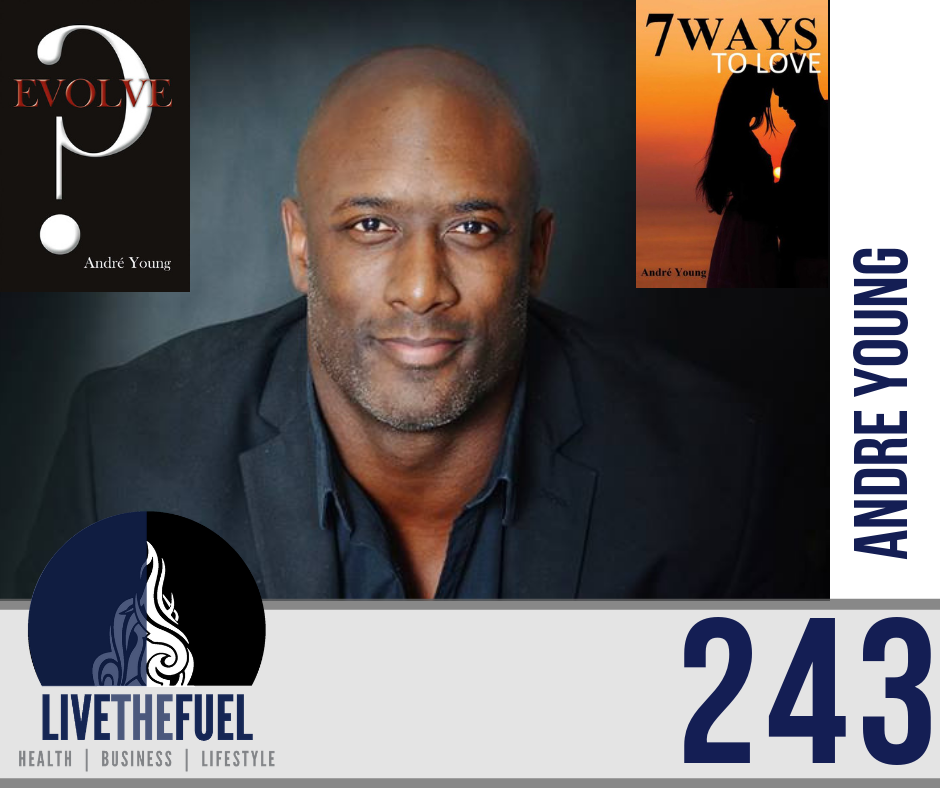 Are You Ready For Your Own Evolution In This New Year 2019?!
Here's a little more about your Evolution Co-Host today. He is an Author, Speaker, Founder & CEO of You Evolving Now, LLC; it's Andre Young's mission is to impact lives and relationships of men and women everywhere; allowing YOU to live the life of your dreams! His book "7 Ways to Love" shares how to have an EVOLVED relationship with your partner, those close to you, and most importantly… YOURSELF! Throughout his years as a Mental Health Counselor, a Person, Partner, and Parent… he is excited to present the 7 key points that prove to make or break relationships and life satisfaction.
Quote:
Your EVOLUTION will equal some degree of loss a well as gain. You have to be ready and willing for both! – Andre Young
Andre's Mission:
My name is Andre Young, Founder of You Evolving Now, LLC. My mission is to provide men, women, students, and employees a way to EVOLVE and live the life of their dreams; becoming more inspired individuals, partners, parents, and professionals. Guy's Night Out and Lady's Night Out may provide relief, but may not inspire evolution and self-improvement. EVOLVE and best your life with our personal growth site, employee life-enrichment program, college division, and our main club in Berks County!
I have a Master's Degree in Counseling Psychology with a specialty in Marital and Family Counseling. I have provided a variety of therapeutic services in the Lehigh Valley and Berks County: Individual, Group, Family, and Crisis Therapy. While we may be physically based in Pennsylvania and have clubs in Kutztown University and Alvernia University, we are a global social movement for personal development. It is important to note that Y.E.N. does not provide therapy, however, the environment is therapeutic in nature to promote a positive lifestyle and help you get more out of life, more out of relationships, more out of work, and more out of yourself!
EVOLVE in an atmosphere of positivity and personal development. Grow as a person and enhance the quality of all of your relationships as a friend, son/daughter, co-worker, parent, husband/wife, girlfriend/boyfriend, etc.!
Come EVOLVE with us!!!
[spp-tweet tweet="You Too Can Evolve Here in 2019! @youevolvingnow "]
Top 3 Hot Points:
Evolve Your Mindset
Make A Plan To Support Your Vision
Marry The Dream Not The Path
Final Words:
What is your vision? What's your plan, because if you have a vision, without your plan, without your goals, it's nothing. It's a wish. So for me, it's what is the end game. Then what's the first step that you need to take to get there, and then doing the reps. You'll get there and marry the dream but, not the path. The path is going to squiggle. You keep your eyes wide open, going through the detours and everything that you've learned. You'll get to where you need to be not to where you thought you want it to be. Or more dangerously where you thought you deserved to be.
Watch The Facebook Live:
Resources:
Influencers Mentioned:
On This Episode You Will Hear:
Action Steps:
Watch On YouTube:
Follow on Instagram: