234: Hotshots, Book Writing, and Self-Publishing School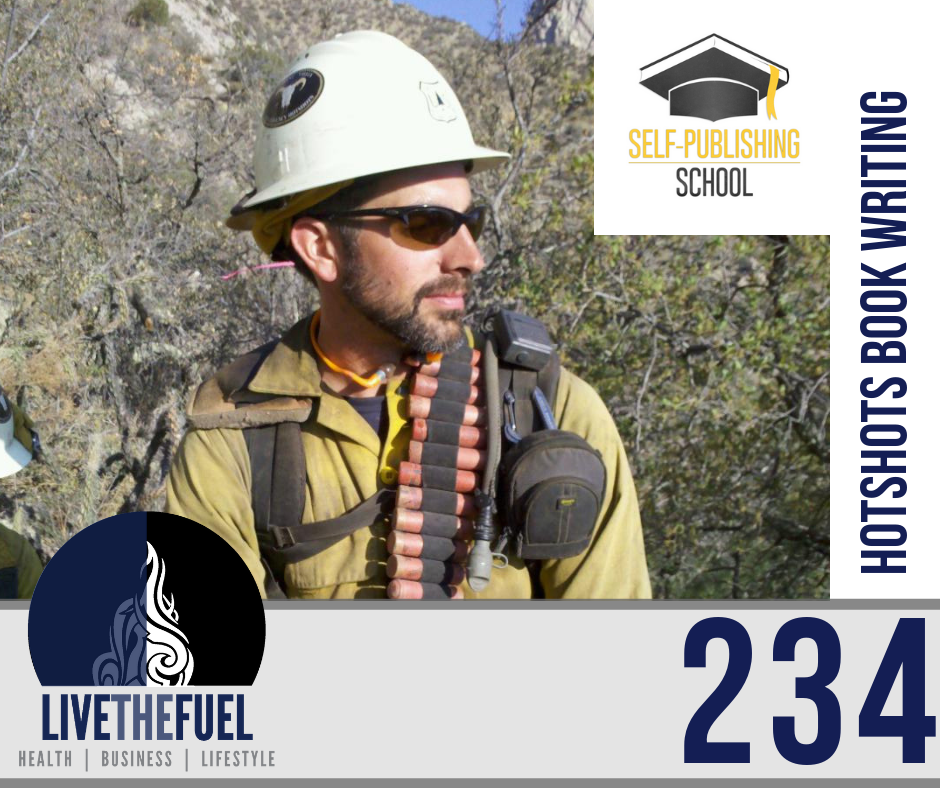 Our Part III One-On-One Holiday Episodes, Catching You Up on the Hotshots Book Project:
Scott Mulvaney is your host and founder of the LIVETHEFUEL Podcast Show as well as a former member of the Hotshots world. This show launched September 2016. He's your CEO aka Chief intrEpid Officer of the LIVETHEFUEL lifestyle brand and FUEL Marketing solutions.
Today's podcast is a third, back-to-back, one-on-one format. We normally record with guest co-hosts but for this holiday season, Scott wanted to do a few personalized episodes to catch you up on things. So podcasts 232, 233, and 234 are a Thanksgiving Trifecta of shortened podcasts. Each episode is focused on three areas, Thanksgiving Philanthropic Charity efforts, the health of his Calvin The Coonhound, and this episode is about the upcoming Hotshots book.
On This Episode You Will Hear:
[spp-timestamp time="00:30″] Introduction
[spp-timestamp time="01:25″] Catching up from podcast 233, Calvin The Coonhound's bloodwork has returned to 98%!
[spp-timestamp time="02:50″] Reminder to listen to episode 232 for Thanksgiving Charity and Philanthropic Inspirations.
[spp-timestamp time="03:30″] Scott becomes an author with Network Magazine.
[spp-timestamp time="05:05″] Scott speads up his book writing by purchasing membership into the Self-Publishing School online mastermind group. It was time to put $ Skin In The Game!
[spp-timestamp time="06:35″] Where LIVETHEFUEL came from, it's Hotshot Wildland Firefighting roots.
[spp-timestamp time="07:17″] Reflecting on this years' tragic wildfires in California, the Paradise Fire, Woolsey Fire, and Camp Fire. Hundreds of lives were lost, thousands of homes and structures gone.
[spp-timestamp time="08:15″] Reflecting on WUI awareness, the Wildland Urban Interface.
[spp-timestamp time="10:15″] Speaking vs Writing a book with Otter.ai
[spp-timestamp time="12:00″] App hacks including Otter.ai, Evernote, and Microsoft Word.
[spp-timestamp time="12:10″] The origins of the upcoming book title. Hotshots are no joke and you'll learn this in the book. You gotta suck it up, Buttercup!
[spp-timestamp time="14:20″] Inspiration to share life lessons learned along the Hotshots journey.
[spp-timestamp time="15:25″] Leaving the cubicle life in the corporate world for pack testing and Subaru minimalism. Rookie to Snookie.
[spp-timestamp time="16:20″] Getting humble, sup-truck bitches, Integrity, the loss of Dalton Lasater, and situational awareness.
[spp-timestamp time="20:00″] EAR MUFFS for your kids hear, Shits Hitting The Fan!
[spp-timestamp time="21:30″] Father inspired work ethic.
[spp-timestamp time="22:38″] Final Words
"Live The Fired Up Epic Life!"
~ LIVETHEFUEL – Scott Mulvaney
[spp-tweet tweet="The #Hotshots #Book is coming along and I'm apart of the #SelfPublishing School! @livethefuel "]
Watch On YouTube:
Links and Resources:
Mentioned Influencers:
Final Words:
I have to embrace the suck, I have to jump over these walls, these hurdles. I have to let the shit hit the fan and spray all over the place. Then go through the problems of cleaning all of that up because that's where the lessons in life are going to come from.
Action Steps:
Follow on Instagram: