222: Down Syndrome Awareness, Navy Seals, and For Purpose Business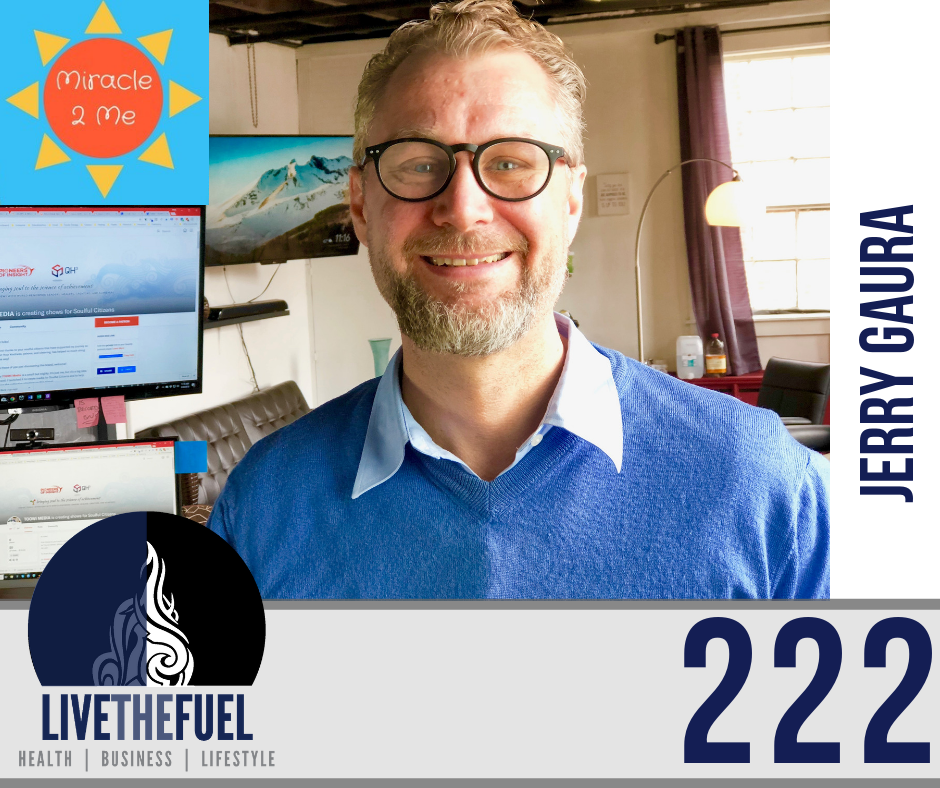 It's Down Syndrome Awareness Month. Jerry Returns to talk about Miracle To Me on GoFundMe, Standing & Sleeping, Navy Seals Training, Alpha Males, Meditation, Authenticity and For Purpose Businesses:
Jerry is passionate about his son Gus and aligning his initiatives with this new campaign for Down Syndrome with Miracle To Me on GoFundMe.
Jerry Gaura is a therapist turned entrepreneur with a fine arts and philosophy degree. Jerry's guided folks from every walk of life, from MD's & artists to shoe salesman. A lifelong creative and healer, he's been lucky to parlay his work with innovators into a brand that features interviews with creatives in diverse fields, including NY Time's best selling authors, Navy SEAL Commanders, NPR storytellers, world-renowned healers, top podcasters, Forbe's business gurus, and more.
TOOWi Media is a relationship co that promotes well-being through story and services for creative pros, companies, and teams.
On This Episode You Will Hear:
[spp-timestamp time="00:30″] Introduction
[spp-timestamp time="01:20″] Jerry's recent podcast with Speaker and Navy Seal, Brent Gleeson!
[spp-timestamp time="10:20″] We evolve through our biggest trials, it's a lifetime process. Jerry never expected to be able to go back and interview his old Navy Seals classmate, Mark Devine for a podcast over 20 years later.
[spp-timestamp time="20:45″] Jerry and Scott reflect back to his first podcast appearance. Establishing his Escape Route.
[spp-timestamp time="21:20″] Putting in the reps, performing burpees, and the 8 Count Body Builder from Navy Seals training.
[spp-timestamp time="28:20″] Stepping forward to be of service to people. Give for giving sake. What makes sense in business while staying healthy in the process. Forget about the long term outcome, offer the best of yourself today. There's no such thing as a poor philanthropist.
[spp-timestamp time="30:50″] Jerry's son, Gus, lives with Down Syndrome and his choice to take 30% of his Media Revenue to launch a Pure Mentorship Program for Down Syndrome youth. He also launched a GoFundMe campaign called Miracle To Me to help publicly fund this initiative.
[spp-timestamp time="36:50″] Scott increases his For Purpose bank account. Jerry rocks 33% of his media. Scott shares this years Hotshots 19 benefitting story. The U.S. Hotshots Association and more.
[spp-timestamp time="48:00″] Sharing more than just business transactions. Moving from a transaction based conversation and relationship over to reciprocation. This has been a key part of the evolution of Jerry's business. Open up with your stories, especially your vulnerability stories.
[spp-timestamp time="53:20″] Create something that is authentic to you so it doesn't suck as you grow it.
[spp-timestamp time="1:06:50″] Final Words
There's no such thing as a poor philanthropist. – Quote
[spp-tweet tweet="Support Miracle To Me on GoFundMe. It's Down Syndrome Awareness Month, You Too Can LIVETHEFUEL! @TOOWi_Media "]
Watch On YouTube:
Co-Host Links and Resources:
Mentioned Influencers:
Final Words:
I feel that I only want to work with people that have the insights that come from overcoming serious challenges. I value people who have the insights and the experiences and not the manufactured experiences.
Stories sell. The problem is people are manufacturing these stories to sell. Let's keep the authenticity and find authentic people and businesses to align with.
When it's working right, it's scary to be honest about your story, it's scary for everyone. There's some magic that happens when two people align with common experiences.
Stay tuned for his podcast episode 25 when he switches to Series Story-Telling. Jerry will be interviewing people that are pushing the boundaries of what's possible.
Action Steps:
Follow on Instagram:

Jerry's Past Appearances:
https://livethefuel.com/069-uphustle-pioneers-insight-jerry-gaura/
https://livethefuel.com/169-flow-growth-shitstorm-qh3-podcast/