214: Live Podcasting, Three Amigos, Vesting Up, MAPCON 2018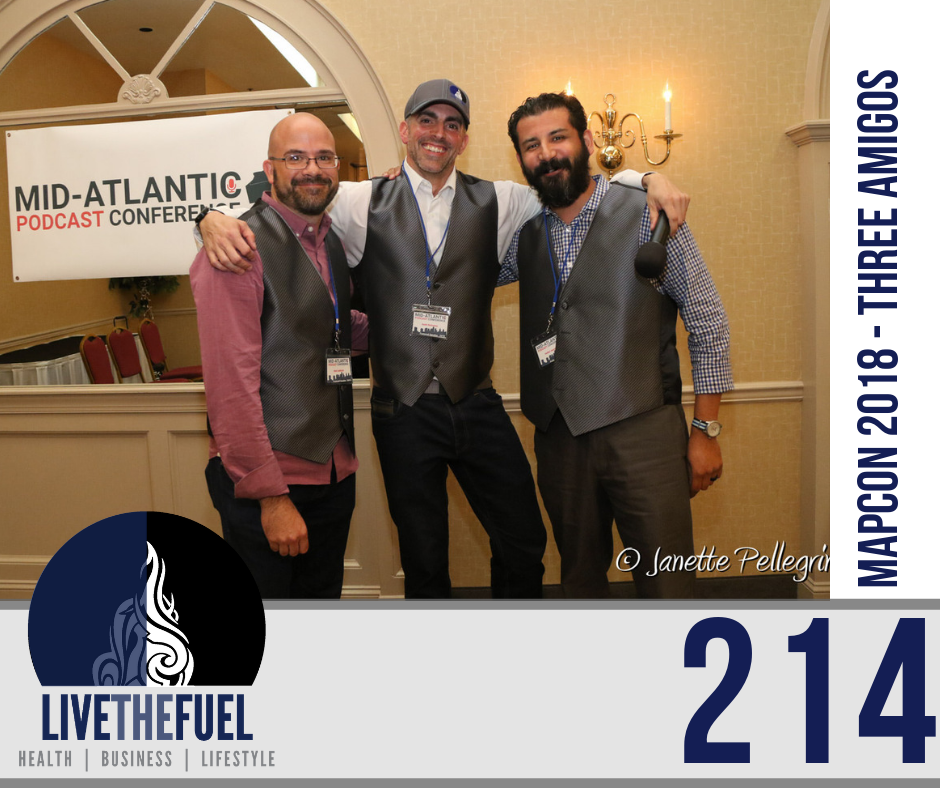 MAPCON' Three Amigos Return with RAF of SRVD.vet, and Nick G of The Dependent Independent Podcast:
That's right, the Three Amigos are back! This is our LIVE Podcast from this years, 2018 Mid-Atlantic Podcast Conference! This years returning podcast episode brings you a new theme, a Three Amigos theme, with the return of Rafael Jauregui of SRVD and Nick G from The Dependent Independent Podcast. #MAPCON
Who is SRVD?
SERVICEMEMBERS | RESPONDERS | VETERANS | DEPENDENTS
Courage. Strength. Honor.
The bond of brotherhood and sisterhood developed through service is the well of our strength and passion.
SRVD is unifying our military alumni with an icon, internet radio programming and branded goods; beacons that identify those that have served.
Your Three Amigos member, Rafael Jauregui, has created an identity brand bringing together all those that have SERVED; focused in "Leaving to Living" through exclusive merchandise and internet on-demand content
Who is The Dependent Independent?
Your other fellow Three Amigos member is Nick G, Nick Goblirsch. He started his podcast in January 2015 as a way to simply make friends after 40, this podcast has allowed Nick to connect with others all over the country, through the power of a conversation, in a way I could not have imagined. To get to 200 Episodes will take some time and effort with a lot of amazing people like you to get me there. Thank you for listening and thank you for joining me on this journey. – Nick G., producer, creator, & host of The Dependent Independent Podcast
What is MAPCON aka MID-ATLANTIC PODCAST CONFERENCE?
Mid-Atlantic Podcast started (December 2014) as a Facebook group for podcasters who live in the Mid-Atlantic States (North Carolina, Virginia, Delaware, Pennsylvania, New Jersey, New York, Maryland, and Connecticut). The idea was to bring podcasters together for meet ups, Google Hangouts and eventually grow into conferences. After seeing the interest to have a podcast (exclusive) conference in the northeast, Joe Pardo jumped on the opportunity to make it happen.
On This Episode You Will Hear:
Don't just make it a transaction in life. – RAF of SRVD
[spp-tweet tweet="The Three Amigos LIVE Podcast at #MAPCON 2018. #FriendsWithBeneVests #ThreeAmigos #MAPCON You Too Can LIVETHEFUEL! @SRVD_vet @Dependent_Nick "]
Watch On YouTube:
Links and Resources:
Scott Speaks on Healthy Lifestyle for Podcasters:
People Mentioned:
Final Words:
Nick G:
This was Nick's third year at MAPCON. His first year he was nervous as hell and uncomfortable because he didn't realize that podcasting was something bigger than himself. His second year was growth by coming back and speaking for the 8 minute segment in 2017. This year he went for the 20 minutes of speaking and tackled something that many people don't tackle in their presentations, something more perosnal. He hopes more people share more personal things about themselves so other people share back. #FriendsWithBeneVests
Raf:
We Three Amigos, walk from three separate walks of life. We just met a year ago. Anybody who whatch us now would think we were friends for 20+ years. When you find folks that you click with, take the opportunity to really invest in those relationships. Here we are, having a great time, wearing three vests. The vests were just a silly idea, but we are amongst a group of a 100 people and there are only three dudes with three vests.
As we go out on our walks in life and we move forward in daily transactions, don't just make it a transaction in life. With the individuals that you actually have a connection with, take the time and invest in that. Go out and connect!
Watch on Facebook
Your Action Steps: